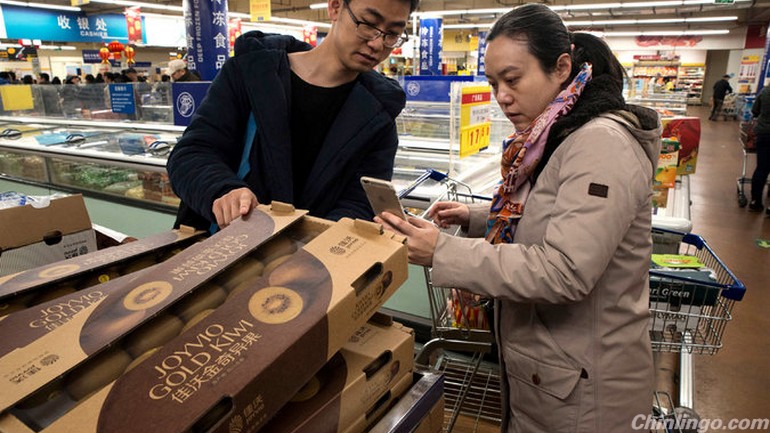 Controlling China's sprawling food supply chain has proved a frustrating endeavor. Government regulators and state-owned agriculture companies have tried to tackle the problem in a number of ways — increasing factory inspections, conducting mass laboratory tests, enhancing enforcement procedures, even with prosecutions and executions — but food safety scandals still emerge too often.
中国一直在努力控制庞大的食品供应链,可结果令人沮丧。政府监管部门与国有农产品企业努力用各种方式解决问题:增加工厂检测、实验室测试、加强实施环节,甚至动用司法手段,但食品安全丑闻依然层出不穷。
Chinese technology companies believe they can do it better. From the farm to the table, the country's biggest players are looking to upgrade archaic systems with robust data collection, smartphone apps, online marketplaces and fancy gadgetry.
中国科技企业认为他们能做得更好。从农场到餐桌,中国大型企业希望要利用强大的数据库、手机应用软件、网络市场以及创意装置等方式升级档案系统。
The founder of the computer maker Lenovo started Joyvio, the agricultural company that tracks kiwis and other fruit from planting to delivery. The Internet giant Alibaba directly connects consumers with farmers via an online produce-delivery service. A gaming entrepreneur is running a pig farm on the side. And Baidu, the country's leading search engine, is developing a "smart" chopstick that tests whether food is contaminated.
联想集团创始人柳传志创立了农业企业佳沃集团(Joyvio),致力于猕猴桃以及其他水果从种植到发货过程的信息跟踪。电商巨头阿里巴巴提供的网上农产品送递服务将顾客和农场主直接联系在一起。一家游戏公司正在经营一家养猪场作为副业,而中国搜索引擎领头企业百度正在研发一种能够检测食物是否被污染的智能筷子。
City dwellers can buy directly from farmers through Jutudi, a pilot program created by Alibaba that has about 10,000 users. An e-commerce twist on the "buy local" movement, Jutudi lets users buy regular deliveries of vegetables and fruits from farms across China. Consumers can even pick their own plots in a sort of virtual farming, although deliveries may come from multiple places.
城市居民可以通过"聚土地"直接从农民手中购买产品。"聚土地"是阿里巴巴创立的试点项目,目前拥有1万名用户。在"买地运动"中介入电子商务,"聚土地"可以让用户从全国各地的农民手里购买定期送递的蔬菜水果。消费者甚至可以通过虚拟种植的农场自己选择产地,但是送递产品也可能出自多个产地。
Joyvio is taking on a bigger challenge: the entire food chain.
佳沃集团担负更大的挑战——整个食品链。
Started in 2009, it is now the largest provider of kiwis and blueberries in China. It controls everything, picking what seeds are planted, then tracking and collecting data each step of the way.
自2009年起,它就成为了中国国内猕猴桃和蓝莓的最大供应商。它控制着一切,包括挑选种子,然后跟踪和收集每一步的数据。
Taking a similar approach to Lenovo's, Joyvio focused on acquiring technology and know-how to build its business.
佳沃采用和联想类似的方式,致力于通过获取专有技术来拓展业务。
Executives studied foreign agriculture businesses. Joyvio hired a top American agronomist who specialized in the development of preservatives and microorganisms that work as natural pesticides. The company bought farms in Chile and Australia and partnered with two large Chilean fruit companies.
佳沃集团研究了国外的农业公司并雇佣了一位美国顶级农业经济学家,专长是研究使用微生物作为天然杀虫剂以及防腐剂的发展。该企业购买了智利和澳大利亚的一些农场,并与智利的一些水果公司开展了合作。