Over the last five years I've met Germans, Canadians, Italians, Americans, Brazilians, Scots, Vietnamese, Filipinos, Brits, Spaniards, Croats, a Moroccan, Malaysians, South Africans, Indonesians, Japanese, a Fin and of course folks from China, Taiwan, Macao and Hong Kong.
在过去的五年,我遇到过德国人、加拿大人、意大利人、美国人、巴西人、苏格兰人、越南人、菲律宾人、英国人、西班牙人、克罗地亚人、一个蒙古人、马来西亚人、南非人、印度尼西亚人、日本人,一个芬兰人?当然,还有大陆、台湾、澳门和香港的朋友。
There are probably some others I left out. Not once have I regretted the experience. It doesn't matter whether they've been professionals or total beginners, I've learned something from each of them.
有可能我漏掉了一些人。我从未对这些经历失望过。无论对方是专业人士还是入门新手都无所谓,我总能从对方身上学到新的东西。
So this week I was able to meet three young photographers face to face for the first time and despite the humidity, I had a blast each time out. Nanning natives Vern and Suri met me after work Friday evening and after some dinner they took me to Nanning's famous food street on Zhongshan Road. Practically deserted during the day, the area comes alive once the sun gets low in the sky and the oppressive heat begins to subside.
因此,这周我能够与三个年轻的摄影师第一次面对面的交流,尽管外面很潮湿,我每次出去都玩得很开心。南宁本地人Vern 和 Suri 在周五下班后的晚上,和我见面了。吃完饭之后,他们带我去南宁非常著名的美食街,它位于中山路。这片区域在白天几乎空无一人,然而当太阳下山之后,当无法抵抗的酷热渐渐消退,这片区域渐渐变得热闹、有生气。
We'd been walking for maybe ten minutes when we came across Mr. Zhiang. I probably would have walked right on by but Vern had seen Zhiang's "act" before and said it might be fun to watch him for a moment. Mr.Zhiang is a performing artist/chef and his specialty is tossing homemade dough to make shuiabin, a crepe-like concoction filled with sweet fruits and spices. As you can see here, Xiao Zhiang was a bit busy so we didn't have much of a conversation.
我们一直走了大概十分钟,直到我们遇到 Zhiang先生。如果是我一个人,可能会错过那里,但是Vern 以前看过Zhiang的"表演",他说看一会儿他的表演会很有意思。Zhiang先生的手法就像一个顶尖高手/大主厨,他的专长是抛甩自家制的生面团,然后做成甩饼,这是一种像绉绸的,混合着甜味水果和香料的食物。你们能够看出,Xiao Zhiang有一点小忙,所以我们没有过多的交流。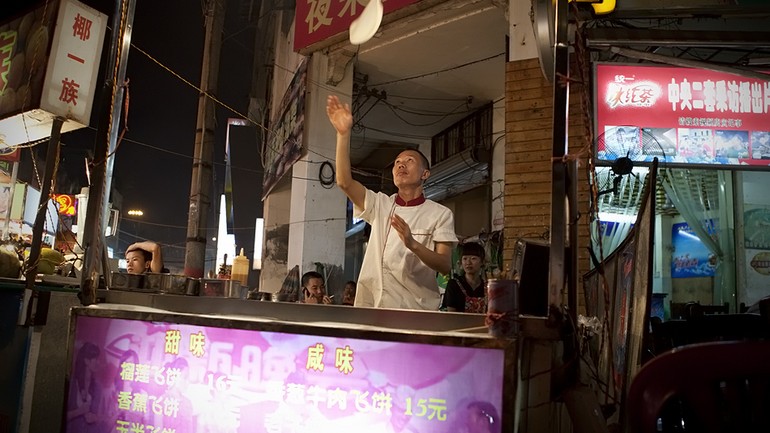 Between shuiabin he told us he's originally from Hunan Province and had been doing this for a number of years already. It showed. The crowd was literally eating out of the palm of his hand. Ours was filled with thinly sliced bananas and some other sugary gooey goodness. Here's Zhiang at work.
在做甩饼的间隙,他告诉我们,他是来自湖南省,做这一行做了很多年了。这看得出来。一群人就在摊子边上吃了起来,我们的甩饼里面填充着薄薄的香蕉片,和一些粘稠的糖浆。这些是张先生在工作的画面。