Street signs in English, not-so-spicy cuisine, locals who don't stare, contemporary art galleries, modern youth hostels and even interpreter hot lines for cabdrivers who don't speak English. For independent travelers about to start an expedition into the huge, mysterious nation of China, I have some advice: stop in Shanghai and take a deep breath.
英文路牌,饭菜不算太辣,当地人也不会稀罕地盯着外国人看,众多当代艺术馆,摩登的青年旅舍,甚至还有专为不懂英语的出租车司机提供的翻译热线。对那些准备探索庞大而神秘中国的个人旅行者,强烈建议你们在上海停留一下并做个深呼吸。
Not literally, at least without checking the air quality index; the smog can be brutal. But do stick around for a few days — as I did before I set off up the Yangtze — to ease into Chinese ways in the city where expatriates have flocked since the First Opium War ended in 1842. Here, strangers are less strange.
不用查看空气质量指数,你就知道雾霾很严重,这说法一点也不夸张。但还是请在上海停留几日,就像我前往长江之前所做的那样,将自己融入这座城市。自1842年第一次鸦片战争结束以来,外国人就源源不断地涌入上海,所以老外在这里并不是什么稀罕事。
Even on $50 a day, Shanghai is perfectly feasible — once you accept you will not be taking a sightseeing boat along the Bund, eat in fancy restaurants or stay in luxury (or even midrange) hotels. That's because much of the city is yours free or, in the case of public transportation, hostels and noodle shops, close to it.
即使每天预算只有50美元,游览上海也是件完全可行的事,只要你接受以下条件——不坐外滩观光船,不去高档饭店吃饭,不住豪华(甚至中档)酒店。因为,这个城市大多数景观都是免费的,此外公共交通、青年旅舍和面馆的价格也便宜到几乎可以忽略不计。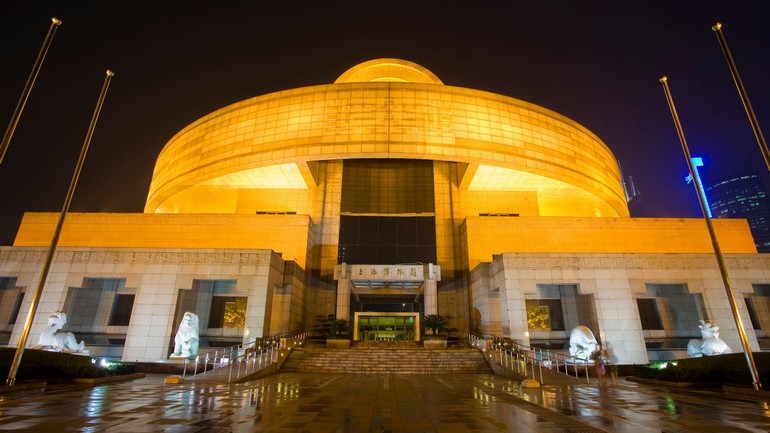 That includes the Shanghai Museum, which is free. It also provided a lesson in the sort of friendliness I'd encounter on the rest of my trip. Just as I'd placed my passport, wallet and camera through the museum's X-ray machine, two guards pointed me to the coat check, signaling they would watch my valuables. Returning two minutes later, I was outraged to find them intently leafing through my passport.
上海博物馆就是免费景点之一。它还给我上了一节有关友谊的课程,让我在接下来的旅程中受益匪浅。我将护照、钱包和相机放入博物馆X光安检仪的时候,两名保安指了指衣帽间的方向,用手势表示他们会帮忙看管贵重物品。两分钟后返回的时候,我发现他们正在专心致志地翻看我的护照,我不由勃然大怒。
"We like your passport!" one exclaimed, beaming. My cultural-disconnect alert sounded, just in time. "Thanks," I said. "Lots of countries, but my first day in China." I feebly joked that I would be fatter when I left. "You like Chinese food!" the other exclaimed. Smiles all around.
"我们喜欢你的护照!"一个保安对我欢乐地喊道,脸上闪着兴奋的光。我脑中的文化差异警铃及时响了起来。"谢谢。"我说,"我去过许多国家,不过来中国还是第一次。"接着我又说了离开中国时一定会发胖之类的乏味笑话。"你喜欢中国菜!"另一名保安欢呼道。每个人脸上都充满笑意。
It was as if China were tapping me on the shoulder and saying, "Psst, we do things differently here."
就好像中国拍着我的肩膀说:"嗨,我们这里做事风格与你们不一样。"
I found a more historical lesson inside the halls of the museum, a powerful reminder of just how old and complex Chinese civilization is. I gazed at an almost-4,000-year-old battle ax and ancient instruments in the bronze gallery, gawked at stone heads of Lokapala from the Tang dynasty in the sculpture section and tried to come to grips with the gorgeousness of the porcelain collection. Finally, I headed to the top floor to see the traditional costumes and art from China's minority ethnic groups: the Kirgiz, the Uighur, the Bai.
在博物馆的几个展馆中,我学到了更多的历史知识,它们有力地提醒我中华文明有多么古老多么复杂。我在青铜馆看到了将近4000年前的战斧和其他古代工具,雕塑展区唐朝雕成的罗汉石制头像让我目瞪口呆,瓷器展区美轮美奂的藏品更让我无比惊叹。最后,我在顶层看到许多漂亮的传统民族服装和艺术品,分别来自柯尔克孜族、维吾尔族、白族等多个中国少数民族。
But Shanghai is also into newer creations; luckily, just as budget-friendly. M50, an enclave of galleries in former industrial buildings in north Shanghai, is as funkily contemporary as the museum is dazzlingly ancient. I especially liked the ShanghART H-Space, a cavernous space showing large-scale installations by Chinese artists. At the Pacific Perspectives gallery, I became intrigued with landscapes by the Chinese-American artist Thomas Leung, pierced with fiery, near-neon lighting, and I said as much to a man working in the gallery. "I'm Thomas Leung," he responded.
此外上海也有不少当代艺术品,而且幸运的是价格也不高。M50是由多家艺术馆组成的一块艺术飞地,设在上海北部几座以前的工厂建筑中,它的摩登程度与博物馆的远古特色一样惊人。我尤为喜爱的是香格纳画廊,宽阔而深邃的场所摆满了中国艺术家的大型装置艺术作品。在艺洋透视画廊,我被美籍华人艺术家汤玛斯·梁的风景作品深深吸引,画中的色调明亮而热烈,仿佛霓虹灯一般。我将这个观点告诉了画廊一个工作人员之后,他回答说:"我就是汤玛斯·梁本人。"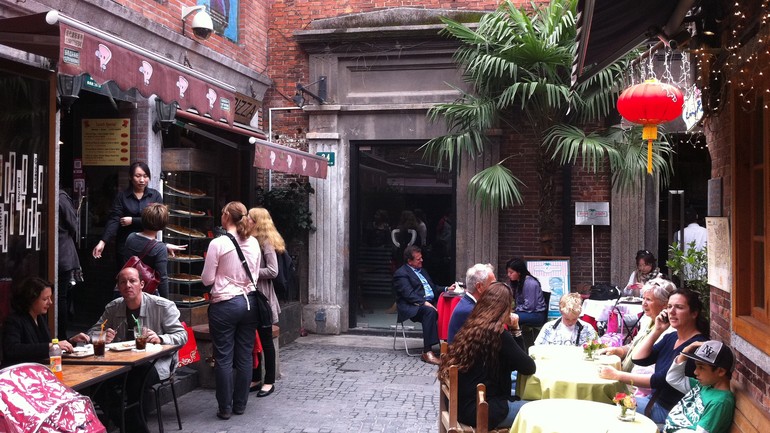 Frugal shopping options are limited, but you can try Tianzifang, a web of back alleys in the French Concession that now house restaurants and artsy boutique gift shops. Check out La Woo's reasonably priced felt animal figures, handmade on site, more Velveteen Rabbit than Hello Kitty adorable.
上海的廉价购物场所不多,但你可以尝试田子坊,那是法国领馆区许多弄堂组成的一个购物区域。那里有一些餐馆,还有许多充满艺术感的精品礼物商店。推荐La Woo's家用毛毡制作的动物玩偶,价格合理,现场制作,产品多是可爱的绒布兔而不是凯蒂猫。
For any great city to be budget-friendly, it needs intriguing street life to stroll through — and Shanghai doesn't disappoint there. I spent a good hour wandering behind the Peach Garden Mosque near the Old City section, in one of the city's dwindling traditional neighborhoods of residential alleyways, and found life lived in the open: a man and woman washing a fish at an outdoor sink, a pair of red and purple rubber gloves hanging near just-scrubbed sweet potatoes, a cart full of fluorescent light bulbs lining a side alley.
所有适合廉价旅行的大城市都有引人入胜的市井生活供人步行游览,上海也没有让我们失望。我在老城区附近小桃园清真寺的后面,饶有兴趣地逛了一个小时。在上海逐渐缩小的弄堂居住区,我看到了真正的生活:一男一女在室外的水槽里清洗河鱼,一对红紫色调的橡胶手套挂在刚刚擦过的红薯旁边,一辆装满荧光灯泡的板车在小巷里停靠。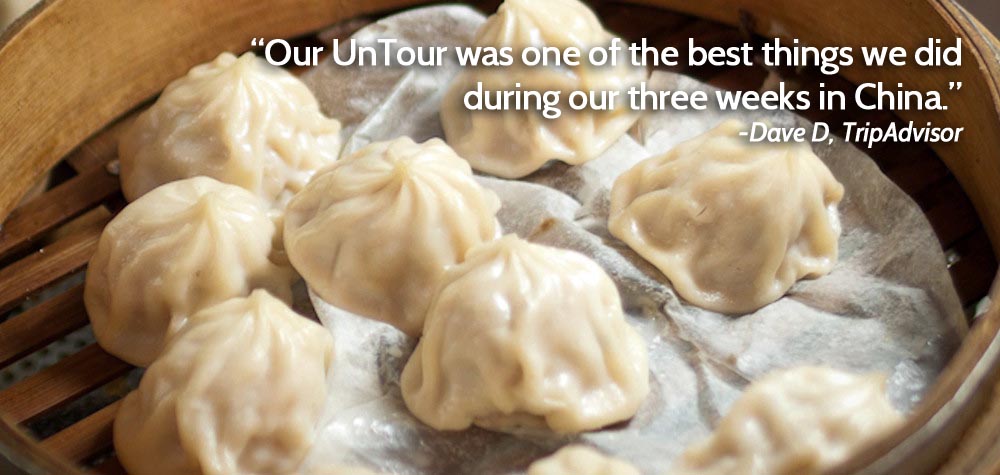 The Chinese apparently look down on the city's native dishes. Shanghai's cuisine "is the redheaded stepchild of Chinese food," said Jamie Barys, an American who, with Kyle Long, runs UnTour Shanghai, a food company. Yet Shanghai food is a good baby step toward eating in the nearby provinces. Take the most famous Shanghai export, soup dumplings called xiao long bao, comfort food even for nonlovers of Chinese cuisine.
中国人显然看不起上海的本地烹饪。根据美国人詹米·巴里斯的说法,上海菜是"是中国美食家族中粗野笨拙、不受欢迎的孩子"。巴里斯是个美国人,与凯尔·朗一起开了家叫做UnTour Shanghai的食品公司。但上海在融合周边省份美食这条路上,却走得相当不错。以上海最著名的出口产品小笼包为例,这种食品非常可口,就连不喜欢中国菜的人也会赞不绝口。
UnTour Shanghai charges $60 for a three-hour tour, but you can cheat using articles by Ms. Barys and Mr. Long in the Shanghai pages of CulinaryBackstreets.com. Or you can be connected to them through a Chinese neighbor back home and have them invite you to dinner, as I was. We had sesame paste noodles at Wei Xiang Zhai; soup dumplings at their favorite place, Nanjing Tang Bao; and Macao-style Portuguese egg tarts from Lillian Bakery.
UnTour Shanghai公司运营一种三小时的美食旅行团,价格60美元。但有一种价格较低的变通方法,就是阅读巴里斯女士和朗先生在街头美食网上海版块的文章。或者,你也可以通过你在美国的华人邻居与他俩建立联系,并让他们邀请你上门吃饭——我就是这样做的。我们在味香斋一起吃了麻酱拌面;在他们最爱的南翔汤包吃了小笼汤包;还在莉莲烘焙坊品尝了澳门特色的葡式蛋挞。
Even on my own, my initial language-based trepidations about eating out in China dissolved. English speakers would materialize out of nowhere to help me order a bun filled with shepherd's purse, a green related to mustard; I fumbled through China's hand-counting system to pay street vendors for roasted sweet potatoes, misshapen beauties with crispy skin and soft yellow flesh.
哪怕是一个人吃饭,我初到中国时因语言不通导致的对外出吃饭的恐惧,也在这里消失得无影无踪。随时都有说英语的人忽然冒出来,帮我点一份塞满春菜馅儿的小圆包。在街头小贩那里购买烤红薯的时候,我尝试使用中国式单手计数系统并成功沟通。烤红薯是一种模样怪异的食物,酥脆的外皮包裹着柔软的黄色内容。
My biggest expense was lodging, but even there Shanghai came through. Unlike most other cities I visited, it has good hostels, and good hostels often have private rooms mostly indistinguishable from those you'd find in decent hotels. That was true of the Shanghai Soho International Youth Hostel, where I booked a private room for 180 renminbi a night. Though the mattress was hard as a rock — par for the course during my trip — the place had amenities that most Chinese business hotels in a similar price range do not: English-speaking staff members, and no-smoking policies that are not entirely ignored.
旅行中我花钱最多的常是住宿,但这一点上海也表现得不错。与我去过的大多数城市不同的是,上海的青年旅舍设施非常完备,单人间与中高档酒店的单人房几乎没什么区别。上海苏州河畔国际青旅就是其中的一个,我住的单人间每晚只需180元。虽然床垫硬得像石头,但青旅提供的公共设施远超过同等价位的商务酒店:工作人员会说英语,禁止抽烟的规定也不像其他酒店一样被完全忽略。
It also had a great location, on a pleasant pedestrian path along the downtown bank of the Wusong River, a five-minute walk from the Xinzha Road subway stop. Actually, plan on six minutes: if you can resist a 60-second stop at Xiaocheng Shengjian to grab four scallion-and-sesame-seed-sprinkled pot stickers for 4.5 renminbi, you probably shouldn't be budget-traveling in Shanghai at all.
青旅的位置也挺好,位于吴淞江市区那侧一个气氛愉悦的江畔步行街,距新闸路地铁站只有五分钟的步程。事实上,请留出六分钟的时间:如果你能够抵抗在小陈生煎停留60秒钟并用4.5元买四只洒了葱花和芝麻的水煎包的诱惑,也许你就不应该在上海廉价旅行了。