For your travel, don't miss out on the Shanghai-Kunming high-speed railway. As one of the longest high-speed railways (2,264 km), it connects six provinces across eastern and western China. The section from Shanghai to Changsha is already open, and the entire railway is to open its doors in 2016. Let's take a look at some of the best tourist stops along the line.
作为中国最长的高铁线路(全长2264千米)——上昆(上海-昆明)线是你不容错过的选择:这条高铁由东到西贯穿中国六省。其中,上海至长沙段现已开通,整条线路将于2016年全线贯通。下面就让我们一起"欣赏"这条线路上最美的旅游景点吧!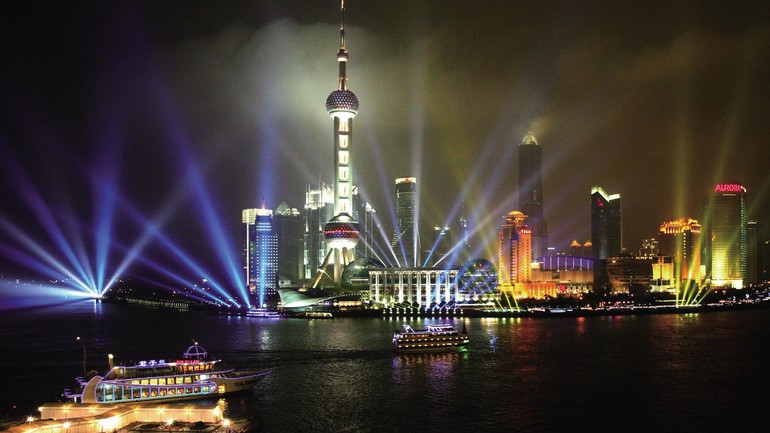 Shanghai
上海
As a vibrant metropolis, Shanghai has many attractions. The Huangpu River is a classic spot to get a birds-eye view of the whole city. Exotic architecture along the west bank differs in style and color, and modern skyscrapers on the east form a splendorous contrast. Foodies can't miss the gorgeous snack street Town God's Temple. Xintiandi, a cultural and historical site, combines the traditional Shanghai alley and Western style architecture together. You can also visit Shanghai Museum, Tianzifang art district and Shanghai Madame Tussauds Wax Museum.
身为生机勃勃的大都市——上海景点众多。经典景点——黄浦江,让你有机会鸟瞰整个上海市。黄浦江东西两岸反差巨大,西岸是充满异国风情、风格迥异、五颜六色的建筑,东岸则是充满现代气息的摩天大楼,两岸景色形成了强烈的对比。吃货则一定不能错过可以让你胃口大开的城隍庙小吃街。作为文化与历史圣地的新天地则将传统的上海弄堂与西式建筑融为一体。你还可以参观上海博物馆,田子坊艺术区以及上海杜莎夫人蜡像馆。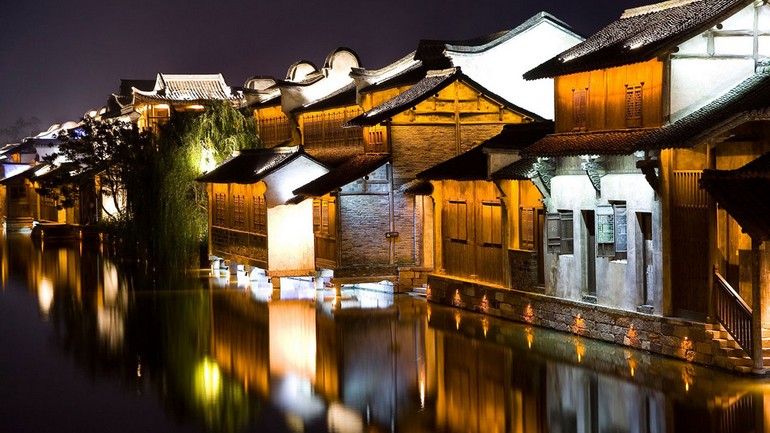 Zhejiang
浙江
Endowed with lush mountains and exquisite waterways, Zhejiang is rich in historical and cultural presence. A trip from Shanghai to Hangzhou only takes about 50 minutes. It's a good idea to rent a bike or walk around the West Lake surrounded by greenery and intricately carved pavilions. Many ancient water towns like Xitang and Wuzhen offer well-preserved architecture constructed in the Ming and Qing dynasties. In Jinhua, visitors can go to Hengdian World Studios to see different scenarios in movies. With a long history, Quzhou is famous for its Jianglang Mountain, which has Danxia landforms.
浙江山林葱翠、水道秀美、历史文化气息浓厚。从上海至杭州只需50分钟车程。在西子湖畔,或骑车,或散步,你都能感受到四周浓浓绿意、欣赏巧夺天工的亭台水榭;在水乡古镇,如西塘,如乌镇,你都能一睹保存完好的明清建筑;在金华,你还能在横店世界影视城里一览不同的电影拍摄场景;在历史悠久的衢州,江郎山的丹霞地貌则早已享誉中外。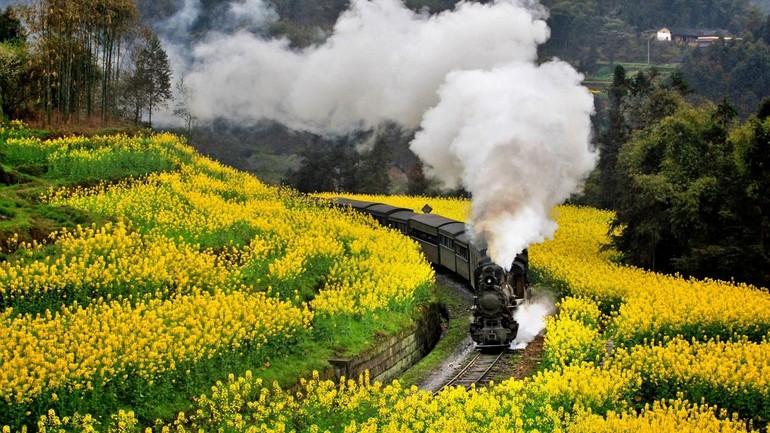 Jiangxi
江西
When it comes to Jiangxi, the first city that comes to mind may be Nanchang, the provincial capital. But in fact, there are many other places you can enjoy. Lushan Mountain and Poyang Lake are definitely must-sees. Yichun, a city located in the northwest of Guizhou, has rich hot springs. It is warm and comfortable during any season. Shangrao, another picturesque city, is popular with travelers for its Sanqing Mountain. With beautiful clouds, mist and strange-shaped pine trees, it's a fairyland far from the hustle and bustle of city life. Wuyuan, a small town, is a great place to appreciate cole flowers in the spring.
说起江西,你首先想到的也许是省会南昌,但其实这里还有很多地方值得一游。庐山、鄱阳湖自不必说;位于贵州西北边的宜春市拥有丰富的温泉资源,四季温暖舒适;江西上饶也是一座风景如画的城市,著名的三清山坐落其中。三清山以其云秀、雾美、松奇成为远离尘嚣的仙境之地。江西的婺源小镇则是每年春天赏油菜花的圣地。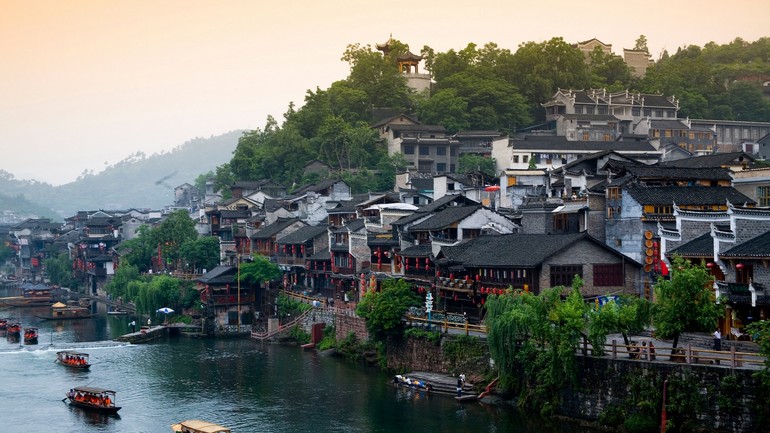 Hunan
湖南
Changsha, the capital of Hunan province, has become a main travel hub. Starting from Changsha, it's easy to go west in the province. For example, taking the train from Changsha to Huaihua now takes only one and a half hours. In Changsha, Yuelu Hill Academy of Classical Learning is one of the classical academies of the Song Dynasty. Orange Isle (Juzizhou) allows you to get a panoramic view of the whole city. Visitors can explore the west of Hunan, including the ancient town of Fenghuang and Zhangjiajie National Forest Park. The terraces in Xinhua and Hongjiang ancient towns in Huaihua are worth visiting as well.
作为湖南省会的长沙市是湖南旅行的中心。从这里出发,你可以一路向西,轻松到访湖南其他城市。比如,从长沙坐车去怀化现在只需一个半小时。在长沙,你可以参观始建于宋朝的岳麓书院。而在橘子洲头,你可以将整个长沙尽收眼底。一路向西,凤凰古城与张家界国家森林公园都有待你的探索。新化的梯田、怀化的洪江古镇也值得你游览一番。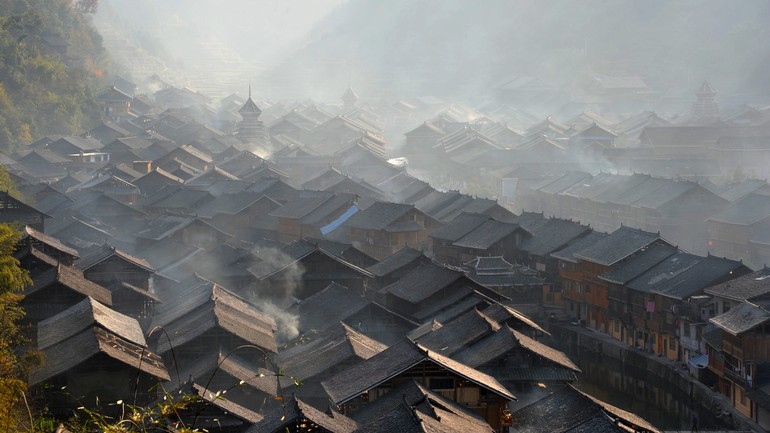 Guizhou
贵州
Guizhou province is an increasingly popular tourist spot with its agreeable climate and rich cultural heritage. Huangguoshu Waterfall, China's largest waterfall, lets you feel the magic of nature. As home to several Chinese ethnic groups, mainly Miao, there are many traditional villages filled with simple architecture. Their peaceful lifestyle and unique customs remain intact and provide added reason to visit. Jiulonggou (Nine-Dragon Cave) Scenic Spot, located in Tongren, offers natural cave sights. In Anshun, Longgong (Dragon Palace) has a series of caves and presents karst landforms.
贵州省气候宜人、文化遗产丰富,正受到越来越多游客的青睐。省内拥有中国瀑布之最——黄果树瀑布,供你领略大自然的奇妙。贵州还是中国一些少数民族的聚居地,其中以苗族为主,建筑简洁朴素的传统村落不在少数。少数民族平静的生活方式、独特的文化风俗都在此完好地保留与延续,也是你到访的又一理由。位于贵州铜仁的九龙沟风景区可以让你领略自然洞穴之美,而位于贵州安顺的龙宫则不仅让你一睹各式洞穴奇观,还为你奉上卡斯特地貌的风情。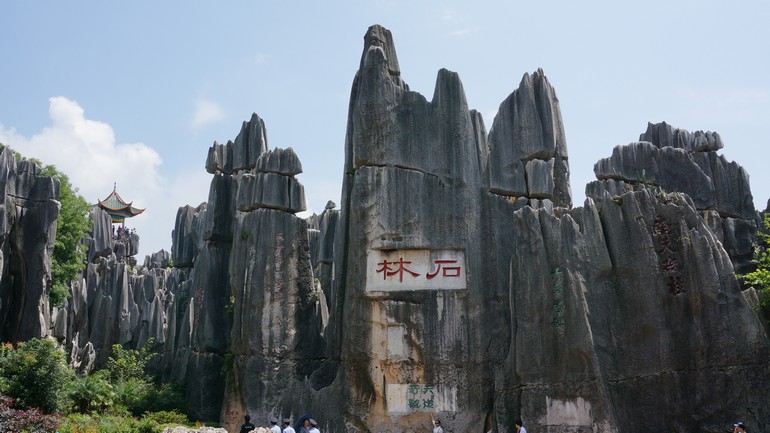 Yunnan
云南
The final destination is Kunming, a city with spring-like weather all year around. The Stone Forest, a huge expanse of limestone outcroppings, has been eroded into odd shapes and regarded as one of the world's natural wonders. Qiongzhu Temple, with 500 life-sized luohan (arhats), is a perfect display of traditional Buddhist culture. With more than 20 ethnic groups scattered across the province, every major city shows distinct folk customs. Other traditional attractions include Dali's three pagodas, Lijiang's ancient town, Xishuangbanna's forests and Shangri-La's natural landscapes.
作为整条线路的最后一站——昆明是一座四季如春的城市。这里有世界自然奇观之一的石林:一片片石灰石拔地而起,在风雨的侵蚀下形态各异。这里也有佛教宝地筇竹寺:500罗汉栩栩如生,完美展现了这里的传统佛教文化。云南有20多个少数民族分散各地,省内每座大城市都有其独特的民间风情。这里的传统景点还有大理三塔、丽江古镇、西双版纳森林以及香格里拉的自然景观。