While planes and high-speed trains get us to our destination quicker, as travelers, we also miss some fantastic scenery along the way. A long train ride allows us to slow down and enjoy more leisure time on the road.
尽管飞机和高铁能让我们更快地到达目的地,但作为旅行者,沿途我们可能会错过一些美丽的风景。长途火车旅行能让我们放慢速度,尽情享受路上的悠闲时光。
Here, we recommend some of the most popular railway trips in China and abroad. Just book a ticket, grab your backpack, and set off on a different experience.
在此,我们要推荐一些国内外最受欢迎的火车旅行路线。只要买上一张票,背上背包,就能开始一段与众不同的经历。
Road into the clouds
天路之旅
Route: Xining, Qinghai to Lhasa, Tibet

路线:青海西宁到西藏拉萨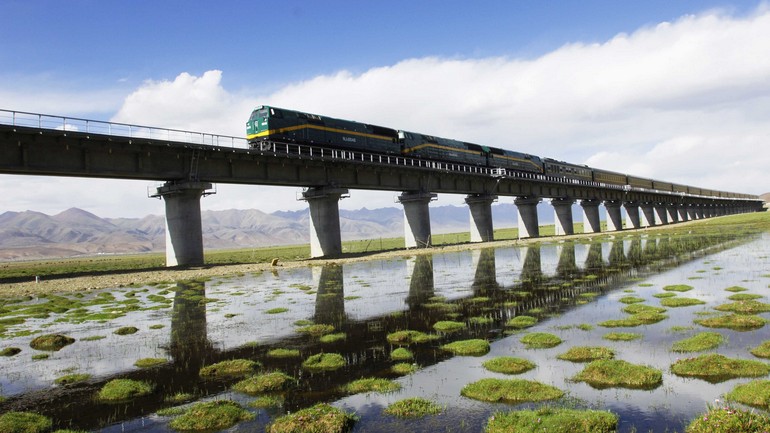 Known as the highest railway in the world, the Qinghai-Tibet railway — or "Heavenly Road" — climbs to 5,000 meters above sea level. Since its inauguration in 2006, it has provided easier access to "the Roof of the World". On the way, you can view different landscapes: the beautiful Qinghai Lake, the grand Kunlun Mountains, the mysterious source of the Yangtze River, the vast Qiangtang grasslands, and the Yangpachen landscape. When the train passes through Hoh Xil National Nature Reserve, you may even see Tibetan antelopes and other wild animals running on the plateau.
青藏铁路,是世界上最高的铁路,被誉为"天路",海拔高达5000米。2006年正式通车以来,去往"世界屋脊"(喜马拉雅山)更加便捷。途中,你可以欣赏到别样的风景:美丽的青海湖、壮观的昆仑山脉、神秘的扬子江源头、广袤的羌塘草原以及羊八井风景区。当火车经过可可西里自然保护区时,你甚至还能看见高原上奔跑的藏羚羊和其它野生动物。
Voyage through history
穿越历史之路
Route: Xi'an, Shaanxi to Dunhuang, Ganse

路线:陕西西安到甘肃敦煌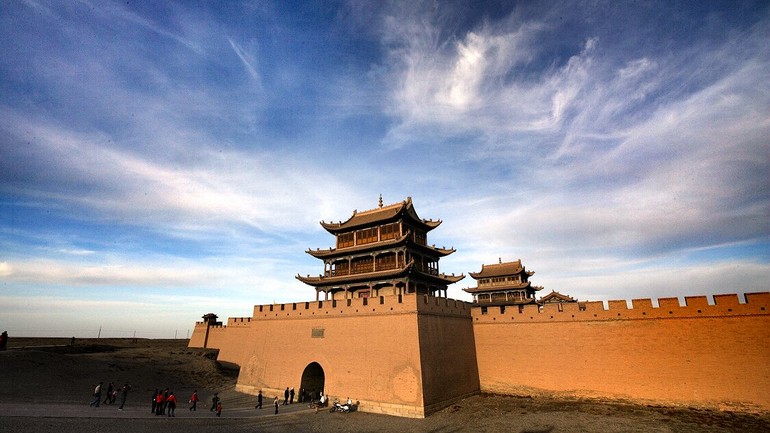 From Xi'an, the beginning of the ancient Silk Road to Dunhuang, famous for the Mogao Grottoes, this is a trip through China's history. The relics of the Great Wall in the Ming Dynasty, the Jiayuguan Pass, and the snow-capped Qilian Mountains are worth seeing. In Lanzhou, you can see the Yellow River flowing through the city. As the train passes through the long Hexi Corridor, endless views of the Gobi Desert await.
从丝绸之路的起点西安到以莫高窟而闻名的敦煌,可谓是一段感受中国古老历史的旅程。明长城遗迹、嘉峪关以及被积雪覆盖的祁连山都值得一看。在兰州,你可以看到穿城而过的黄河。火车经过河西走廊时,一眼望去尽是无穷无尽的戈壁沙漠尽收眼底。
Top choice for nature lovers
大自然热爱者的首选
Route: Guangzhou, Guangdong to Anshun, Yunan

路线:广东广州到云南安顺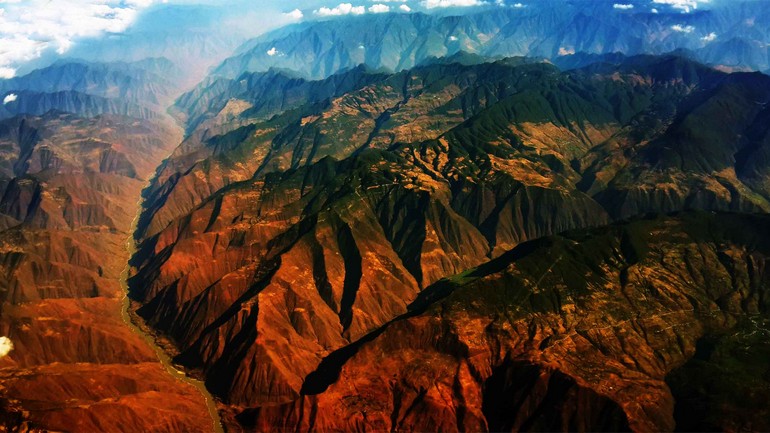 This is a journey to embrace China's picturesque nature. You can see dense forests and red soil in the western part of Guangdong Province. As the train climbs to the Yunnan-Guizhou Plateau, the gnarled rocky hills, karst landforms and layered terraces will amaze you. With blue skies, verdant mountains and fresh air along the whole way, it's a good chance to relax and refresh yourself.
这段旅程将中国美丽如画的自然风景尽收眼底。你可以看见广东省西部郁郁葱葱的森林和红色的土壤。随着列车开往云贵高原(云南-贵州),古老粗犷的岩石山、喀斯特岩溶地貌和梯田也会让你大开眼界。沿途蔚蓝的天空、苍翠的山峦、新鲜的空气都是放松自我的好机会。
Trip for all seasons
四季旅行好去处
Route: Shenyang, Liaoning to Manzhouli, Inner Mongolia

路线:辽宁沈阳到内蒙古满洲里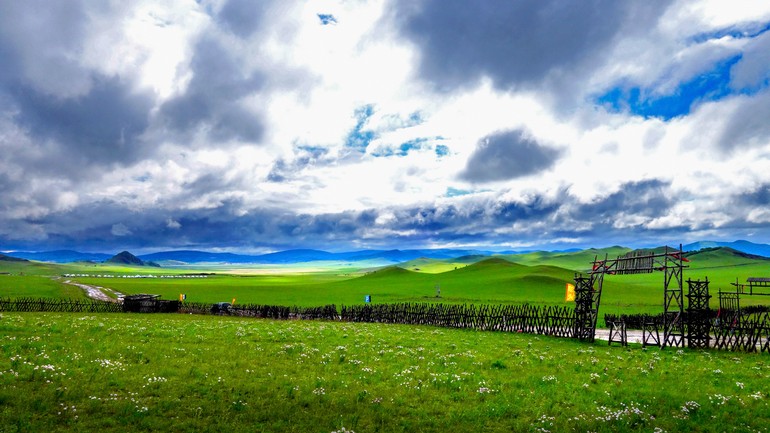 This route stretches into the cold northeast regions of China. In winter, the endless forests covered with snow in the Greater and Lesser Hinggan Mountains are very attractive. In summer, it's a good choice to escape the heat. There are extensive areas of grassland in Inner Mongolia. At every stop, tourists can experience the thigh-deep snow before returning to the cozy warmth of their compartment.
这条路线一直绵延到最严寒的东北。冬天,白雪皑皑的大小兴安岭非常迷人。夏天,那里又是避暑的好去处。内蒙古有广阔的草原。每到一站,游客都能从温暖的车厢里出来体验一下积雪齐膝的感觉。