If you're going to judge the merits of Los Angeles' Chinese cuisine, dumplings are a good place to start. Broken down by region, here are 10 essential dumplings to understanding L.A.'s varied repertoire.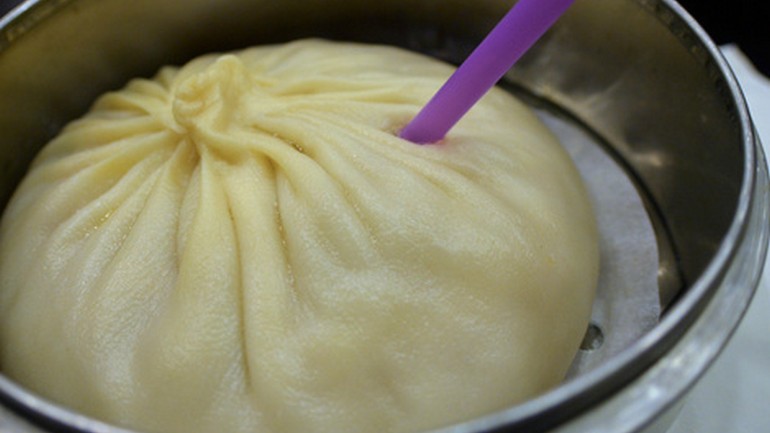 1. GIANT SOUP DUMPLING AT WANG XING JI
Wang Xing Ji (also known as Juicy Dumplings) makes food inspired from Wuxi in the Jiangsu province. Known affectionately throughout the country as the Land of Fish and Rice, the region is know for dumplings that are sweeter and commonly stuffed with fresh, pulverized crab because an abundance of crustaceans during certain months of the year. Wang Xing Ji is a soup dumpling specialist known for its softball-sized dumplings that require a boba straw to extract the liquid.
1 王兴记汤包
王兴记(也叫汤包)制作的食物起源于江苏省无锡市。无锡地区是中国著名的鱼米之乡,该地区也以甜味猪肉和碎蟹肉馅肉馒头出名,因为该地每年到了特定的时节盛产这种带壳美味。王兴记是制作汤包的专家,吃的时候要用吸管品尝里面的鲜汤。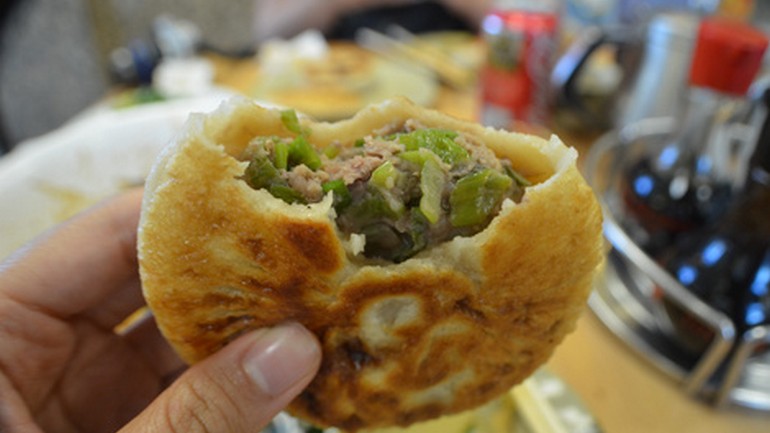 2. BEIJING PIE AT BEIJING PIE HOUSE
The dumpling in question is called a xian bing—a pan-fried disc stuffed with heavily spiced pork and assorted aromatics. This is a Beijing meat pie and is arguably the most addictive stand-alone dish in greater Los Angeles area. Pies come flying out of the kitchen in plates of four. Pair the dish with their cucumber salad, and if you have a hankering for more carbs, Pie House does wonderful zhajiang noodles—cold noodles with thin cuts of cucumber and a dollop of fermented soy beans.
2 北京馅饼
这种带馅食物叫做馅饼,一种带馅的烙饼,馅是味重的猪肉和各式香料。北京猪肉饼毫无疑问是大洛杉矶地区最让人上瘾的独特美食。馅饼四个一只放在碟子里被飞快端出厨房,吃馅饼的时候要搭配凉拌黄瓜,如果想多吃点碳水化合物,店家Pie House还提供美味炸酱面,一种配细黄瓜丝和一勺发酵黄豆酱的冷面。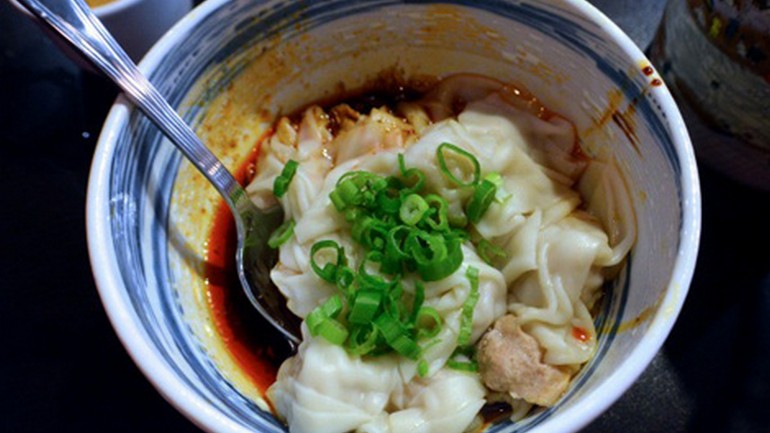 3. SICHUAN WONTON AT CHENGDU TASTE
The Sichuan wonton is called hong you chao shou. Hong you means red chili oil, and chao shou means "folded hands," a reference to how the dumpling is formed, and how—during the cold months in Sichuan—folks would fold their hands across their chest for warmth. The wonton is usually served as an appetizer and the skin is delicate—bordering on translucent. Chengdu Taste, the Sichuanese king of Los Angeles, undoubtedly serves the best rendition in town. It's stuffed with ground pork, and served over with a light chili oil infused with the potent Sichuan peppercorn—a notorious spice known for its lip-numbing after-effect.
3 四川抄手
红油抄手,红油指的是辣油,抄手的意思是"将手折叠",意取抄手的制作工艺——也是四川寒冷时节人们将手交叉在胸口取暖的动作。抄手通常是开胃小吃,皮很薄——接近透明。成都味是洛杉矶地区的川味头把交椅,毋庸置疑是全洛杉矶地区售卖口味最好的抄手馆子。抄手里面是碎猪肉,浸泡在辣油和花椒风味的汤汁里。花椒是著名的麻口食物。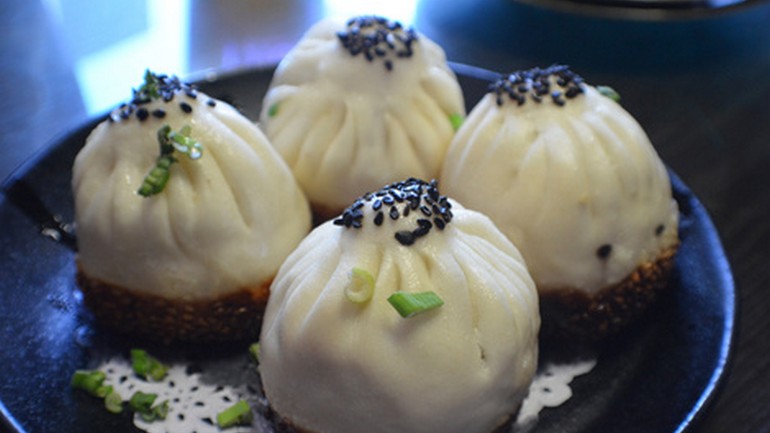 4. SHENJIANBAO AT EMPEROR NOODLE
While Emperor Noodle is marketed as a noodle joint, their specialty is really the shenjianbao. Invented in the 1920s in Shanghai, the shenjianbao has become an iconic breakfast snack of the region, usually served outdoors on street carts. Stuffed with pork, it has a thicker skin than most dumplings. It is first steamed in a huge bamboo steamer and then pan-fried on the bottom before getting a sprinkling of sesame seeds.
4 生煎馒头
帝国面虽然用面食做推广,但是他们家其实很善于做生煎馒头。生煎发明于20世纪20年代的上海地区,很快成为当地标志性的早餐食品,出售生煎的一般都是街边摊贩。生煎里面是猪肉,相对于大多数带馅食品,生煎的皮要厚一些。制作方式是先在竹制蒸笼里蒸,再用平底锅把底部煎一下,最后撒上芝麻就成了。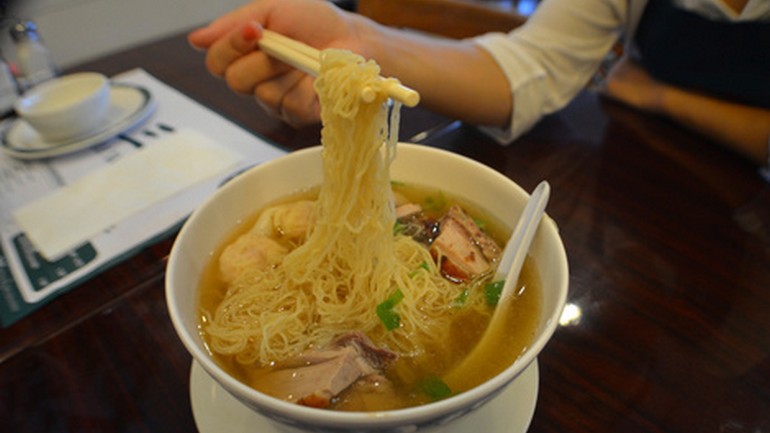 5. WONTON NOODLE SOUP AT SAM WOO
Fragrance is the key to a good wonton noodle soup, and the fortified broth from Sam Woo—an institution that has been open for over three decades—takes days to make. You can ask them to throw a piece of roast duck on top if you're extra hungry, but the dish by itself is enough to satisfy. The wonton, stuffed with pork and shrimp, is served with egg noodles imported straight from Hong Kong.
5 云吞面
一碗上好的云吞面,香味很重要,这家三和烧腊的肉汤也是需要几天时间才能熬好。要是饿得不行,还能让店家在面上加一块烤鸭,不过他们提供的菜点本身就很饱腹。这里的馄饨面里面包有猪肉和虾,面条是从香港进口的鸡蛋面。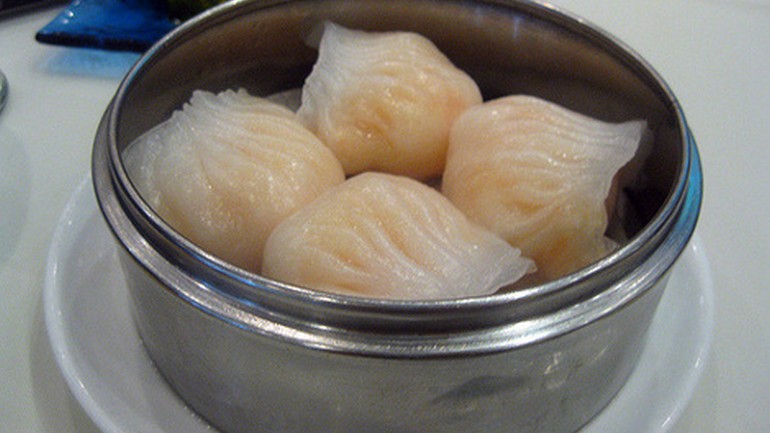 6. CRYSTAL SHRIMP DUMPLING AT LUNASIA DIM SUM HOUSE
It is said that the xiajiao, or har gow (in Cantonese), makes or breaks a dim-sum chef. Traditionally, a har gow is supposed to have ten or more pleats. The wrapper is made with wheat and tapioca and worked until it becomes translucent.
6 水晶虾饺
据说虾饺是评判一位点心师傅是否合格的标准。一般来说每只虾饺至少要有十个以上的褶子,虾饺的皮是用面粉和木薯粉反复揉搓到透明才算完成。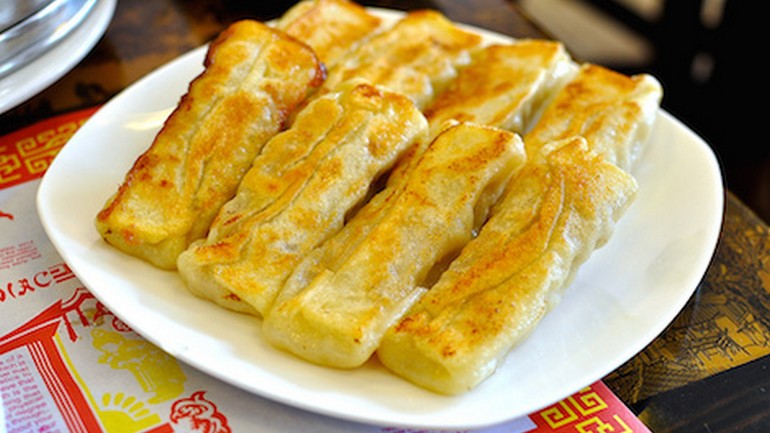 7. THE RETURN DUMPLING AT HUI TOU XIANG
Hui Tou Xiang takes the guo tie, a traditional potsticker, usually oblong in shape, and sealed both sides. They call it the hui tou—which means "to return" in Mandarin—to symbolize their desire for customers to return. The dish is pan-fried on all sides and meticulously fried to a juicy crisp. A single order will get you eight pot stickers. Be sure to pair it with chili sauce.
7 锅贴
回头香饭店的锅贴是一种长圆形两边封口的带馅食物。之所以叫回头,意为回头客多。锅贴所有面都用平底锅煎透,口感香脆多汁。一份八只锅贴,一定要蘸辣酱。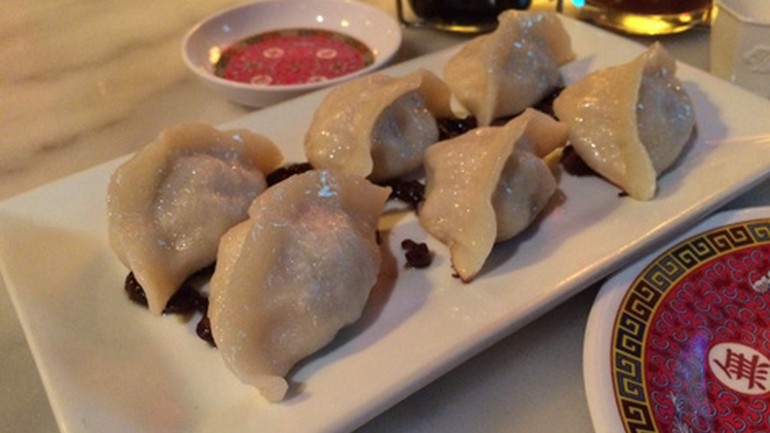 8. GLUTEN-FREE DUMPLINGS FROM PEKING TAVERN
Dumplings are extremely difficult to make gluten-free, but the owners of Peking Tavern knew that if they wanted to open a dumpling house in the heart of Downtown, they needed to appeal to Angelenos' finicky eating habits. Months of recipe testing paid off: You can barely taste the difference. We recommend getting them pan-fried and stuffed with beef. Pairing them with a small shot of the Chinese spirit baijiu.
8 无麸质饺子
饺子很难做到剔除麸质,可PEKING TAVERN的老板深知如果想在洛杉矶城中心开餐馆,就一定要满足洛杉矶人挑剔的饮食习惯。经过几个月的菜品测试,老板终于让无麸质饺子和有麸质饺子的口感差异几乎尝不出来。我们推荐牛肉馅煎饺,搭配少量中国白酒食用。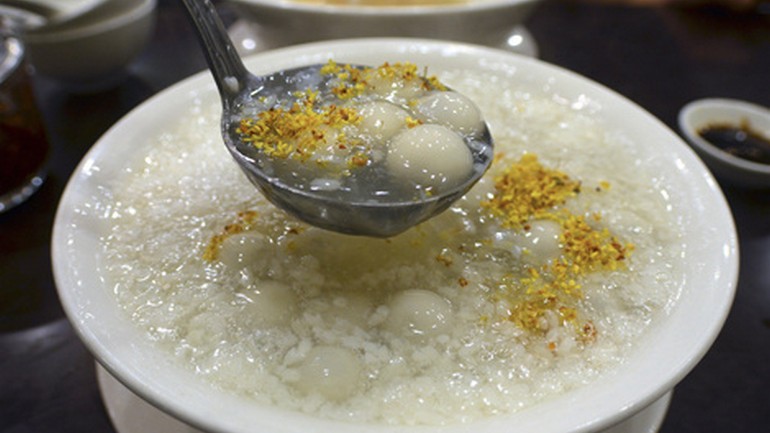 9. SWEET GLUTINOUS RICE BALLS AT EMPEROR NOODLE
These sweet rice balls (tang yuan in Southern China, yuan xiao in Northern China) are traditionally stuffed with sesame paste or ground peanuts. It's a common dish on the 15th day of the Lunar New Year. The roundness of the rice ball is indicative of a complete circle of harmony within the family. Emperor Noodle in San Gabriel serves a beautiful version spiked with sweet rice wine and dried osmanthus flowers.
9 甜汤圆
中国南方叫汤圆,北方叫元宵,传统的做法是裹芝麻馅或花生馅。汤圆/元宵是正月十五人们常吃的一种食物。元宵的圆代表一家人和睦圆满。Emperor Noodle in San Gabriel出售加了甜酒酿和撒了干桂花的汤圆。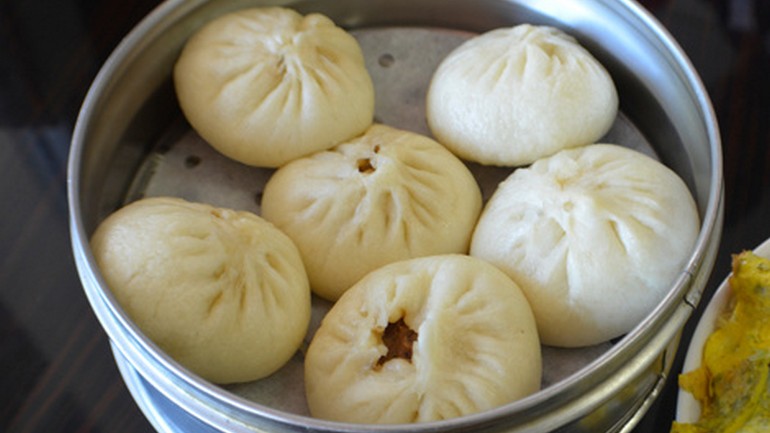 10. TIANJIN BAO AT TASTY NOODLE HOUSE
Tianjin is a coastal city in northern China known for an abundance of seafood and dough. The Tianjin bao is a thick doughy bun, made with yeast so that it rises slightly. The remarkable quality about this dumpling is that it's able to hold quite a bit of juice without turning soggy. Each bun fits perfectly in the palm of the hand. Pair it with a dash of black vinegar for an extra kick.
10 天津包子
天津是中国北方沿海城市,以海鲜和面食出名。天津包子的皮较厚,是发面包子。这种包子不会受潮,口感多汁。包子的大小很适合一手拿捏,搭配一叠黑醋食用味道更冲。