Without a doubt, China is one of the most adventurous countries when it comes to eating street food. There are some dishes available around which you would never consider edible in your home country. Some of them look really disgusting, but taste amazing so you should never judge Chinese food by its look.
说到吃街头小吃,中国毫无疑问是全世界最需要勇气的国家。这里随处可见的街头小吃,如果换了是自己家乡,你绝对不会产生"这东西居然还能吃"的念头。有些看着真恶心,可吃下去真好吃,所以,别看一眼就下定论。
When you come to China, be adventurous with food. Don't limit yourself to eating only baozi, fruits, veggies and plain rice. Leave your food comfort zone and keep experimenting with different dishes – from baked bees to grilled snake meat.
既然到了中国,就要大胆尝鲜。只吃包子、水果蔬菜和米饭是不够的,别怕吃到奇怪的东西,要不断尝试不同的菜肴——你可以试试烤蜜蜂,串烤蛇肉也不错!
Here is my top 10 Chinese street foods you simply can't afford to miss when in China:
下面是这次中国之行让我最怀念的十种中国街头小吃:
1.Baozi
1.包子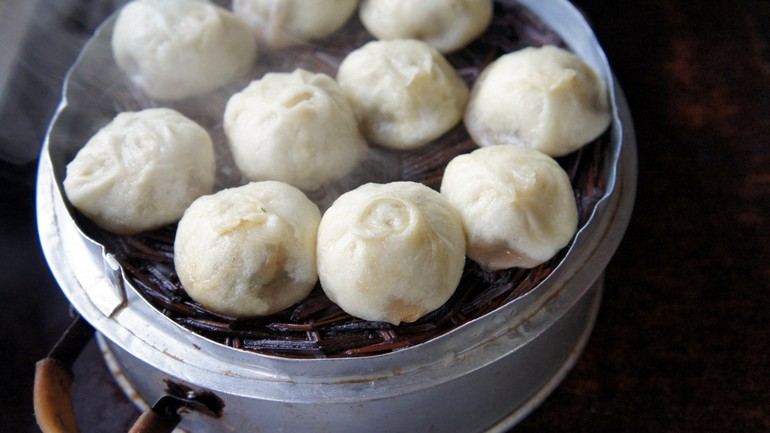 These are traditional Chinese dumplings. They are often steamed or fried and filled with a great voice of meat (pork, beef) and veggies (steamed peas, sweetcorn, chives, chopped carrot). Baozi are served with soy-based sauce, chilli, vinegar and sesame oil.
传统的中国包馅食物。常见为蒸制,也有煎炸。馅心要么是猪肉或牛肉,要么是蔬菜(豌豆、甜玉米、葱或胡萝卜碎)。包子也可以和黄豆酱、辣椒、醋和芝麻油同食。
2.Jiaozi
2.饺子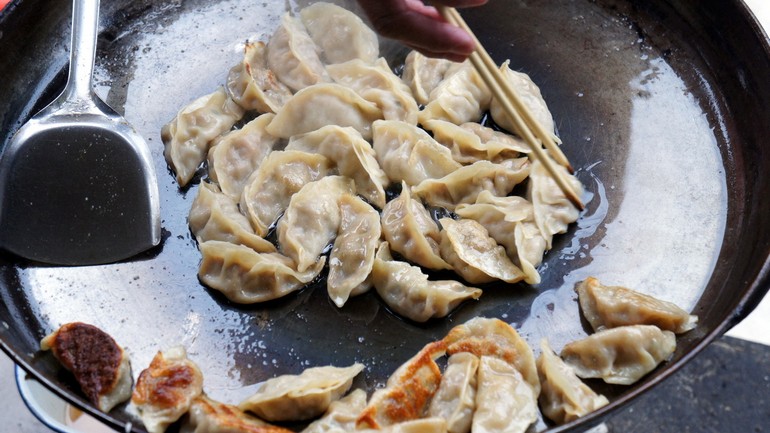 Jiaozi are also Chinese dumplings, but crescent-shaped and much smaller than baozi. They are usually filled with minced stuffing and steamed and they are served boiled or fried.
饺子也是中国的一种包馅食物,但是样子像新月,比包子也小得多。里面一般是切碎了的各种馅料,有蒸饺、水饺和煎饺。
3.Snake meat
3.蛇肉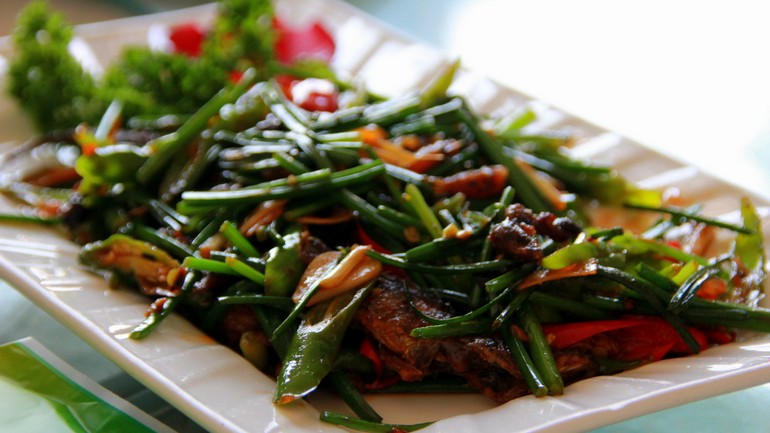 Snake meat is a delicacy served mainly in Guilin area, so if you make it to Li River nearby Yangshuo, you should not miss it. It's a very delicious and soft dish which tastes like perfectly grilled fish. It is mainly served with deep fried veggies.
桂林随处可见蛇肉,要是去阳朔附近的漓江玩耍,你可别错过了这美味。蛇肉味道鲜美,口感绵软,吃起来非常类似烤鱼,常常陪着各种炸蔬菜一起上桌。
4.Snails and the beer
4.田螺和啤酒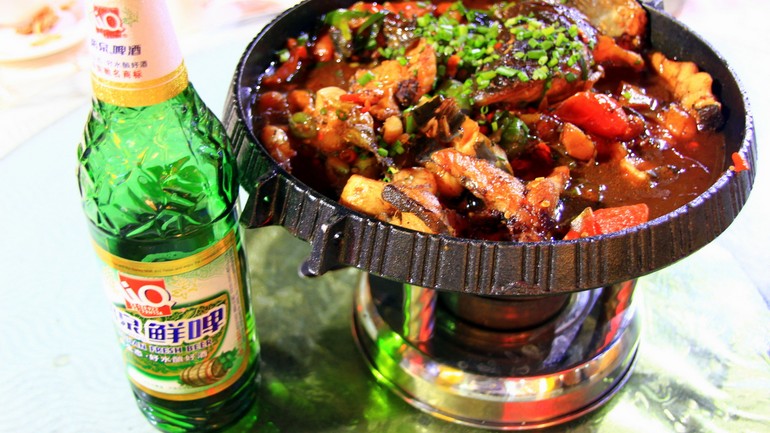 The snails, a very famous dish in Guilin, are usually served in shell and taste like a minced beef. They are cooked in beer and served with a bottle of beer as well. It's very spicy, so be careful before digging in.
田螺是桂林非常出名的美食,一般是连壳一起端上来,吃起来像牛碎肉。这种田螺用啤酒烹饪而成,吃的时候也会搭配一瓶啤酒。很辣,开吃之前要小心。
5.Duck and chicken feet
5.鸭脚鸡脚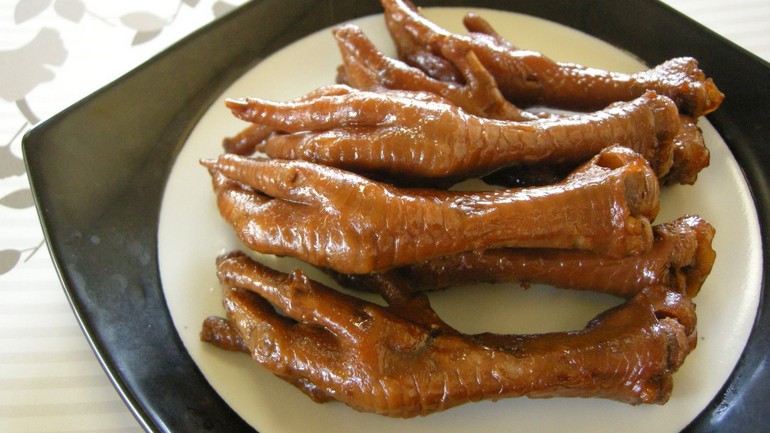 They are very spicy, but extremely delicious and convenient to pack for your train ride. They are served as a beer snack and usually deep fried, then steamed before being stewed.
都是非常辣的食物,但实在是太好吃了,坐火车携带也很方便。鸭脚鸡脚是下酒菜,一般是炸过以后再蒸,最后再炖。
6.Stinky tofu
6.臭豆腐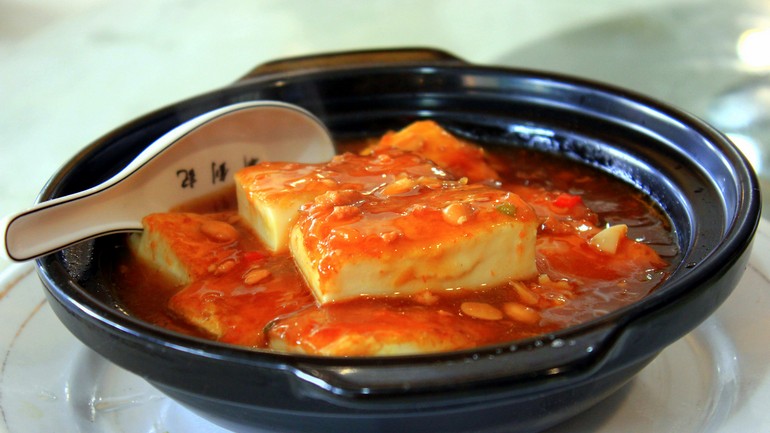 Stinky tofu is a form of fermented tofu that has a strong odour. It is a snack that is usually sold at night markets or roadside stands or as a side dish.
臭豆腐是一种味道很刺鼻的发酵豆腐,夜市和路边摊上经常能见到的小吃,有时也作为主菜的配菜。
7.Grilled chicks
7.烧鸡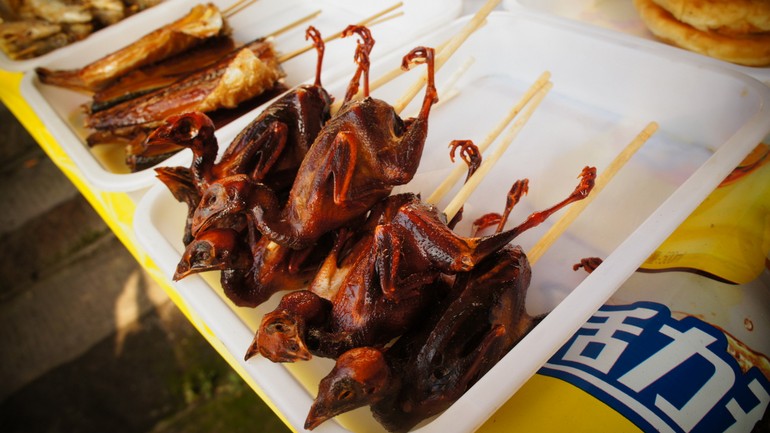 Vacuum-packed snack often eaten in local trains and buses. They are salt-baked or grilled. You might go for a spicy version or the mild one if it does not disgust you.
当地火车和大巴上经常能看到人们吃真空包装的烧鸡,要是不介意外观,喜欢辣的可以吃辣味,口味较轻的可以选择不辣的。
8.You tiao
8.油条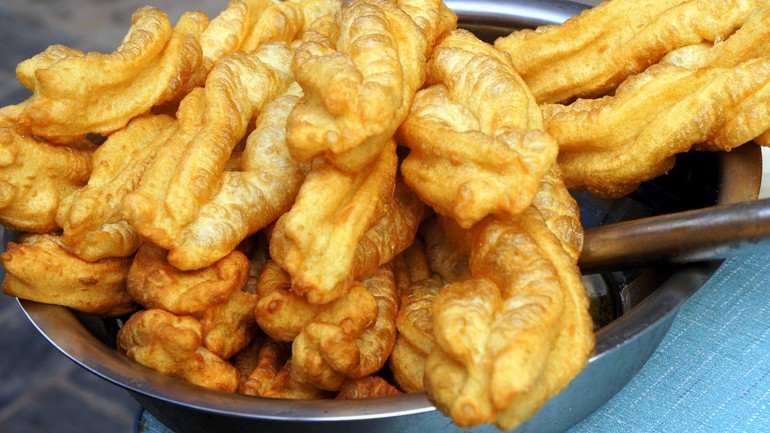 It's a very common breakfast in China. You tiao is simply deep fried bread stick made of dough and served hot as an accompaniment for rice congee or soy milk.
中国非常常见的早餐之一,油条只是经过炸制的长条形面团,要趁热吃,经常与粥和豆浆同食。
9.Baked sweet potatoes
9.烤番薯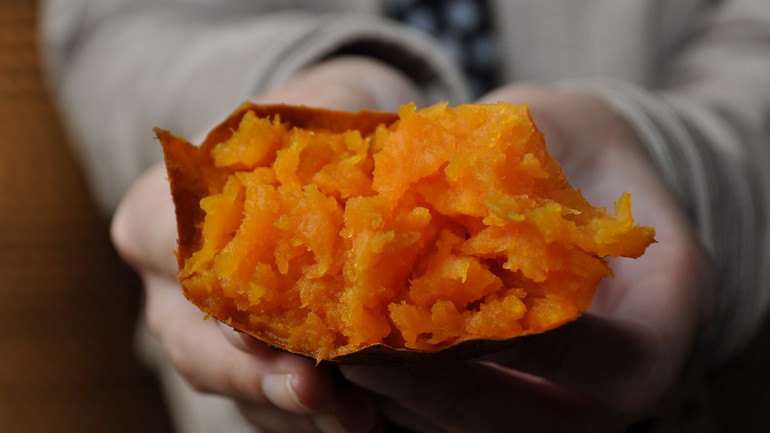 Great snack option for vegetarians. They are baked in a huge barrel in the street, extremely soft and dry so make sure you get them with soy milk or tea.
素食者的绝佳零食,街边摊贩用大油桶烘烤的美食。入口非常软,有一点干,最好和豆浆或者茶一起吃。
10.Fried noodles or rice
10.炒面炒饭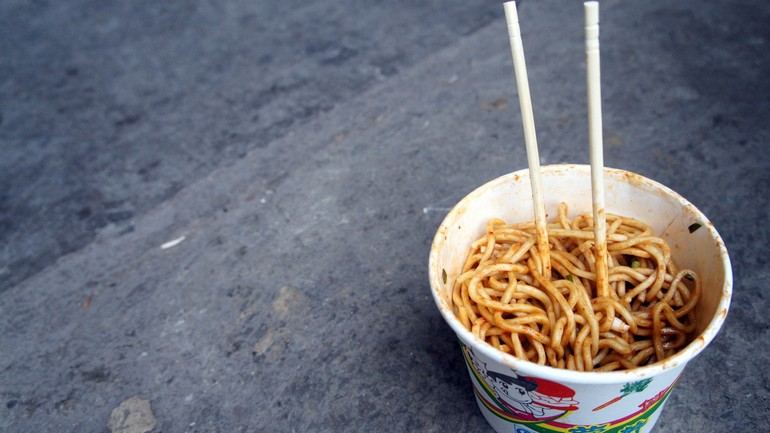 Fried rice with vegetables and bean curd – a very common street food made by locals. The rice is served in bowls with meat and vegetables as toppings and adding some bean curd on top will make it taste even better.
炒饭配蔬菜和豆腐是当地常见的街边小吃。米饭用碗盛好,上面配上肉和蔬菜,再加点豆腐会更好吃。