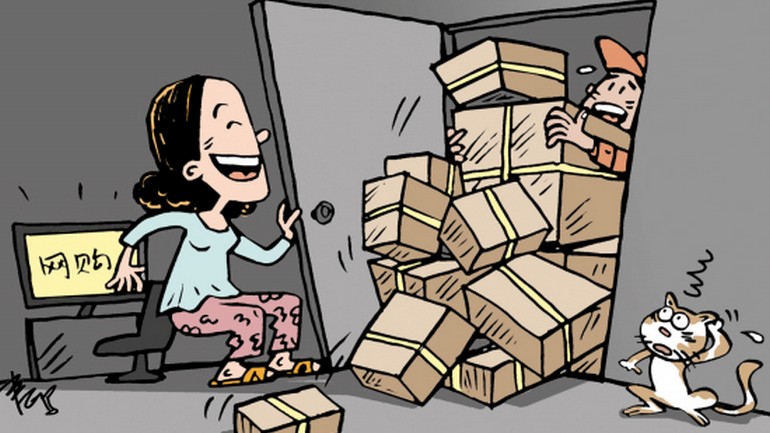 Away from the big headlines about economic reform
and rebalancing, China is witnessing a silent revolution — that of the
rise of the consumer. Nowhere is this trend more visible than in the
world of e-commerce. In 2011, China's online retail purchases surpassed
Japan's. The following year, its online retail penetration hit 16
percent, cruising past that of the United States.
As growing affluence fuels aspirations for a better lifestyle,
China's consumers are shedding their generations-old inclination to save
and are starting to spend. This is just what policy makers, not just in
China but around the world, want to hear. China is trying to wean the
world's second-largest economy away from its reliance on large-scale
investment as a driver of growth, and businesses worldwide are looking
for new consumer markets as the West deleverages.
What is new about China's emerging consumer class, though, is that it
is becoming increasingly comfortable with using online websites to make
retail purchases. Almost 600 million potential consumers have access to
the Internet in the country today, more than twice the number in the
US. Internet users have doubled in China over the past five years. Of
these, 80 percent access the Internet through smartphones and other
kinds of wireless devices.
Our recent study shows that the expansion and ease of Internet usage
thanks to the spread of mobile devices, combined with the rapid
development of supporting infrastructure, are driving China's e-commerce
market toward an inflection point. As the industry takes off, it is set
to boost the profitability of not just top e-commerce businesses but
also that of their service providers such as logistics companies,
payment solutions providers and social-networking platforms.
Nevertheless, the ride has not been all smooth thus far, which
probably explains the still-low valuations of even the industry leaders,
despite strong underlying growth. The sector has undergone two years of
consolidation, which has weeded out some of the smaller players and
dimmed the appetite of venture capital firms; some firms offering
services across the e-commerce value chain have run into cash-flow
problems, and the "group-buy" model — where websites offer products at
discounts when a minimum number of buyers make the purchase — has just
not clicked.
As the industry emerges from the shakeout, many survivors are showing
signs of breaking even. It is now becoming clear that China's
e-commerce market favors larger companies with strong user traffic and
committed long-term strategies. Specifically, the winners are likely to
be three types of companies: (1) e-commerce platforms with massive
self-generating user traffic, (2) logistics-driven e-commerce firms and
(3) companies with unique business models or niche products.
E-commerce companies need to manage their supply chains efficiently
if they are to offer products at competitive prices and deliver them to
customers quickly. The first step, though, is to have effective channels
to acquire new users. Thus, the first category of likely winners
emerging from the industry shakeout includes mobile search engines and
social-networking, communications and content-driven media platforms.
These firms typically have effective plans for revenue generation
through advertisements or by offering themselves as marketing gateways
for e-commerce. Based on the US experience, these companies should see
profitability rising as marketing expenses to acquire new users decline
over the longer term.
Reliable system
Next, e-commerce providers must offer secure payment solutions and a
reliable system to deliver the products to customers. This generates the
second group of winners — those offering mobile and online payment
services, the warehousing firms and the final customer-delivery
companies.
Indeed, logistics is seen as a cost-centre today, but it could well
be tomorrow's profit driver. All e-commerce platforms are trying to
compete on three aspects: price, product offerings and service. Large
companies find it difficult to differentiate themselves on product
offerings, as brands are willing to list their products on multiple
platforms.
However, as the US experience shows, their ability to offer
competitive prices and services depend on sound logistics. Although
efficient logistics require a large overhead investment, many companies
are looking to employ these in-house rather than outsource them. As
labor costs rise, they will need to invest heavily in automation to
boost productivity. They will also need to spend on technology to
leverage "big data."
That still leaves space for a small group of companies with unique
product offerings or services. These are the third set of winners. This
group could include companies offering mobile browsers, localized
business services focused on specific towns or cities, mobile app
distribution and online video services.
In China's increasingly competitive domestic market, the best path to
profitability would eventually be through finding a niche product,
increasing productivity through warehousing and packaging automation,
selecting the optimum level of service, reducing the rate of return of
products, nurturing customer loyalty and reducing the cost of acquiring
new customers.
China's Internet sector is in a sweet spot, with strong growth
prospects, as online shopping goes social and mobile. Online retail
penetration in the country should go much higher over the longer term
than that in the US, due to the fragmentation of China's overall retail
industry and its geographic diversification. Local players dominate the
market, but they have the advantage of learning from the US experience
both in the business-to-consumer (B2C) and the consumer-to-consumer
(C2C) e-commerce segments. The US model shows that both kinds of
companies can co-exist over the longer term.
Additionally, online consumption, by its very nature, is non-cyclical.
This bodes well for strong, secular growth of the entire eco-system
supporting the e-commerce industry in the coming years. The ongoing
consolidation led by the larger players to acquire more mobile Internet
users should provide the extra nip to the shares of second-tier firms in
the coming year.