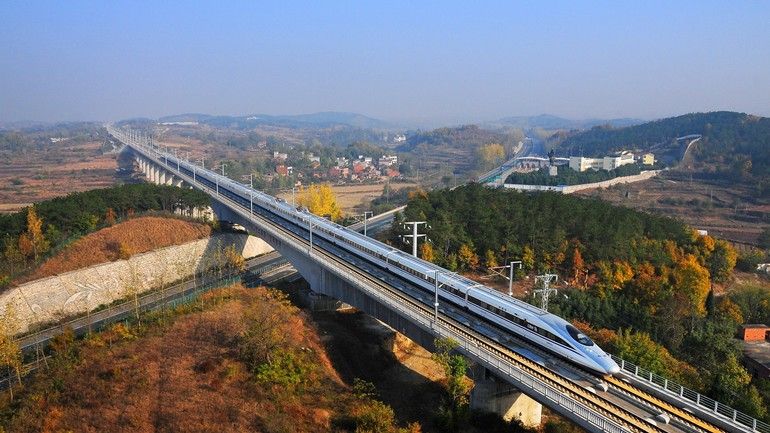 China may be a latecomer in high-speed train construction, but some of its technologies are better than other countries'. For example, one exquisite technological requirement is that the surface of the rails that touches the wheels must be delicately clean while the track geometry should be smooth, because even the minutest flaw could shake a train considering its high speed.
中国虽然是高铁建设的后起之秀,但有些技术却领先世界。比如,铁轨表面需要有精湛的技术,确保和车轮接触时必须绝对干净,同时轨道体保持光滑。因为列车在高速运行过程中,哪怕是最细微的裂缝也会引起震动。
This is just one of the areas in which China excels – the rails on the Beijing-Shanghai high-speed train line are so smooth that the test train reached speeds of 380 kilometers an hour without any evident shaking.
这仅仅中国是众多领先领域中的一个,在京沪高铁测试中,平滑的铁轨使列车在以380km/h的速度运行长达一个小时都没有任何明显的震动。
On another technological index – degree of ride comfort – China's high-speed trains' record is good, too. Every train has to pass strict even severe tests before being pressed into service to ensure passengers enjoy the maximum comfort.
在另一项技术指标——乘坐舒适度上,中国高铁的记录也是非常亮眼。每一辆列车在投入运营之前,都通过了严格苛刻的测试,最大限度地确保乘客的舒适度。
Many passengers who have traveled by high-speed trains in China and Europe say the former are better. On other indexes such as dynamic safety, too, China's high-speed railways show good performance.
很多乘坐过中国和欧洲高铁的旅客认为,中国的高铁更加舒适。对于别的指标像动力安全等,中国高铁同样表现良好。
Besides, China's high-speed railways cost the least in the world. It is globally acknowledged that, the cost of building high-speed railways is the lowest in China.
此外,中国高铁的成本也是世界最低的。全世界都知道在中国修建高铁线路的成本是最低的。
In October 2014, while bidding for the Boston subway program, China CNR Corporation Limited, quoted a price that was only about 60 percent that of its Japanese competitor Kawasaki Heavy Industries.
2014年10月份,在波士顿地铁项目竞标中,中国北车集团报价只有竞争对手日本川崎重工的60%。
The incident prompted Japanese enterprises to accuse China of "dumping", albeit without any basis. China's high-speed railways cost less because of the low cost of labor in the country. High-speed railways require civil and electrical engineering, and all kinds of physical labor, which cost much more in a fast aging society like Japan.
这一事件导致日本企业指责中国的倾销行为,尽管没有任何依据。中国高铁建设的成本低是因为国内劳动力成本低。高铁建设需要土木工程和电气工程,以及各种体力劳动,这些对于处在快速老龄化社会日本,成本要高很多。
Also, the low cost of China's high-speed railways has a lot to do with the lower requirement of profit.
同时,较低的利润追求也在极大程度上降低了中国高铁建设的成本。
Of course, the Japanese too have their advantages. Masaki Ogata, executive vice-chairman of East Japan Railway Company, said in a recent interview, Shinkansen technology can prevent damage to high-speed railways during earthquakes, and has advantages in environmental protection and noise control.
当然,日本也有自己的优势。东日本旅客铁道公司的执行副总Masaki Ogata介绍道,新干线技术在地震的时候能防止高铁损毁,在环保和降噪方面也有优势。
In short, China's high-speed railways are good in quality and competitive in price, and will definitely be better in the future.
总之,中国高铁质优价廉,竞争力强,今后定会取得更好的发展。