Before heading to China I thought it was going to be pretty much impossible to try and keep a vegetarian diet so I loosened the reins and away I went. As it turns out though, there are plenty of awesome vegetarian street food options.
在去中国之前,以为一路上吃素食不太可能,但去了才发现中国有那么多适合素食者的美味街边小吃。
The artisanship, ingenuity and even engineering work of the street food vendors is just incredible. The contraptions these food masters use to create some of the most delicious food I've eaten in China, shows their dedication to delivering their fare, the way they want it-absolutely yummy.
街边食物摊贩们所卖的食物艺术感十足,制作起来手脚麻利,说是工程操作也不过分,让人不敢相信。这些烹饪大师手中奇奇怪怪的烹饪用具做出了我在中国吃过的最好吃的食物,有了这种做好美味的敬业精神——做出来的食物绝对好吃。
Yichang, China
宜昌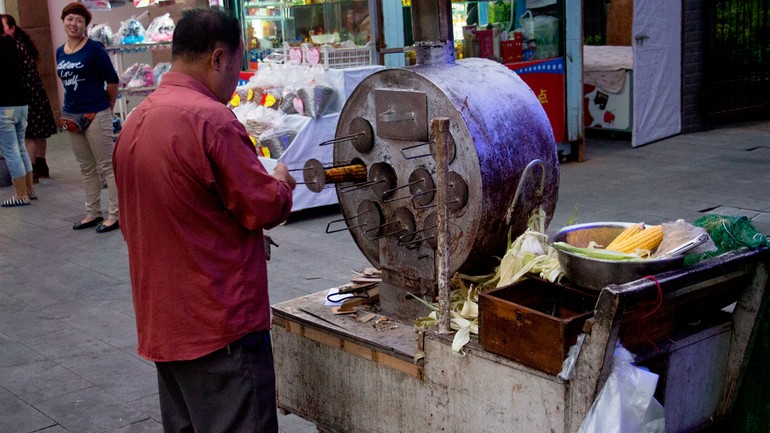 This man and his machine were sent down from the corn heavens. Anyone who knows me well, knows how much I love grilled corn, especially grilled corn that is perfectly charred. His corn was everything and more.
这男人和他的机器是玉米天国给人间的馈赠。熟悉我的人都知道我喜欢吃烤玉米,尤其喜欢吃烤的恰到好处焦香四溢的玉米。这男人的玉米有我要的一切,而且超出我的想象。
His corn grilling was like a dance, as he constantly pulled, turned, flipped and switched his corn to the perfect hot spots in his magic corn oven but I must say his best move was handing one over.
要说他在烤玉米,还不如说是在舞蹈——他不时地将神奇玉米烤炉中的玉米拿出来略微翻转,有时将玉米翻面烤,有时将这个洞的玉米换到那个洞去。男人一刻不停地操作着眼前的烤炉,只为让玉米在烤炉中得到完美加热。然而,我不得不说,他最迷人的动作那还要属递上一根烤好的玉米。
Beijing, China
北京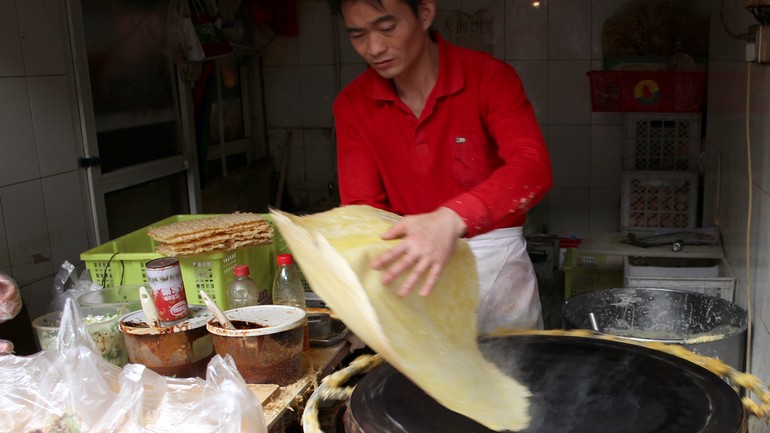 We called him the crepe master. He laid his batter on a smoldering, spinning wheel as it cooked from the outside, in. When it was ready, he'd scoop it/flip it up, fill it with some lettuce, these crunchy things, the toppings of your choice, and the special sauce and roll it up like a wrap! I think we stayed there for at least 10 minutes just staring at him make these things.
我们管这男人叫可丽饼(煎饼)大师。男人将面糊倒在一个小火加热的转盘上,面糊就在转盘的外侧被加热。做好后,男人用铲子那么一铲,整个翻个面,填上一些生菜和脆脆的东西,加上你点的料,最后来上特制酱料那么一裹!我们一伙人至少在他摊前站了10分钟,盯着他表演。
Kunming, China
昆明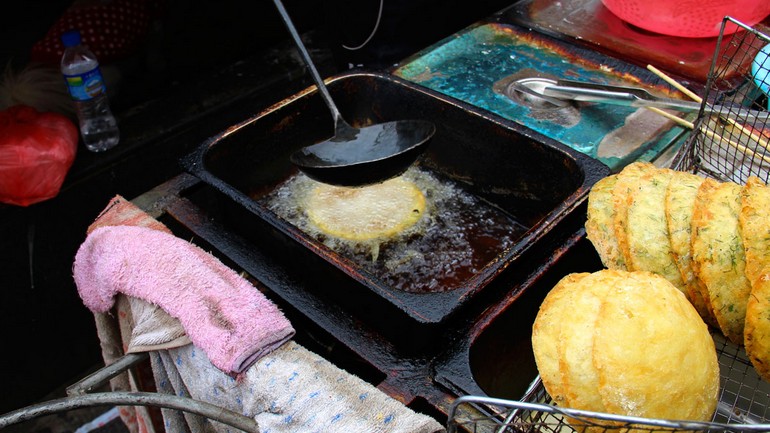 The potato genious. She carefully lined her ladle with a mashed potato batter filled with fresh and fragrant dill, deep fried it and let it fall off the ladle to form a perfect potato bowl that she filled with spicy chili. We went back for seconds.
土豆天才。他小心翼翼的用长柄勺舀起一勺掺了新鲜莳萝的土豆面糊,放进锅里炸制后面饼从长柄勺里脱落,成了个完美的土豆碗,撒上一点辣椒粉。我们离开后没有几秒又回来了。
The half popper. This guy sells half-popped kettle corn from his bicycle, but he pops the stuff on the street. I didn't know what we were walking past at first, I just heard loud bomb like noises and smells of deliciousness. He rotates his kettle by hand over an open flame on the sidewalk as the kernels partially pop. The stuff is addicting and it tasted as good as it smelled.
没爆开的爆米花。这男人买的是一些没有完全爆开的爆米花,除了卖成品,他也当街制作。一开始我们路过他身边还不知道卖的是什么,突然我听见一声巨响,随之而来的是扑鼻的香味。他用手转着壶状物,底下架着明火,就这样坐在街边卖他半爆的谷仁。这东西一吃就让人上瘾,尝起来也和闻着一样美味。

Yangshuo, China
阳朔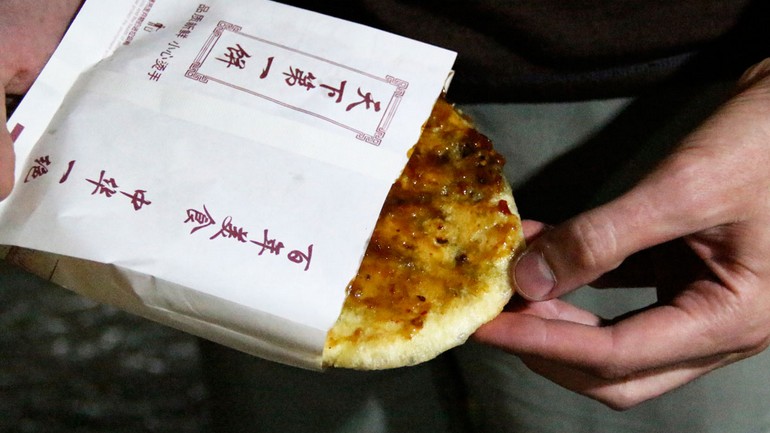 Stuffed bread. I stuffed mine with green onions and watched this man take a fresh piece of dough, shape it, stuff it, and cook it all in about 3 minutes. It steamed as he smeared some spicy, red sauce on one side, put it in a paper bag and into my hand. It was devoured in about 3 seconds.
夹饼。我的饼夹了小葱,眼前的这个男人拿来一块现做的生面团,擀成型、塞了料、烤好,整个过程差不多只用了3分钟。男人在一面涂了红红的辣酱,顿时水汽蒸腾上来。他将做好的饼装在一个纸袋里递到我手里,我3秒就吞光了这个夹饼。
Yuanyang, China
元阳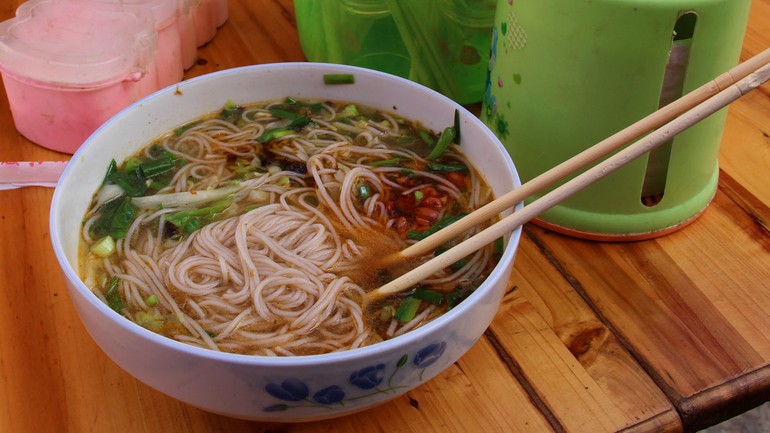 Noodles. I ate so many bowls of noodles in China, and honestly I can't fairly say that this is vegetarian because who knows what's in that broth…but this woman made some noodles that were THE JAM. The noodles themselves were fresh and velvety, her broth was pretty much perfect and her greens were super fresh. Lunch was remembered that day and it only cost about fifty cents.
面条。我在中国吃过不少面条,老实说这东西不能算素食,因为鬼知道肉汤里加了什么,但这女人做的面条太好吃。面条口感清新顺口,面汤可以说接近完美,加的配菜超级新鲜。我们始终忘不了那天吃的这顿午餐,这么好的一碗面条只花了差不多50美分。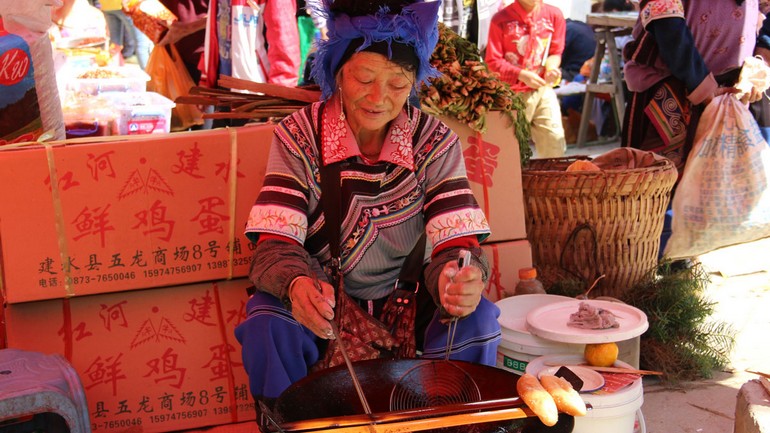 Hani fried dough. Her fried dough was unlike other fried dough I had in China; I'm pretty sure the difference was that hers was made from a rice flour instead of wheat. It was crispy on the outside the way fried dough should be, but gooey on the inside from the rice batter. It was a perfect sweet dessert after our spicy noodle lunch, and yes it became a pattern, we went back for seconds.
哈尼族炸糕。她做的炸糕和我以前吃到的中国炸糕不同。我敢说她用的原料并不是面粉,而是米粉。炸糕外酥里嫩,吃了一碗辣口的面条再吃这样一份甜点再适合不过。离开后没过几秒钟我们又折回去了,对,这已经成了我们的惯有模式。
These are just a few street food highlights, there were so many more, like the countless nights with yummy street fried rice, barbecued vegetable skewers, grilled eggplant with tons of garlic…it goes on and on.
这里只是列举出几种特色街边小吃,其实真正的数量远不止这么多,比如无数个夜晚我们徜徉在街头享受炒饭、串烤蔬菜、烤大茄上满满的大蒜……