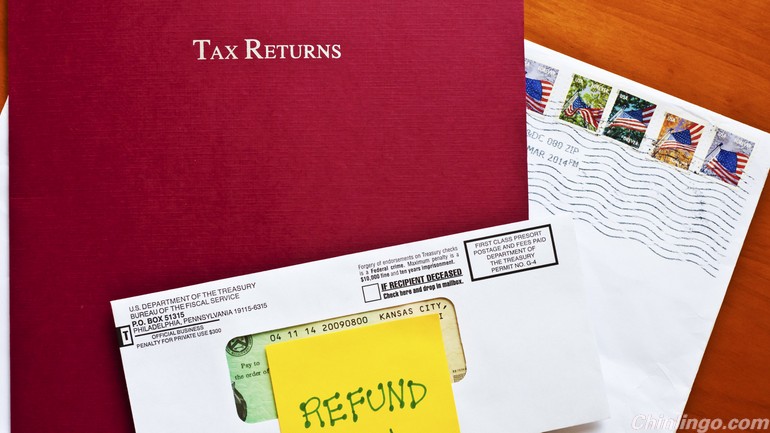 Overseas tourists may be able to claim tax refunds at shopping malls in Beijing as the city strives to boost inbound tourism.
北京努力促进入境旅游,海外游客也许能够在北京的商场申请退税
Local authorities are working on a plan, according to the Beijing Tourism Development Commission.
据北京市旅游发展委员会称,当地政府正在研究一项计划。
Zhou Zhengyu, head of the commission, said at a news conference on Friday that the policy is likely to be launched later this year. Authorities will also try to make visa applications easier for foreign tourists.
该委员会的负责人周正宇在周五的新闻发布会上说,该政策很可能在今年晚些时候出台。有关部门也将努力让外国旅客的签证申请变得更加容易。

No details of the tax reimbursement plan have been released.
退税计划的细节还未公布。
Dai Bin, a professor of tourism at Beijing International Studies University, said the policy will help to increase spending by overseas visitors.
北京外国语大学旅游系的戴斌教授表示,这项政策将有助于增加海外游客的消费。

He expects the tax refund rate to be set at 5 percent or higher.
他预计退税率将被设定为5%或更高。

Official figures show that shopping accounts for 27.6 percent of total spending by tourists in Beijing, followed by transport at 26.9 percent, accommodation at 16.9 percent and dining at 7.3 percent.
官方数据显示,购物占了在京游客消费总额的27.6%,其次是交通26.9%,住宿16.9%和餐饮7.3%。
官方数据显示,购物占在京游客消费总额的27.6%,其次是交通占26.9%,住宿占16.9%,餐饮占7.3%。
Wang Hongcun, head of the general office of the Beijing commerce commission, said the agency will further promote traditional brands in Beijing to attract more overseas consumers.
北京市商务委员会办公厅的负责人汪洪存表示,该机构将进一步推广北京的传统品牌,以吸引更多的海外消费者。

"Shopping and dining by tourists in Beijing generated more than 203 billion yuan ($33.4 billion) last year, accounting for more than half of total tourism income," he said.
他说:"去年游客在北京的购物和餐饮上产生了超过2030亿人民币(约合334亿美元)的消费额,占旅游总收入的一半以上。"

Yang Jinsong, a professor of international tourism at the China Tourism Academy, suggested the capital learn a lesson from Hainan province, where the tax reimbursement scheme was first piloted. However, it received a lukewarm response because of a shortage of products and a lack of promotion.
中国旅游研究院国际旅游系的杨劲松教授建议,首都应吸取海南省的教训。海南是最早的退税计划试点城市,然而,由于其产品短缺和推广乏力,市场反应冷淡。

Aki Takahashi, 29, from Japan, who came to Beijing for a vacation in 2012, said the tax reimbursement might help generate more revenue but not necessarily more tourists.
29岁的高桥亚希来自日本,她在2012年曾到北京度假,她说退税可能有助于产生更多的收入,但不一定能带来更多的游客。

"Shopping is not a must in China for me and my family. Also, you can always buy duty-free products at the airport terminals," he said.
"对于我和我的家人来说,在中国,购物不是必须的。何况,你可以随时在机场候机楼买到免税产品,"他说。
她说:"对于我和我的家人来说,在中国,购物不是必须的。何况,你可以随时在机场候机楼购买免税商品。"
Unlike Hainan, the tax refund in Beijing will only apply to foreign visitors, an insider told China Daily.
一位内部人士告诉中国日报称,与海南不同,退税在北京将仅适用于外国游客。

Figures from the Beijing commission show that the city saw a sharp fall in inbound tourism in 2013, with more than 4.5 million visitors arriving, down by 10.1 percent from the previous year.
来自北京旅游发展委员会的数据显示,2013年,北京入境旅游人数出现急剧下滑。与上一年相比,有超过450万游客前来,同比下降10.1%。

It said the number of foreign tourists accounted for 1.79 percent of all tourists arriving in the capital last year.
数据显示,外国游客的数量占所有到北京旅游游客总数的1.79%。

Foreign tourists' per capita spending in Beijing last year rose to $1,065, an increase of 3.6 percent.
去年,在北京旅游的外国游客人均消费上升至1065美元,同比增长3.6%。