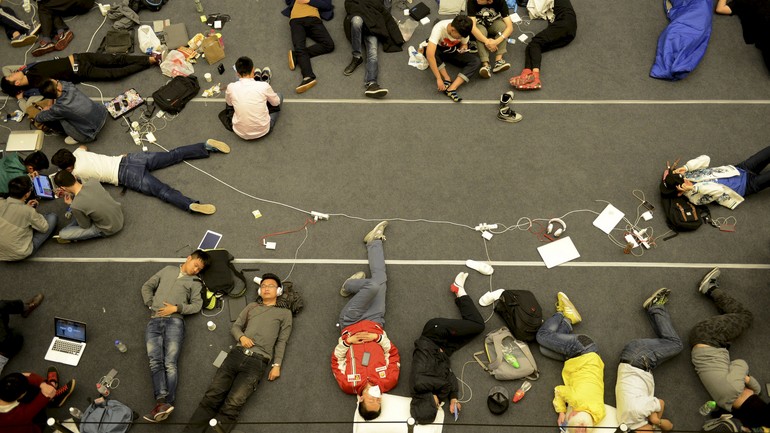 The company said on Monday that quarterly iPhone sales in greater China, which includes mainland China, Hong Kong and Taiwan, had surpassed those in Apple's home market, the United States, for the first time.
公司周一宣布,iPhone在包括中国大陆、香港和台湾在内的大中华区的季度销售额已经超过了苹果在美国国内市场的成绩。这是历史上第一次。
While Apple did not disclose specific numbers, the performance powered the company's revenue, with sales in greater China rising 71 percent to $16.8 billion in the fiscal second quarter compared with the same period last year. Revenue from greater China also exceeded that from Europe for the first time.
虽然苹果并未透露具体数字,但这一表现提升了公司的营收数据。大中华区第二财季的销售额升至168亿美元(约合1040亿元人民币),同比上扬71%。来自大中华区的营收还首次超过了欧洲市场。
The China results punctuated another strong quarter for Apple. In total, revenue climbed 27 percent to $58 billion, up from $45.6 billion last year, the company said in its earnings report. Profit was $13.6 billion, up from $10.2 billion a year ago.
中国的业绩标志着苹果又有了一个表现强劲的季度。公司在财报中称,全球市场而言,总营收同比增加27%,由去年的456亿美元增至580亿美元。利润则由一年前的102亿美元增至136亿美元。
"Everything you look at in China was extremely good," Timothy D. Cook, Apple's chief executive, told analysts in the company's earnings call. "We're really proud of the results there and continue to invest in the country."
"在中国看到的一切都非常好,"苹果首席执行官蒂莫西·D·库克在公司的财报电话会议中告诉各位分析师。"我们对那里的业绩深感自豪,并且将继续在中国进行投资。"
Apple has long laid the groundwork to reap big sales in China, and revenue growth from the region has steadily gained momentum. The company in late 2013 struck an important deal to sell iPhones through China Mobile, the world's largest phone carrier. Apple is also expanding its operations in the region, with 21 retail stores and plans to increase that number to 40 by mid-2016.
苹果很早以前就为在中国取得巨大销售额奠定了基础,而这一地区的收益也在呈稳步提升的趋势。2013年末,苹果达成了一项重要协议,从而能够通过世界上最大的手机运营商中国移动来销售iPhone。苹果还在扩大它在该地区的业务规模。目前它在大中华区拥有21家零售店,计划到2016年年中增加到40家。
Add to all that the fact that the Chinese New Year holiday, typically a big retail season, was in February. The latest iPhones also have much bigger screens than past models, another feature that has been especially popular in China.
此外,春节假期通常是大型零售季,而它今年的时间是在2月。最新款的iPhone还拥有比旧款大很多的屏幕,这个特点在中国市场上备受欢迎。
Jan Dawson, an independent technology analyst for Jackdaw Research, said Apple's performance in China highlighted its advantages against other American technology companies.
穴鸟研究公司的独立科技分析师简·道森认为,苹果在中国的表现突显了它与其他美国科技公司相比的优势所在。
"It's hugely important because it shows that Apple continues to be the only major U.S. tech company that is really succeeding in China, in contrast to Google, Microsoft and Amazon," Mr. Dawson said.
"这非常重要,因为它表明与谷歌、微软和亚马逊相比,苹果依然是唯一真正在中国取得成功的大型美国科技企业,"道森说。
Over all, Apple sold 61.2 million iPhones in the quarter, beating analysts' estimates of roughly 60 million phones. That also far exceeded the 43.7 million iPhones that Apple sold in the period a year ago. Analysts had anticipated that iPhone sales would increase sharply, largely because of the company's growing presence in greater China. Apple also said it was seeing a higher rate of people switching to iPhones from Android smartphones.
总的来看,这一季度苹果的iPhone销量共计6120万部,超过了分析师预估的6000万部左右的数据,并且远超苹果去年同期取得的4370万部的销量。分析师此前就已预计,主要由于苹果在大中华区日益增加的影响力,iPhone的销售将大幅提升。苹果还表示,人们从Android智能手机转而使用iPhone的速度在加快。
Apple also sold 4.6 million Mac computers in the quarter, up from 4.1 million a year ago. Mr. Cook said Mac sales in China rose 31 percent from a year ago.
苹果公司在这一季度还卖出460万台Mac电脑,而去年同期的销量为410万台。库克表示,Mac在中国的销售额同比增长31%。
"The iPhone is not going to grow this rate forever in China or globally," he said. "What's next, given that Mac is small and iPad is declining?"
"在中国或全球市场上,iPhone的销售不会永远以这个速度增长,"他说。"鉴于Mac销售额较少,而iPad销售额不断下降,下一款热销产品会是什么呢?"