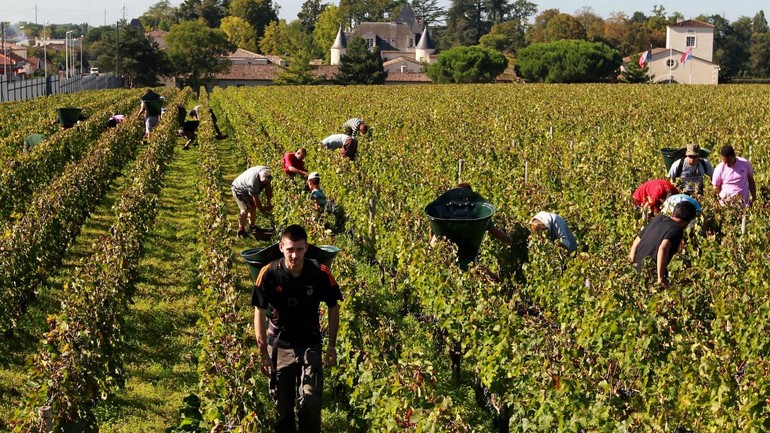 China moves into second place in chart of growers, behind Spain but ahead of France.
中国成为全球第二大种植国,位列西班牙之后,法国之前。
China now boasts more land dedicated to winemaking vineyards than France as it tries to satisfy a rapid rise in local demand.
为了满足本国人民快速增长的红酒需求,中国现在所拥有的用于酿酒的葡萄园面积比法国更广。
China's vineyards grew to 800,000 hectares (1.9m acres) last year, putting it behind the top grower Spain but ahead of France.
中国的葡萄园去年增长至80万公顷(合190万英亩),排名在最大种植国西班牙之后,但在法国之前。
Because its production is less effective than more established wine-making countries, China's output is only the seventh-biggest, according to figures released on Monday by the Paris-based International Organization of Vine and Wine.
根据总部位于巴黎的国际葡萄与葡萄酒组织于周一公布的数据显示,由于生产效果低于酿酒技术更成熟的国家,中国的葡萄酒产量只排到世界第七位。
France took over the title of top producer from Italy last year, with 46.7m hectolitres, or 6.2bn bottles. EU countries have intentionally reduced vineyards in recent years to make them more efficient and improve quality.
法国去年顶替意大利成为最大葡萄酒生产国,生产了46.7亿升,或62亿瓶。欧盟国家近几年有意减少了葡萄园面积,从而提高其生产效率和产品质量。
By contrast, China's harvest is expected to yield 11.2m hectolitres. The bulk of that is destined for consumers in China, whose 1.4bn people knocked back 15.8m hectolitres (2.1bn bottles) of wine last year.
相反,中国的葡萄酒产量预计达到11.2亿升,其中大部分都用来供给中国的消费者。去年,14亿中国人消费了15.8亿升(21亿瓶)葡萄酒。
The taste for wine has grown rapidly in China over the past 15 years, more than local production can keep up with. Added to the status carried by foreign wines, China has become the world's sixth-largest wine importer, on a par with Russia.
在过去的15年里,中国的葡萄酒消费需求迅速增长,本土产量供不应求。再考虑到由外国葡萄酒添加补给的状态,中国已成为世界第六大葡萄酒进口国,与俄罗斯并列。
According to London-based wine and spirits research firm IWSR, China is the world's fourth-largest consumer of red wine and the fifth-largest consumer overall.
据总部位于伦敦的国际葡萄酒和烈酒研究公司(IWSR)调查结果显示,中国是世界上第四大红酒消费国,第五大各类酒消费国。