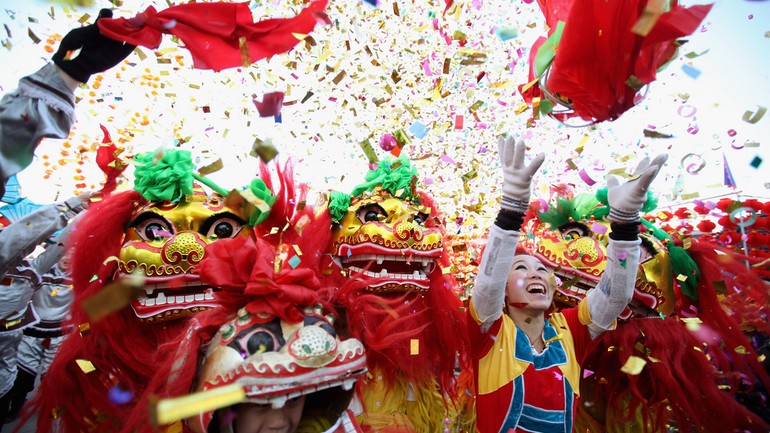 For many of us, Chinese New Year is one of the most anticipated times of the year. Here are five reasons why we love this festive season.
对于我们来说,中国新年是一年中最令人期待的时刻。有5个原因我们喜欢这个节日。
Buying new clothes
买新衣服
Ushering in the New Year is always a good reason to stock up on new garb. The Chinese believe in starting the New Year with brand new get-ups, including accessories too—it's all about a new beginning. With that in mind, what better time than the present to go on a shopping spree and updating your wardrobe with new threads?
新年的来临经常是在储存新的装束的好的原因。中国人相信开始新年用新的打扮,也包括装饰物—— 一切都是一个新的开始。脑海中拥有了那个,什么时间会好于现在就吵着去购物呢用新线更新你的衣橱?
Staycations
居家度假
Chinese New Year also means getting an extended break. This year, it falls on a Thursday, so that means an even longer weekend with endless possibilities on how we can spend our time. If you don't want to leave the country (hello, sky high air tickets) but still want a mini-holiday, a staycation would be a good choice. You'll still get all your visiting done while enjoying the hotel's facilities—best of both worlds.
中国新年也意味着有更多的休息时间。今年,在周四,意味着更长的周末伴随毫无止境的可能性我们如何花费我们的时间。如果你不想离开国家(你好,高空飞机票)但仍想要一个小型的假期,居家度假会是一个好的选择。在你享受宾馆设施-世界上最好的的时候你仍会完成参观。
Quality family time
有质量的家庭时间
With our busy schedules, it's hard to get the entire family together and that's what makes Chinese New Year great. That's the time of the year where everything else in life takes a back seat and family takes centre stage. Right from the reunion dinner that will see everyone gather over a hearty meal to the all visiting the next day, it's family time at its best with all that catching up over tea and snacking on CNY goodies.
因为我们忙碌的日程表,很难和家人整天在一起,因此中国新年很棒。这就是一年中的时间生活中的每一件其它的事回归原位,家庭重回到中心位置。就在重新团圆的晚餐上每个人都会在一起用心吃一顿,然后迎接第二天,和家人们在一起的时间最好喝点茶吃点小吃和CNY的糖果。
The chance to treat ourselves
给款待我们自己的机会
One of the best parts of Chinese New Year is receiving red packets from our parents, grandparents and relatives. The money is meant to bring good luck and ward off evil, and is known as "lucky money". Of course, having a little extra cash would justify splurging on a treat for yourself or a loved one. What better way welcome the New Year than with a new scent? The Gucci Guilty scents are right up there on our list.
中国新年最好的部分是收到来自父母,祖父母和亲戚的红包。钱意味着会带来好运驱走邪恶,被视为"幸运钱"。当然,有一点额外的现金会公平的刺激款待你自己或你爱的人。欢迎新年不是比看新景色更好吗?古奇 桂迪就在我们的名单上方。
It's the Year of the Sheep
羊年
This Chinese New Year, we'll be welcoming the Year of the Sheep. If you're into Chinese zodiac signs and astrology, you'll be glad to know that it's said to be an auspicious year, especially for those who are born in the Year of the Sheep themselves. If you're one of them, remember that your lucky colours are red, green and purple.
今年中国新年,我们会迎来羊年。如果你迷信十二生肖标志和占星学,你会很高兴知道这是幸运的一年,尤其是对于那些出生在羊年的人。如果你是他们之一,记住你的幸运色是红色,绿色和紫色。