Sweet Green Rice Ball
甜绿饭团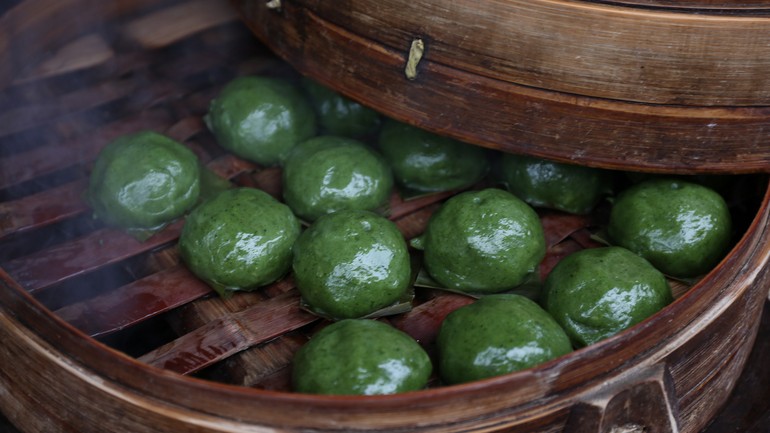 The sweet green rice ball is a Qingming Festival (Tomb Sweeping Day) food popular in Jiangsu and Zhejiang Provinces. It is also a must-have offering at ancestral rituals in the south of the Yangtze River. The custom of making sweet green rice balls dates back to the Zhou Dynasty over 2,000 years ago. One or two days before the Qingming Festival were designated as "cold food days", during which hot cooking is banned.
甜绿饭团是一种在江浙很受欢迎的清明节时吃的食物。它也是扬子江以南地区人们祭祖时的必备食品。做甜绿饭团的传统可以追溯到两千多年前的周朝。清明节前的一两天被称作"寒食节",这个时间是不准吃热的食物的。
Another traditional food during the "cold food days" is "refined green rice", which is a variation of the sweet green rice ball. It is made of a mixture of glutinous rice powder and green mugworts (bromegrass juice in some cases) and stuffed with sweetened bean paste. This snack has been around for over 100 years. It is used as an offering in ancestral rituals, but more of a fresh festive food. Sweet green rice balls are jade-green in color, glutinous in taste and sweet in aroma. What's best about the snack is its sweet-but-not-cloying and fatty-but-not-greasy taste.
另一种寒食节时吃的传统食物是"精制绿饭团",它是甜绿饭团的另一种做法。它是由糯米粉和绿艾蒿(有些时候还加入雀麦草汁)混合在一起,然后再装入甜豆沙做成的。这一小吃差不多延续了100多年。它通常是在祭祖的时候用到,而不是用那些节日时的新鲜食物。甜绿饭团表面浅绿色,口感上细腻润滑,气味香甜。这个小吃最棒的地方是甜而不过,油而不腻。