Steamed Bun
馒头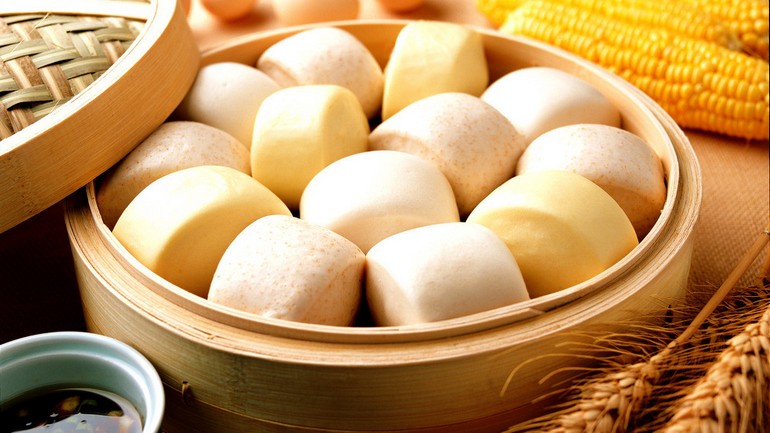 Steamed bun has a history of thousands of years. It can be traced back to the Jin Dynasty when some history book contained records on "Steamed cake", which refers to the steamed bun of the modern times. Legend has it that Zhu Geliang in the Three Kingdoms Period replaced real human head with a human-head-shaped object made of flour and beef or mutton in the memorial ceremony of Lushui River. This offering was called "Steamed-bun head". From then on, steamed buns were used as oblation by people in the Jin Dynasty. Such steamed buns were of large size and usually stuffed with meat. In the Tang and Song Dynasty, steamed buns were smaller as a kind of pastry, with or without stuffing. It is in the Qing Dynasty that the name of steamed buns was differentiated. In North China, steamed buns without stuffing were called "Steamed Buns" while stuffed ones were called "Steamed Stuffed Buns". The situation in South China was just the opposite.
馒头已经有几千年的历史了。它最早可以追溯到金代,那时已经有一些历史书有关于"蒸饼"记载,其实指的就是现在的馒头。相传诸葛亮在泸水河的祭祀仪式上,曾用面粉和牛肉或者羊肉制作出人头形状的东西来代替真正的人头。这些祭品就叫做"人头馒头"。从那时起,金代的人们就开始用馒头做祭品了。这种馒头都很大个儿,而且一般都塞满了肉。在唐朝和宋朝,馒头只是一种很小的点心,里面可能有馅儿也可能没有。在清朝的时候,馒头的名字已经有了很大的变化。在中国北方,没有馅儿的"馒头"才叫"馒头",而有馅儿的则叫做"包子"。这种情形在中国南方却恰恰相反。
Steamed buns in North China are usually of mild savor and without stuffing, while those in South China are usually added with sugar. Steamed buns with flavored stuffing in South China are also called "Steamed Stuffed Buns". There are many sorts of steamed buns with flavored stuffing, such as the famous steamed dumplings, mini steamed buns and Goubuli steamed buns. Having disengaged from sacrificial meanings ages ago, the easily-made, soft, spongy and dainty steamed buns are usually offered on people's dinner tables as the most common flour food.
中国北方的馒头没有馅儿,但是有一股淡淡的清香,而南方的馒头通常都加有白糖。南方带馅儿的馒头也叫包子。有很多种类型的包子,像有名的蒸饺,小笼包还有狗不理包子。自从摆脱了祭祀时代的意义以后,这种容易做的,松软而且又美味的馒头就成了人们餐桌上最为常见的面食。