Chafing Dish
火锅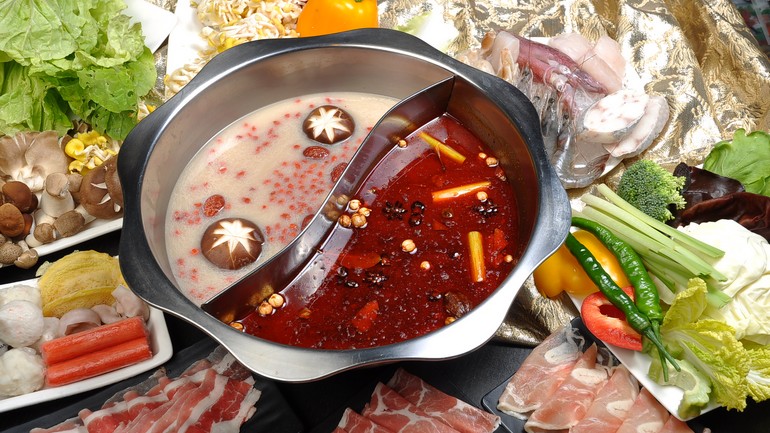 The chafing dish is a favorite with the northern Chinese, especially in winter. The main ingredient for this dish is usually mutton; however, beef, fish or prawn may also be used. It is eaten with vermicelli, fresh vegetables and sometimes dumplings.
火锅是中国北方人最喜欢的食物,特别是在冬天。这道菜的最主要的原料通常是羊肉,但是牛肉,鱼肉,对虾也可以。它可以和新鲜的蔬菜一起吃,有时也可以和饺子一起吃。
The Chinese hot pot is different from the Western chafing dish in that its soup container is built around (instead of over) its jellylike heater. It is usually made of copper or brass, but may also be available in aluminum and burnt clay. It is called "Mongolian pot" by some Westerners perhaps because of its association with mutton from Inner Mongolia.
中国火锅与国外火锅的区别在于装汤的锅是连着加热器来制造的(而不是放在加热器的正上方)。它通常是由铜或者黄铜来制成,但是有时也会用铝或者粘土。它也被称作"内蒙古火锅",可能是因为与之相关的羊肉主要是来自内蒙古。
The preparation of the chafing dish is simple: first, water (preferably boiling water) is poured into the container and then burning charcoal is filled into the heater from the top of the small chimney. When the water is brought to the boil again, the meat or fish slices may be put in, little by little, by the diners themselves. After a while they may be taken out with chopsticks and, before eating, dipped in a sauce prepared in advance.
火锅的准备工作很简单:首先将水(最好是沸水)倒入锅里,然后将点燃的木炭从顶部的小烟囱放入。当水再次烧开的时候,由用餐者自己将肉片一点一点的放入锅里。煮一会后再用筷子捞出,然后在吃之前先蘸一些事先准备好的调味汁。
The meat for this dish must be from the tender parts of the animal. Take mutton, the commonly used meat, for example. From a sheep of over twenty kilograms, only six to seven kilograms are fit to be eaten this way. Each kilogram is cut into at least 120 slices. They must be paper-thin in order to be cooked instantly in the boiling water and remain tender when taken out.
用来煮火锅的肉必须是动物身上鲜嫩易嚼的部分。以最常用的羊肉为例:一头20公斤的羊,大概只有六到七公斤的肉适合适用来做火锅。每公斤肉至少切成120片,而且要像纸一样薄,以便于放入沸水中可以很快煮熟,同时捞出的时候还可以保持它的鲜味。
Along with the mutton slices, fresh vegetable and vermicelli are put into the pot, to be boiled and eaten. The dumplings, if any, usually come last.
用来蘸的调味汁很重要,它主要是由芝麻酱,香油,卤虾油,酱油,辣椒油,韭菜花还有酱豆腐,料酒以及欧芹混合而成的。而且如果加点甜蒜泥的话,更别有一番风味。