Fulingbing (Tuckahoe Pie)
茯苓饼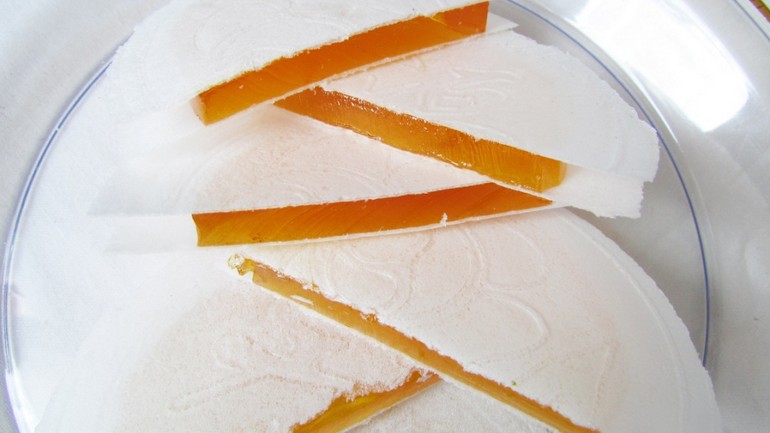 Fulingbing, also called Fulingjiabing and often translated as Tuckahoe Pie, is a traditional nourishing snack with good reputation in Beijing. The crust of Tuckahoe Pie is made of Tuckahoe powders and refined flour. Its stuffing sandwiched between the crusts is a mixture of honey, granulated sugar, confect, pinecones and crushed kernels. In the shape of a full moon, it is paper-thin, snow-white, delicious and unique in flavor. Highly nutritious and tasty, it contains the protein and various vitamins for human body. It has medical effects such as nourishing the liver and kidney, restoring the energy and lubricating the intestines. It can also strengthen the body, improve the complexion and protect the skin if eaten regularly.
茯苓饼也叫做茯苓夹饼,通常翻译成Tuckahoe Pie,是一种传统的滋养品,而且在北京一直享有盛誉。茯苓饼的面皮是用茯苓粉和精致面粉做成的。而中间的馅儿则是由蜂蜜,砂糖,糖果,松果和碎果仁儿混合而成的。它圆如月,薄如纸,白如雪,并且还有着很独特的风味。茯苓饼不仅营养丰富而且很美味,富含蛋白质和多种人体所需的维生素。它还有很多药用功效,比如滋养肝肾,恢复体力,润滑肠道。它还可以强身健体,改善面色,如果常吃的话,它还有护肤的效果。
Tuckahoe Pie was originally a palace snack. As is said, once Empress Dowager Cixi of the Qing Dynasty fell ill and had no appetite. The royal chefs cudgel their brains for seeking some traditional Chinese medicines that could invigorate the spleen and stimulate the appetite. Among them, there was the herb Tuckahoe grown in Yunnan and Guizhou provinces. Sweet and mild, it could invigorate the spleen, calm the nerves, enhance fluid circulation and increase the discharge of urine. Therefore, the chefs invented a new snack called Tuckahoe Pie. Its main ingredients were pine nuts, peach kernels, sweet-scented Osman thus, sugar and some Tuckahoe powders. The crust was made of high-quality starch. After eating the fine snack, Empress Dowager Cixi was fairly satisfied. Later, she often granted the pie to the ministers of the palace as a reward. As a result, Tuckahoe Pie became a famous palace snack with its price increased by many times. Afterwards, the snack was introduced to the folk and became a popular snack in Beijing.
茯苓饼是一种宫廷点心。据说,清朝慈禧太后生病没有胃口的时候,宫廷御厨总是绞尽脑汁去找一些可以刺激脾胃,增加食欲的中药。这些中药中就有生长于云南和贵州的茯苓。茯苓甜而温和,还可以刺激脾胃,安神,促进内循环以及利尿。因此,宫廷御厨就发明了茯苓饼这种小吃。制作的主要材料有松仁儿,桃仁儿,桂花,白糖以及茯苓粉。面皮是用上好的淀粉做成的。慈禧太后吃了这精美的点心之后,很满意。以后,她就经常把茯苓饼赏给那些王公大臣。结果茯苓饼就成了很有名的宫廷小吃,并且它的价格也随之涨了好几倍。后来,这一小吃流传到了民间,就成了颇受欢迎的北京小吃。
The present-day Beijing Tuckahoe Pie is made by succeeding the traditional recipe of the imperial kitchen of the Qing Dynasty and constantly improving the ingredients and the processing. The paper-thin crust serves as the wrapper of the stuffing. The pictures printed on the surface of the crust are rather clear, exquisite and distinctive, making the pie more artistic. Due to its high quality and pleasant taste, it is very popular all over China.
如今的北京茯苓饼主要是根据日后清皇宫御膳房的食谱制作的,并且所用材料和制作过程都经过了不断地改良。纸一般的面皮是用来包那些馅儿的。面皮上的图片很清楚,很精致,也很特别,从而使它看起来更像是一份艺术品。由于它的高品质和美味,因而在全国都很受欢迎。