Buddha Jumps the Wall (Fotiaoqiang)
佛跳墙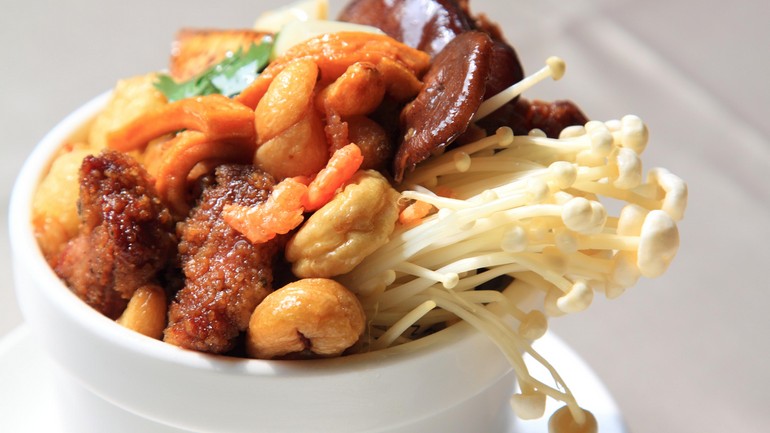 This is a well-known dish of Fuzhou. It is made of an assortment of materials: shark's fin, shark's lip, fish maw, abalone, squid, sea cucumber, chicken breast, duck chops, pork tripe, pork leg, minced ham, mutton elbow, dried scallop, winter bamboo shoots, xianggu mushrooms, and soon, These are seasoned and steamed separately and then put into a small-mouthed clay jar together with cooking wine and a dozen or so boiled pigeon eggs. The jar is covered and put on intense fire first and then simmered for some time on slow fire. Four or five ounces of a local liquor is added into the jar, which is kept simmering for another five minutes. Then the dish is ready.
这是福州的一道有名的特色菜。它是由很多材料做成的:鱼翅,鱼唇,鱼肚,鲍鱼,鱿鱼,海参,鸡胸肉,鸭排,猪肚,猪腿肉,火腿肉,羊肘子,干贝肉,冬笋和香菇。把这些调过味的材料分开蒸,然后再和料酒一起放入一个小口的陶罐里,最后再加入大约一打鸽子蛋。先把罐封口大火煮,然后再用文火炖一段时间。再加入一些白酒,继续炖五分钟,然后这道菜就可以了。
The origin of the dish is explained by a local story. A Fuzhou scholar of the Qing Dynasty went picnicking with friends in the suburbs and he put all the ham, chicken, etc. he had with him in a wine jar which he heated over charcoal fire before eating, The attractive smell of the food spread in the air all the way to a nearby temple. It was so inviting that the monks, who were supposed to be vegetarians, jumped over the temple wall and partook heartily of the scholar's picnic. One of them on this occasion wrote a poem in praise of the dish, of which a line reads: "Even Buddha himself would jump the wall to come over", hence the name of the dish.
这道菜的起源还有一段小故事。清朝时,福州的一个学究和他的朋友去郊外野餐,他把自己带的所有的火腿、鸡肉等等一些材料都放进一个酒瓶里,吃之前在炭火上加热一下就可以了。可是诱人的香味一直蔓延到了附近的一座庙里。如此诱人的香味使得平时吃素的和尚们都忍不住跳出墙来,和学究一起分享了美食。当时其中就有人写了一首诗,来对这道菜加以赞扬,里面有一行这样写道:"即使是佛祖自己也会跳墙过来"。这道菜也正是因此而得名。