Dongpo Pork
东坡肉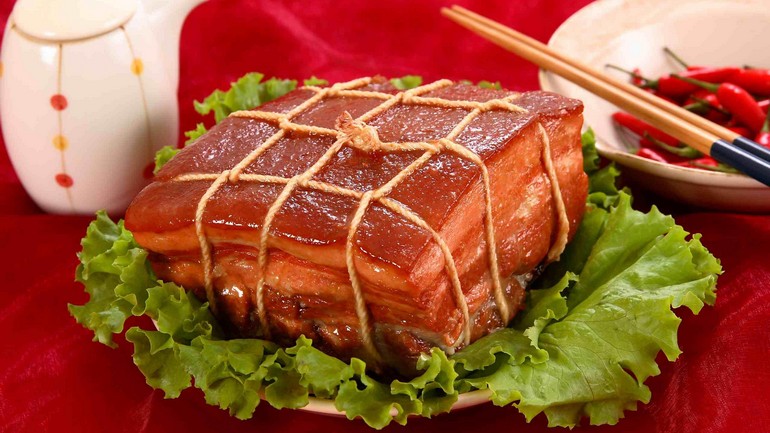 Dongpo Pork is a famous Chinese dish that prevails in Jiangsu and Zhejiang Provinces. It is called "Dongpo" because it is said to be created by the poet Su Dongpo of the Northern Song Dynasty. Dongpo Pork is made of stewing pork. Generally it is a piece around 2 inches square, half fat, half lean meat. It is very delicious with oily but not greasy taste and the fragrance of wine.
东坡肉是一道盛行于江浙一带并且很有名气的中国菜。之所以命名为"东坡"是因为这道菜是由宋朝大诗人苏东坡发明的。东坡肉是蒸煮而成的。一般说来,每块肉大约两英寸见方,半肥半瘦。东坡肉之所以美味可口主要是因为油而不腻而且还带有清酒的芬芳。
Cooking method: cut the streaky pork in to large pieces, put shallot and ginger into the pot, add wine, sugar, soy sauce and water and then stew it on a slow fire. Dongpo Pork is quite good in color, smell and taste and is favored greatly by people.
烹制方法:把五花肉切成大块,把葱和生姜放入锅中,再加入料酒,酱油,白糖和水,然后放在文火上面炖。东坡肉在色泽,香气和口味上都很好,因而广受欢迎。
Dongpo Pork is one of the 36 famous Hangzhou dishes identified in 1956 in Zhejiang Province.
东坡肉还是浙江在1956年评出的36个著名小菜之一。