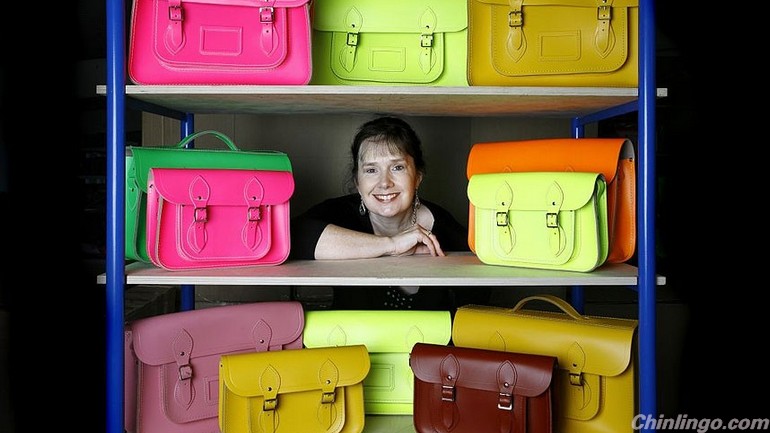 China overtook the US to become the world's largest economy at the end of 2014 and the Government has now taken steps to ensure that UK exporters target the nation to share in its prosperity.

In the Budget, George Osborne, the Chancellor, announced a new £7.5m tranche of funding for UK Trade & Investment (UKTI) to strengthen Britain's presence in China.

But some UK firms didn't need a push from the Government.
Julie Deane, founder of the Cambridge Satchel Company, raised £12.7m from venture capital fund Index Ventures in January last year to help the business target hot markets, specifically China and the US. "China is such a fast-growing market for us," says Deane. "It's only March and I've been to China twice this year already."
The luxury bag company, which manufactures classic British satchels at its Leicestershire base, now counts China in its top five markets, having listed on TMall Global, part of Alibaba Group, in late 2014.
Deane, who received an OBE for entrepreneurship in the Queen's New Year's Honours list and was handed her award by Prince Charles on Thursday, says that any extra support from the Government is very welcome.
"It's a complex market, so for UKTI to have better resources will pay dividends over and over."
She adds: "The Government's focus on China was very specific, but I hope that it doesn't get lost in bureaucracy. "
"Let's use the internet to make British products easily accessible, let's make foreign trade agreements so simple that you don't need to hire an expensive consultant, and let's see some help on managing foreign exchange risk. Hedging would be an interesting thing for government to get its teeth into."
Over the past decade, 33-year-old entrepreneurs Ed Holroyd Pearce and Dan Nivern have been building up their China-focused internship business, CRCC Asia, placing graduates from 150 countries with big corporates in Beijing, Shanghai, Shenzen and now Hong Kong.
More than 5,000 young people, half of whom hail from the UK, have taken part in the one, two and three-month work placements organised by the scheme, which range from stints with small, local firms to the Chinese divisions of Diageo and Rolls-Royce.
"In 2006, we saw a huge rise in the number of young people looking for work experience in China," says Nivern. "It was becoming an economic heavyweight and young people didn't want to just teach English there or learn Mandarin, they wanted corporate experience."
In the early days, students and their parents covered the costs of the internships, which start at £1,995 for a one-month placement, but increasingly, universities and the British Council have begun paying for places.
"We're the largest provider of work placements in China, and investment into creating those links is definitely rising,"says Nivern. "Around half our revenues is now generated from organisations."
The firm turns over £4m, employing 60 staff.
The British Council placed 165 British students into China internships through CRCC Asia last year, and the company is going to see a significant increase in Government-sponsored students in the future. The council's Generation UK scheme aims to help 80,000 UK students to take part in study or internship programmes in China by 2020.
The opportunity for UK firms to make their mark there is significant, according to Holroyd Pearce. "British goods have a very high profile in China, even in the second-tier cities that you haven't heard of. There are Twinings specialist tea shops and Scotch whisky is sold everywhere."
The CRCC Asia founders are avid Sinophiles – they met at the School of Oriental and African Studies while studying at UCL. But despite both speaking Mandarin, forging links with corporate China has been challenging. "Interns were seen as the lowest of the low, so we've had to educate the host companies about how to treat them," says Nivern. The value of the renminbi has also rocketed by 40pc since CRCC Asia's inception, which has forced the founders to increase prices.
Chinese firms don't pay to host interns, unlike many schemes here. However, this has helped CRCC Asia ramp up demand. Between 80pc and 90pc of the host companies return again and again. The students may assume the cost, but 89pc are employed at a graduate-level job within three months of returning home, says Nivern. A third are offered jobs by their host companies.
UKTI has said that its increased support for exporters to China should help British firms to secure £1.3bn worth of business. The department has already identified opportunities in advanced manufacturing, creative industries, education, energy and financial services.
The trade minister, Lord Livingston, said: "These initiatives will give UK businesses access to on-the-ground expertise in China and offer greater support in the UK to access the biggest trade opportunities in high-growth markets."