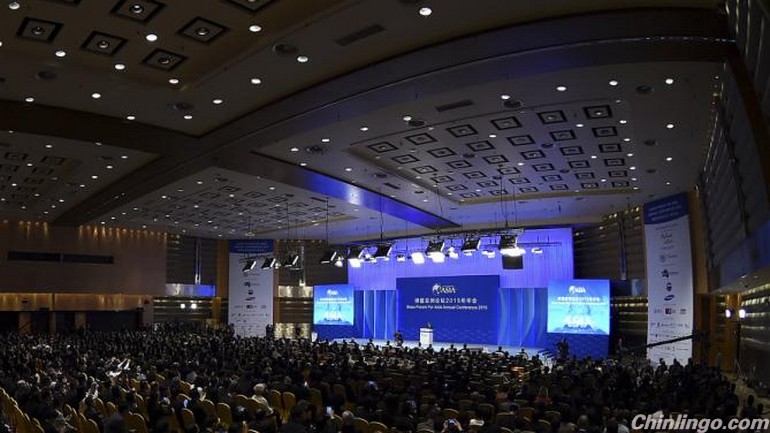 BOAO, China, March 28 (Xinhua) — Chinese President Xi Jinping is set to address on Saturday a regional development forum ongoing here in this semi-fishing and semi-farming southern town.
That will mark his second appearance at an annual conference of the Boao Forum for Asia (BFA) since he took over the presidency of the world's second largest economy in 2013.
Even factoring in the increasing global influence of the BFA, Xi's attention to the forum seems unusually high. Why?
A glimpse can be gained from the following three aspects.
COMMUNITY OF COMMON DESTINY
The theme of the 2015 BFA annual conference, "Asia's New Future: Towards a Community of Common Destiny," reflects China's creative philosophy in guiding relations with neighboring countries.
It also voices a shared desire of Asian economies to embrace common prosperity by putting aside disputes and making joint efforts amid economic hardships.
Notably, Xi has called on several occasions for fostering a sense of community of common destiny in dealing with ties with China's neighbors. Therefore, the Boao forum, an exchange mechanism for regional cooperation and security, is apparently of growing significance in leading Asia to thrive in the future.
AIIB, SILK ROAD INITIATIVES
As the application deadline for becoming founding members of the Asian Infrastructure Investment Bank (AIIB) is approaching, there is no better platform than the BFA to further introduce the Xi-proposed initiative and reaffirm China's commitment to all-win cooperation and regional development.
Besides, the implementation plans for the Silk Road Economic Belt and 21st Century Maritime Silk Road initiatives are due to be released during the annual conference.
The forum will serve as an important channel for other countries to have a better understanding of the grand vision, also proposed by Xi, and the enormous potential benefit they can harvest from it.
HOME-COURT DIPLOMACY
In face of deepening globalization, China needs not only to actively participate in international dialogues but also to make use of its home court advantages.
Last year, China hosted the meetings of the Conference on Interaction and Confidence-Building Measures in Asia (CICA) and the Asia-Pacific Economic Cooperation (APEC) forum. The two events turned out to be good examples of China's successful home court diplomacy.
The Boao forum, viewed by many as a window for observing China's major policies and initiatives, will also be a grand stage for diplomacy. So far, 15 foreign national leaders have confirmed attendance and many of them are poised to take the opportunity to pay a state visit to China.
As a well-established platform for bilateral and multilateral talks, the BFA annual conference is expected to produce tangible results for China-proposed cooperation initiatives.