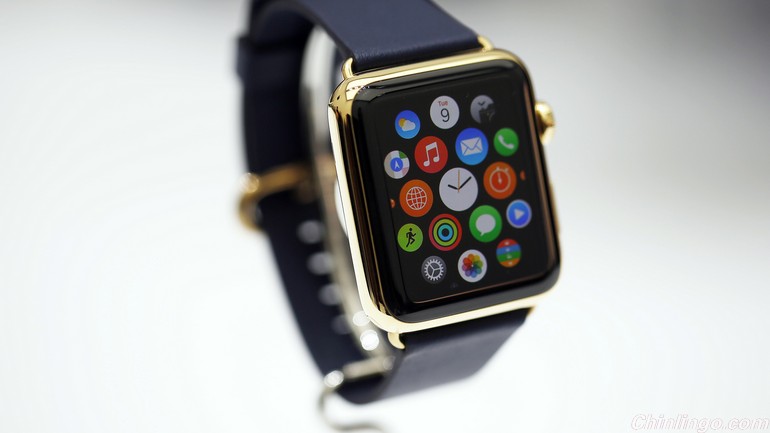 The Apple Watch Edition that costs 126,800 yuan ($20,402) in the Chinese mainland was snapped up in less than an hour on April 10, according to Tech website businessInsider.com.
据businessInsider.com报道,售价12.68万的苹果手表黄金版在中国大陆不到1小时便抢购一空。
According to the report, just hours into sales in China, there was zero chance of grabbing an Apple Watch Edition, the most luxurious gold version of the latest wearable device launched by Apple Inc.
据报道,苹果手表一开售,就已经没有机会抢到手,这款手表被称为苹果发布的最奢华的新款手表。
"Ben Thompson tweeted that he had checked every store there and at every one the device was listed as out of stock, but it remains unclear just how many units have been sold and shipped on Friday," the report said.
"本•汤普森发推特说他已经寻访各个实体店,但是每个地方都已经标着售罄的声明,不过没有明确数据表明多少已售多少已运。"
As of Monday afternoon, Apple China was not reachable to comment.
截止周一中午,中国苹果方仍未发表评论。
Currently all the eight versions of Apple Watch Edition are available to order on the company's Chinese website and they will be shipped in June.
现在苹果手表的所有8大版本已经可以在中国官网上预定,将于6月份运入中国。
According to prior reports from Reuters, CEO Tim Cook, interviewed on cable television channel CNBC, said initial orders were "great" for the device, available for preorder online and to try out in stores by appointment, but not to take home.
根据路透之前的报道,苹果首席执行官Tim Cook在有线电视CNBC频道接受采访,他表示手表的首批订量尤为可观,并且可以网上提前预订、在实体店试用,但是不能带回家哦。
But soon after online preorders opened on Friday, Apple's website listed shipping times in June for some models of the watch and four to six weeks for others.
周五网上预订开始不久之后,苹果官网便公布6月份运输时间,以及其他部分手表将于4到6周后运输。
According to shopping data firm Slice Intelligence, some 957,000 people in the US ordered an Apple Watch on the first day the smartwatch was on sale. And the average buyer bought 1.3 watches, according to receipt data from 9,080 online shoppers. That would suggest more than 1.2 million Apple Watch units were ordered on Friday.
根据数据公司Slice Intelligence的运输数据显示,美国95.7万人在手表销售首日便预订了。据9080位网上买家收到的数据上看,每人平均购买1.3个手表,这意味着周五当天便有120万苹果手表售出。