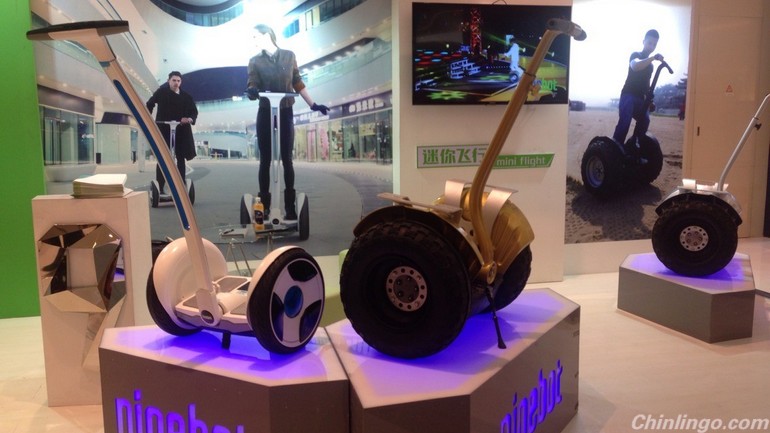 Ninebot Inc, a personal transport (PT) device maker invested by Xiaomi Corp, said yesterday that it has acquired US-based Segway Inc to expand in the self-balanced electric vehicle market.
The Ninebot and Segway PT devices offer users a two-wheeled or one-wheeled, self-balancing and battery-powered electric vehicles suitable for a distance of 1-5 kilometers.
Ninebot also said it has completed a new round of financing of worth US$80 million from investors, including Xiaomi and Sequoia Capital.
After the Segway acquisition and new investment, Ninebot aims to lead the short-distance transport market that is expected to be worth US$100 billion in the next few years, said Gao Lufeng, chief executive of Ninebot, a China startup founded in 2012.
The companies declined to reveal detailed figures of the Segway acquisition. But Gao confirmed it's an acquisition "all by cash."
"The self-balancing vehicles represent future lifestyle and latest technologies," Lei Jun, founder and CEO of Xiaomi, said in Beijing yesterday.
The next-generation self-balanced vehicles will feature new technologies such as mobile Internet functions and human-to-machine interface, the two CEOs said.
The acquisition comes about half a year after Segway named Ninebot in a patent infringement complaint in September 2014.
Gao did not address the dispute yesterday but said the combined company would hold a significant lead in market share as well as a vast portfolio of over 400 critical patents. The companies would operate as separate brands, he said.
The Segway was introduced in 2002 amid great fanfare as way to revolutionize urban transport. They use gyroscopes, computers and electric motors to cruise at up to 19 kilometers per hour. Such machines, however, failed to become a mainstream method of transport but have achieved niche success in China where police using them to patrol on Tiananmen Square.