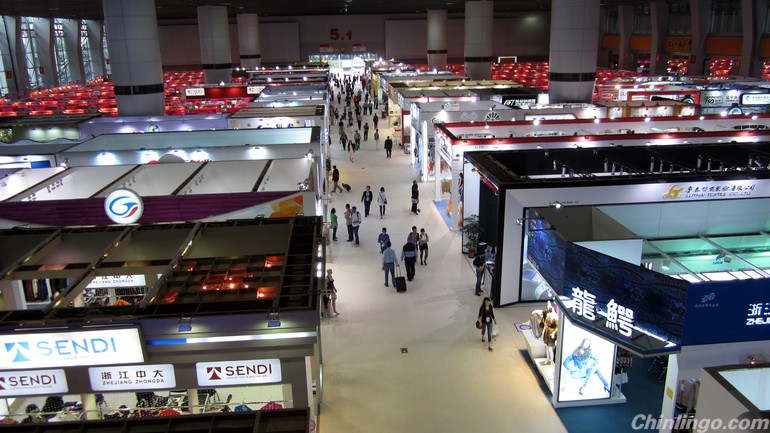 China's largest trade fair opened its 117th session in Guangdong Province yesterday, with exhibitors expressing concern about tough export prospects.
作为中国最大的商品交易会,第117届广交会昨日开幕,此次交易会参展商们共同关注的是,惨淡的外贸前景。
The biannual China Import and Export Fair, also known as the Canton Fair, is seen as a barometer of China's exports. With demand slowing and the appreciation of the yuan, worries prevail that this year's foreign trade prospects might be dim.
一年两次的中国进出口交易会,也称广交会,常被视为中国出口状况的风向标。需求放缓以及人民币的升值,使得今年中国外贸前景惨淡的担忧普遍起来。
At the fair's exhibition center in Guangzhou, the provincial capital, fewer executives showed up than in previous years. Many of them said they face sluggish sales in foreign markets.
在广州会展中心,与会的执行高管们比往年减少许多,大多表示现今在国外市场上面临着滞销的问题。
Gao Yuanjia, general manager of Jiangsu Chunlan Air-conditioner Import and Export Co, said he expects transactions to slacken due to sluggish foreign economies, particularly Europe, the company's traditional market.
春兰空调进出口公司的总经理高元甲表示,由于国外经济不景气,交易量减缓,特别是公司以往的传统交易市场——欧洲。
An executive with China's leading home appliance maker, Midea Group, said weak demand in Europe coupled with the falling euro means tough trade prospects for the company.
来自中国家电制造商领航者美的的主管表示,欧洲市场需求的疲软以及欧元的贬值意味着公司交易前景很艰难。
"Some of our clients demanded a discount of 15 percent," he said.
他说:"有些客户还要求我们给予15%的折扣。"
China yesterday announced 7 percent economic growth in the first quarter. Exports fell 15 percent year on year in March.
中国于昨天公布第一季度的经济增长为7%,3月份的出口量与去年同期相比减少15%。
Vice Minister of Commerce Zhong Shan yesterday warned that China's trade outlook might be worse than expected.
商务部副部长钟山警示,中国的贸易前景可能比预期的还要惨淡。
"Foreign trade this year may be complicated and tough," Zhong said at the fair.
钟山在广交会上表示,"今年的外贸状况也许更复杂更艰难"。
Xu Yufeng, Asia and Middle East vice marketing director of Trina Solar, said the falling euro, trade barriers in emerging countries and recent regional conflicts have greatly affected China's exports.
天合光能的亚洲和中东市场副总监徐玉凤说道,欧元的贬值、新兴国家的贸易壁垒以及近期的区域战争,这些都是影响中国出口的重大因素。
Despite the difficult conditions, Chinese exporters have been trying to increase sales by improving quality and exploring new markets.
尽管存在着重重困难,中国的出口商们始终努力通过提高质量和开发新市场以增长销量。
At the fair yesterday, exhibitors displayed new products to boost business.
在昨日的广交会上,参展商们纷纷展示出各自的新产品力求促进交易量。
Huang Dawen, deputy general manager of China's leading TV maker Changhong Group, said his company is trying to set up factories overseas to offset disadvantages caused by floating exchange rates.
中国领航电视制造商长虹集团的副总经理黄达文表示,公司正在尝试建立海外工厂以减少浮动外汇率带来的不利条件。
"We will make more efforts in product improvement and overseas market development to enhance our competitiveness," Huang said.
黄达文说,"我们致力于产品改进和海外市场发展,力图提高我们的竞争力。"
The fair's spokesman Liu Jianjun said companies with strong brands and advanced technology are taking a bigger share, while small firms that lack core technologies are losing customers.
广交会发言人刘建军表示,具有自主品牌的大企业和尖端科技企业正在占据越来越大的比重,而缺乏核心技术的小企业则越来越多地被淘汰出局。