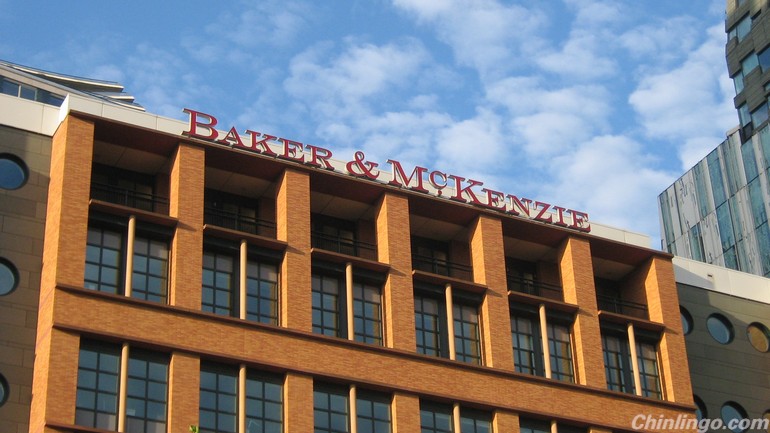 Baker & McKenzie became the first foreign law firm to acquire a license to operate in Shanghai's free trade zone in cooperation with a Chinese partner, the Beijing-based law firm FenXun Partners.
Baker & McKenzie成为第一家在上海自由贸易区获得许可证,并可以与中国伙伴合作的外国法律公司,该公司合作方是北京一家法律事务所FenXun Partners。
The two firms entered a joint operation in the free trade zone, enabling them to offer both international and domestic law advice to their clients, according to a statement yesterday.
这两家公司在自由贸易区进行联合经营,在昨日的声明中表示,这样的方式使得他们可以同时给客户国际和本地的法律建议。
Under the joint operation regulation, the two firms can serve a client together but should operate only within their respective business scope.
在联合经营的规程下,两家公司可以同时为同一个客户服务,但是前提是只能在各自的业务范围内进行操作。
Offshore law firms are only allowed to offer international law-related services on China's mainland.
境外律师事务所在中国大陆只能提供国际法律方面相关的服务。
The application to form the joint operation is the first approved by the Shanghai Bureau of Justice.
此次联合经营是第一份通过上海司法局审核的申请。
"We are extremely pleased to be the very first firm to be granted approval for joint operation by the Shanghai Bureau of Justice, and are looking forward to this close collaboration with FenXun Partners," said Danian Zhang, Baker & McKenzie's Chief Representative in Shanghai. "Our Firm has a long-term commitment to China, and we welcome and look forward to the new opportunities that this joint operation affords."
"我们非常高兴能成为第一家通过上海司法局批准联合经营的公司,并且很期待和FenXun Partners的进一步合作。" Danian Zhang,Baker & McKenzie的上海首席代表人这样表示,"我们事务所长期服务中国,我们很欢迎也很期盼这次联合经营带来的新的机会。"
The Shanghai FTZ is the only area in China where joint operation between offshore and Chinese mainland law firms is allowed.
上海自由贸易区是中国唯一允许境外与中国大陆律师事务所进行联合经营的区域。
The measure aims to explore a mechanism to allow closer cooperation between mainland and offshore law firms without opening up the domestic law advice services, according to a blueprint for the FTZ.
从上海自由贸易区的发展蓝图可以看出,这项措施目的在于,探索无需开放国内法律咨询服务条件下中国大陆与境外律师事务所之间的亲密合作。