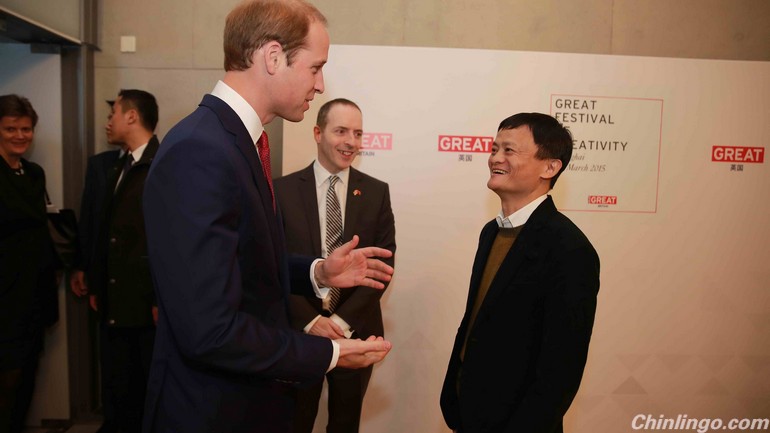 Here in China on his maiden visit, the U.K.'s Prince William met with a dual line-up of heavyweights. One was Chinese President Xi Jinping. The other was Chinese e-commerce mogul Jack Ma.
During a tightly scheduled day yesterday, the Duke of Cambridge met with Mr. Xi in Beijing, followed by an evening chat in Shanghai with the chair of e-commerce giant Alibaba, according to an article posted on the company's official WeChat account.
"Jack, how's business?" Alibaba quoted the prince as saying.
Alibaba has taken the occasion of the prince's visit to kick off a British-themed promotion event. The company's retailing site Tmall.com has more than 130 British vendors selling to Chinese consumers, and this week the company promoted British-inspired products ranging from a tea infuser with a handle shaped like a Queen Elizabeth doll to a style of comb supposedly used by Prince William's wife, Kate Middleton.
The British Consulate General in Shanghai didn't immediately reply to a request for comment.
Alibaba said that sales of British merchandise on Tmall grew 94 percent over the past year, with an increasing number British brands choosing to market to Chinese consumers online. In late 2013, Mr. Ma and U.K. Prime Minister David Cameronsigned an agreement between Alibaba and the U.K. Trade & Investment department to promote the sale of British goods on the company's sites.
"[Chinese consumers] need high-quality products and good service," the company quoted Mr. Ma as saying in a Monday press release. "And Europe, you have the best quality. You have very creative products, and good healthy products and services."
Apart from business, the prince and Mr. Ma also discussed wild animal protection and Mr. Ma's recent investment in a Chinese soccer team, the company said.
– Yang Jie