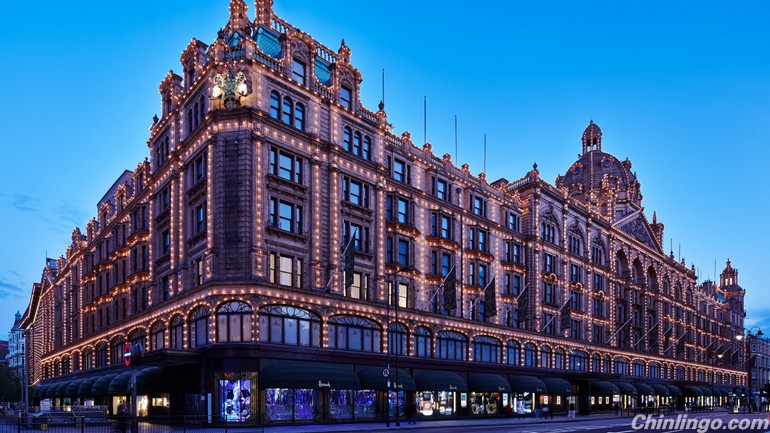 For every five pounds spent by a Chinese tourist in the United Kingdom, just over one quid is spent at upscale department store Harrods.
No wonder, then, that company managing director Michael Ward is in Shanghai this week, hoping the hoopla around Britain's Prince William's four-day visit to China will bring even more Chinese shoppers through Harrods' doors.
"It's a hugely important part of our business," Mr. Ward told China Real Time Tuesday. He said such tourists would become increasingly important as outbound tourism from China takes off.
Hong Kong brokerage firm CLSA expects the total number of Chinese outbound travelers to hit 200 million annually in 2020—that's around double last year's figures.
Mr. Ward declined to share specific figures for Chinese tourists, but he said by nationality, they top the league of store visitors in terms of spending.
By contrast, Americans barely scraped into the top ten—far behind shoppers from countries such as Nigeria and Thailand, he said.
While Chinese tourists may top the list of spenders at high-end Harrods, a report issued last year by British bank Barclays said Chinese tourists ranked tenth in terms of tourist spending in the U.K, spending around £550 million in 2013 (around $850 million),. Barclay's forecasted that by 2017, Chinese tourists would have moved up to fifth place with annual total spending in the U.K. in excess of £1 billion.
Still, the chilling effects of China's current economic woes are being felt in faraway Harrods of London. "This year we've seen a much slower takeup," said Mr. Ward.
In the past five years, sales to Chinese customers had been growing at a brisk tempo of around 50% per annum. For 2015, Mr. Ward expects that figure to decline to low double digits over last year.
He said more Chinese are shunning large tour groups and hitting the road on their own or in smaller groups. Chinese overseas shoppers were gradually gravitating toward more sophisticated products and away from ostentatious branded products, he said. "They're moving into real, quintessential luxury," he said.
To make its Chinese customers happy, Harrods now has three restaurants aimed at pleasing their palates offering dim sum, sushi and pan-Asian cuisine. Chinese shoppers can also pay for purchases using the Chinese debt card Union Pay. The department store has a significant number of Mandarin speakers, its own account on the popular WeChat service and a Chinese-language version of its magazine.
Still, hurdles remain: Britain's visa requirements for Chinese are stricter than other European destinations, he said, making it harder to attract Chinese tourists.
He said he hoped the Duke of Cambridge's visit would help reinforce Harrods' brand among Chinese buyers. "That's a great addition for us," said Mr. Ward of the prince's tour.
–Colum Murphy