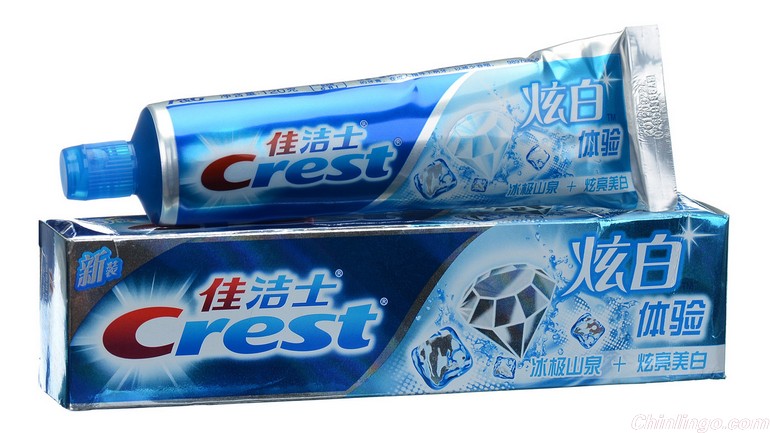 An old toothpaste commercial is coming back to haunt Procter & Gamble in China.
Chinese authorities revealed this week to China's Xinhua News Agency that they fined consumer giant P&G 6.03 million yuan – or just under $1 million – for false advertising of Crest toothpaste in China. Xinhua's report said that the company's ad featured a celebrity who promised "one-day whitening" with the toothpaste, but whose white teeth actually came from Photoshop, not the product.
What the Xinhua report didn't say was that the fine was a year old, a spokeswoman for P&G said. Crest pulled the problematic advertisement in the middle of last year, the spokeswoman said.

P&G's toothache comes as state media and government agencies are citing increased scrutiny of both foreign and domestic companies. That stems from the approach of a day that's little-known in the West but that foreign companies know all too well in China: World Consumer Rights Day.
Every year on March 15, China's main broadcaster, China Central Television, hosts a two-hour prime-time show, equipped with snappy song and dance, that highlights the rising power of consumers in an increasingly affluent country. The 2013 program included a live vocal performance sung to the tune of the rock band Journey's "Don't Stop Believin'." It began, "Life presents problems, please don't give up/Let us maintain our rights."
Consumers may like it, but companies not so much. The show typically takes aim at corporations in China – usually the biggest and most successful.
Remember when Tim Cook apologized to China for customer service at Apple IncAAPL +1.82%? That was after CCTV said Apple's customer-service policies for Chinese customers differ from its practices in other countries. Previous broadcasts have elicited apologies from companies like fast food company McDonald's Corp and French retailer Carrefour SA.
It isn't just CCTV that zeroes in on companies. Local authorities also chime in and build hype for the commemorative day on social media. In the case of P&G, it was the Shanghai Administration of Industry and Commerce.
The Xinhua report on P&G gained traction on social media in part because of its reference to a recent Chinese Internet meme—actor Jackie Chan using the nonsense word "duang" in a commercial to describe how a shampoo made his hair so bouncy.
–Laurie Burkitt