On April 4-5 2015 in USA, Chinese Corporate Soft Power, Business Opportunities in China and Entrepreneurship in the US and China forum was successfully held at Columbia University and Harvard University.

Sherry Fu, Regional director of Manchester Business School, Yao Ming, founder and chairman of Yama Ribbons and Bows, and Dr Feng Xi, president of Horizon Institute of Global Development Power, were invited and delivered keynote speeches and launched their new book 2014 Overseas Chinese Corporate Reputation Report published by the Zhejiang University Press.
More than 300 participants attended the forums. Reuters' journalist Chen Yijia hosted the forum and participated in the panel discussion, sharing her experience as a post-80's entrepreneur in US China Consulate General in New York Business Consul, Liu Xiaoguang attended the forum at Columbia business school.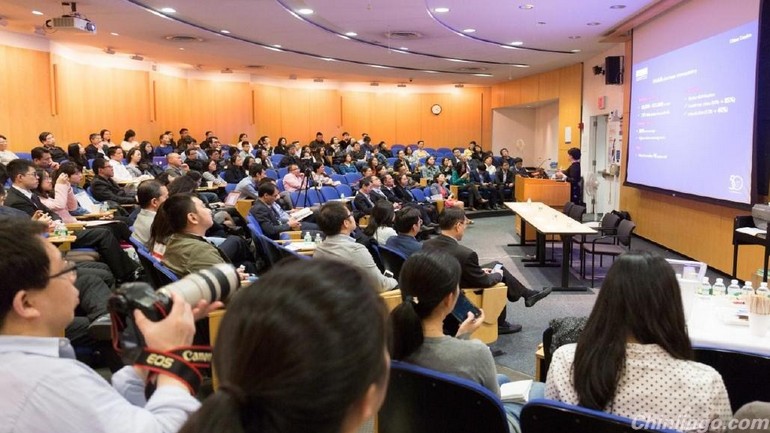 The book innovatively use reputation as breakthrough point, systematically studies the Overseas Chinese Corporates' soft power.
Based on the models and theories developed, through questionnaires, case studies and public sentiments, with a variety of perspectives to analyze how reputation affect Chinese companies' overseas operation, and summarizes the operational policies and practical suggestions.
Combining data and practical cases analyzed by Horizon, the largest non-governmental think tank in China, Feng introduced a "three-step" strategy" for Chinese corporations.
Sherry Fu presented at Columbia Business School, New York
Sherry Fu, China Centre director of Manchester Business School, delivered a presentation on "China opportunities". Fu briefly reviewed MBS China Centre's development and achievements, and then discussed China's macro economy and the rise of the middle income class which brings huge opportunities to sectors such as e-commerce, social media, education and healthcare. China's recent national strategy of "One Belt, One Road", and the proposed Asian Infrastructure Investment Bank underscore the "great potential and promising prospects of Chinese corporations overseas", Fu said.
Promoting the book launch were Columbia greater China society, Harvard Chinese students and scholars association, MIT innovation and entrepreneurship forum, the Tsinghua Alumni Association-Greater New York, Tianjin University Alumni Association in North America, Zhejiang University Alumni Association Greater New York chapter and the Chinese University Alumni Alliance in North America.