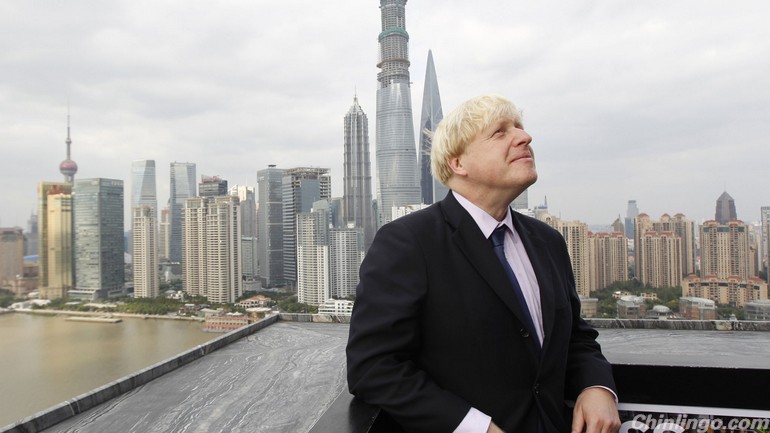 London Mayor Boris Johnson led a delegation on a three-day visit to Shanghai last week to drum up investment interest in the British capital.
During the visit, Gerard Lyons, chief economic adviser to the mayor, sat down with Shanghai Daily to discuss issues of interest to the UK and China. Lyons was chief economist at Standard Chartered Bank before joining the mayor's staff last December.
He is a respected analyst, noted for forecasting the Asian monetary crisis, the euro crisis and global interest rate movements.
Q: China has opened its Renminbi Qualified Foreign Institutional Investor program to London institutions, starting direct trading between the yuan and the pound, and allowing Chinese banks to conduct wholesale business in London. How do you view these policies?
A: The measures are good, but we should neither exaggerate them nor undervalue their importance. They are a stepping-stone in the right direction. The size of RQFII is small, but the potential is phenomenal. This is the first step to what can be a very big development. The ability of the UK and European funds to go directly from London into China Ñ not via Hong Kong Ñ is a very positive development. China in itself is a big market so no doubt more money will flow.
What was announced is packaged in a way that makes it sounds very different from before, but in some respects, it's an evolution of what we already have.
Q: When do you think these latest new policies will take effect?
A: It's up to both sides whether they take the next steps to make them work. Often, you need to have the enabling environment from the Chinese and UK sides.
Then you need to fit in all the technical details. This can happen as quickly if both sides want it to happen.
Q: How do you envision the links between the Chinese and British economies?
The three most important words about China in the past 10 years were "made in China." The three words in the next 10 years will be "bought by China," and the three words in the 10 years after that will be "paid in yuan." The specialization of London in business, professional services and finance is important in China's next stage of development.
Q: Are you worried about the risks for London in increasing China exposure because of the uncertainties here?
A: No. There are lots of uncertainties everywhere. I can give you plausible scenarios to be cautious and worried about, but I also can give you compelling arguments to be very excited about.
I've just written a book, due out next April. It will also be translated in Chinese. It's called the "Consolation of Economics." It addresses why we should be very positive about the global economy. The Chinese economy will do very well. It's the same in Britain. When you sit in Britain, you can see all the negatives, but the UK works despite all that. When you sit in China, you can see lots of challenges, but it also works.
As I say in the book, the trend is up, income levels will be rising and the economy will go in the right direction despite setbacks along the way.
China's economy has the "middle-income trap" to overcome, and you can expect a lot of volatility. There is a lot China needs to do to address these issues.
Coming back to the question. Am I worried about the risks? No.
In the next step of China's development, the UK and London will be very important. Germany has been the powerhouse important to China up to now because of its focus on manufacturing.
The UK will become the next most important economic powerhouse because of the nature of the British economy and what China needs to be doing about the domestic economy.
Q: What does China need to be doing now?
A: You need to develop your institutions. Interest rates should be set by the market, and currency rates should be set by economic reality. You need independent institutions. China's economy is so big you cannot run it like it's been run in the past. You need to have regions that go outward and regions that interact with Beijing. Because of China's huge economic size, what was done in Britain and America over decades needs to be done in one or two years in China.
I went to a Party school for three days last year in Beijing. These issues were being discussed. Everyone always asks people from the West about the risks in China, and I also ask the Chinese about the risks. The Chinese, in my view, always identify more risks than Westerners. They identify potential solutions as well.
Q: People talk about reforms a lot. Do you think China has been moving too slow in cutting its reliance on investment?
A: Two years ago, there was a report done by the World Bank and the Chinese government talking about the investment ratio coming down. But it will still remain high. When you think about the amount of urbanization and industrialization that is taking place in China, investment needs to come down, but still remains at a high level. When you move from an investment-led economy to a consumption-driven economy, it may take two decades.
Q: What are things China should not drop during the reforms?
A: There is a saying: "Don't throw the baby out with the bath water." The Chinese economy has done well because of the strong foundation on which it was based. State-owned enterprises and land are always linked to the reform agenda, but more transparent corporate governance and regulations may be the most important things. Make sure that the rules are set and people play by them.