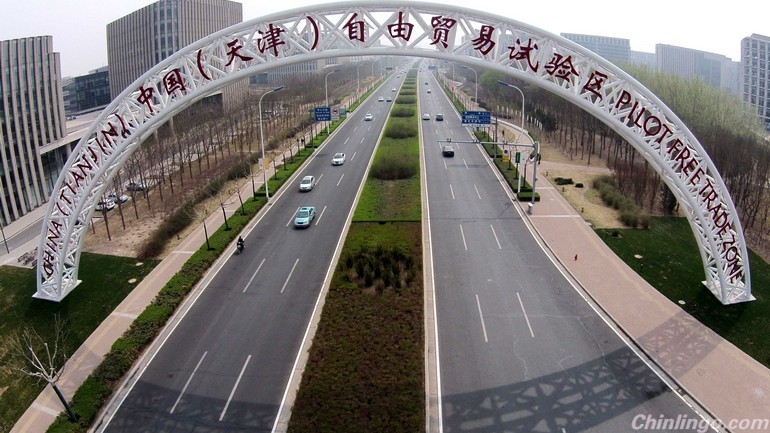 The expansion of China's free trade zones will create more places where reforms in foreign investment management, government supervision and service opening-up can be tested, according to experts.

The nation is going through a momentous transition to a "new normal" as it recalibrates its growth pace and builds on experience in a range of pilot programs.

Many of those programs have undergone trials in the China (Shanghai) Pilot Free Trade Zone, which was established in 2013. The results of those experiments will feature in three new FTZs in Tianjin municipality and Guangdong and Fujian provinces. More inland cities are expected to get approval for FTZs in the coming years.
Mei Xinyu, a researcher at the International Trade and Economic Cooperation Institute at the Ministry of Commerce, said that the three new FTZs will have "more local characteristics" than the pioneering Shanghai FTZ.
The Tianjin FTZ will focus on trade with Northeast Asia, shipping and financial leasing.
The Guangdong FTZ will be a crucial part of the second phase of Guangdong-Hong Kong-Macao cooperation, and will build on Hong Kong's advantages as a global financial center while the Fujian FTZ will emphasize cross-Straits trade and financial cooperation with Taiwan.
"These new FTZs have different reform focuses in terms of services, finance, industry, investment and trade.
Adding FTZs can help realize China's goal of steady growth and boost international investors' confidence by offering more flexible market access," said Mei.
Take the Tianjin FTZ, where shipping and associated activities will power its development. The city plans to pursue opportunities in shipping finance, ship registration and maintenance, and maritime law and arbitration. It will cooperate with Shanghai, an international shipping hub, to reach more ports around the world.
Lin Guijun, vice-president at the Beijing-based University of International Business and Economics, said that FTZs are appropriate bases for taking part in global economic competition and can be sources of innovation and create the momentum for sustainable development.
"Even though these new FTZs may unavoidably develop a uniformity of financial services in the initial stages, fierce competition will eventually force them to optimize their policies, improve their infrastructure, nurture talent and lure foreign capital," said Lin.
For foreign businesses, Lin said many undeveloped social service industries such as education, social security, health and elderly care can become new market growth points, because demand for these services has surged in China over the past decade.
China cut the number of industries in which it restricts foreign investment earlier this month, as the new Catalog for the Guidance of Industries for Foreign Investment gained approval from the State Council (cabinet) and will take effect on April 10. The number of restricted sectors was cut almost in half, from 79 to 38.
Favored sectors within the new guidelines are modern agriculture, high technology, advanced manufacturing, energy efficiency and environmental protection, alternative energy and modern services.
In the Shanghai FTZ, the number of sectors where foreign investment is restricted was cut to 139 in 2014 from 190 a year earlier. This year's list is expected to be shorter again.
These modified policies from the cabinet and the Shanghai FTZ can be adopted within the three new FTZs.
China attracted more foreign direct investment than any other country in 2014 $119.6 billion, up 1.7 percent on a year-on-year basis.
"All China's four FTZs are still in the initial period and foreign companies will gain more tangible benefits once the necessary policies and measures are put in place," said Chen Bo, a researcher in the free trade zone research institution of the Shanghai University of Finance and Economics.
Chen said although the "negative list" system applied in the Shanghai FTZ will be adopted by the three new FTZs, perhaps with some modifications, the success of each one will be decided by its reform concepts and how they are executed.
Li Jian, a researcher in the international trade and economic cooperation institute of the Ministry of Commerce, said the three FTZs will inevitably be compared with the Shanghai FTZ, but they will also be places to test the feasibility of ideas and provide new experience for further reform and opening-up throughout the country.