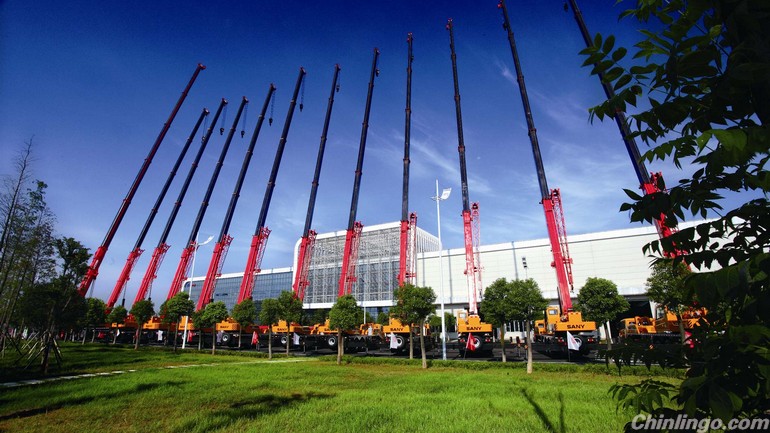 With global ambition, Chinese machinery manufacturer Sany Heavy Industry adopted "quality changes the world" as its slogan, and, step by step, the company is walking the talk.
"Sany's overseas advance is at a critical stage. Our target is to become a world-class enterprise within five to ten years," company president Xiang Wenbo told Xinhua in an interview.
Like most companies that aim high, Sany quickened its expansion overseas as the Chinese economy opened up. In 2012, Sany paid 360 million euros for German engineers Putzmeister, and in the same year its affiliate Ralls sued U.S. President Barack Obama and the U.S. committee on foreign investment for blocking a wind farm purchase.
When the ruling went in Sany's favor last year, the company called it a "historic victory" for Chinese companies overseas. Xiang admits that the company had been too "optimistic and radical" in its early overseas advance.
"We hope other companies trying to invest in the U.S. can learn from the case to adopt a more international mindset when treated unfairly," he said.
In the Putzmeister deal, Sany learned to be patient. The company spent years developing products that meet German standards to convince Putzmeister of its competitiveness. By keeping the German management team in place and giving them a high degree of independence in day-to-day management, Sany is taking a new approach to overseas investment.
When recruiting overseas, Sany was frequently asked about corporate culture, strategy and core technology, which prompted a rethink of brand culture and core competitiveness. Thanks to this policy, Putzmeister made a profit of 20 million euros last year.
Sany Heavy Industry now operates in over 100 countries and regions with research and manufacturing bases in the U.S., Germany, India and Brazil. In 2014, overseas sales accounted for a third of group revenue.
Sany's rise came as many Chinese companies seek investment targets abroad. Chinese investors channeled capital into over 6,000 overseas firms in 156 countries in 2014 with outbound investment of more than 100 billion U.S. dollars making the country a net exporter of capital for the first time.
Xiang said some 70 percent to 80 percent of the company's market is in countries along the "belt and road", a Chinese initiative to connect Asia, Europe and Africa more closely.
"Steady progress will create huge opportunities for Chinese enterprises overseas," he said.