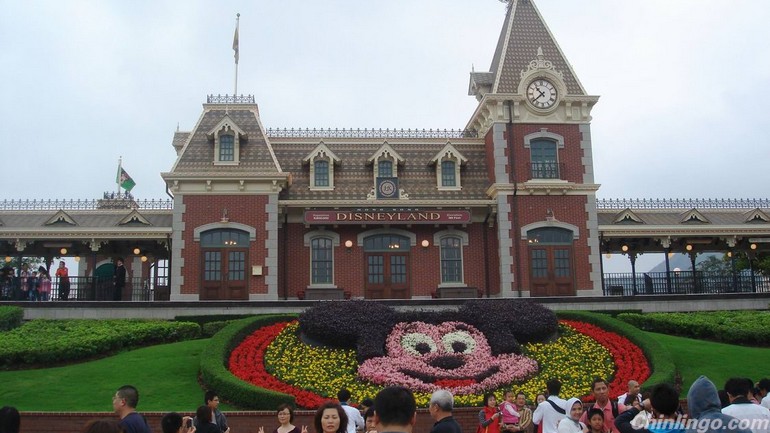 At an eye-watering cost of £3.6billion andspread across almost 1,000 acres of an old farmland, these pictures show Disneyland Shanghai ahead of its grand opening next year.
成本36亿英镑,面积达1000英亩的农田,这些照片显示了正在建设中的迪斯尼上海乐园的景象,该乐园将于明年开张。

The highly anticipated theme park willinclude the world's largest Disney castle called the 'EnchantedStorybook'.
这个深受期待的主题乐园将包括世界上最大的迪斯尼城堡——被称为"被施了魔法的故事书"。
It will also feature a production of 'TheLion King' in Chinese and a pirate-themed zone based on the 'Pirates of theCaribbean' movies.
还将有中文版的《狮子王》以及以《加勒比海盗》电影为基础的海盗主题区。
An artificial mountain will loom over thepark, becoming the highest hill in Shanghai's Pudong district, and a 420-roomDisneyland Hotel is planned in an 'elegant Art Nouveau style', with anotherbased on the Toy Story films.
园区内将建起一个假山,将成为上海浦东区的最高山,而且会以"优雅的新艺术形式"建起一座420个房间的迪斯尼酒店,而另外一个酒店将以《玩具总动员》电影为模版。
On a commercial level, an adjacent 'Disneytown' will have 495,000 square feetof shops, restaurants and a 1,200-seat theatre.
在商业层面,附近的"迪斯尼城"将拥有商店,餐馆和一个1200座的电影院,面积达495000平方英尺。

As well as the Disney attractions, the park will also have a 'distinctlyChinese' character, namely through a park called the 'Garden of the TwelveFriends'.
除了迪斯尼本身的景点外,该主题公园里还将有独特的中国特征——即其中有一个公园叫做"12个朋友的乐园"。
Shanghai Disney will also have 12 mosaicsthat will exhibit the Chinese Zodiac's 12 signs, but with the use of Disneycharacters.
里面还会有12座镶嵌画,展示中国的12生肖,但是用的是迪斯尼的卡通人物风格。
It is hoped the park will open to thepublic in the spring of 2016 and welcome more than seven million visitors ayear, eventually rising to 16 million.
这个公园将于2016年春天与大众见面,每年将迎来700万游客,最终达到1600万。
It is built on a farmland in the once ruralarea of Chuansha, near the city's Pudong International Airport.
这个乐园位于浦东川沙,在浦东国际机场附近。