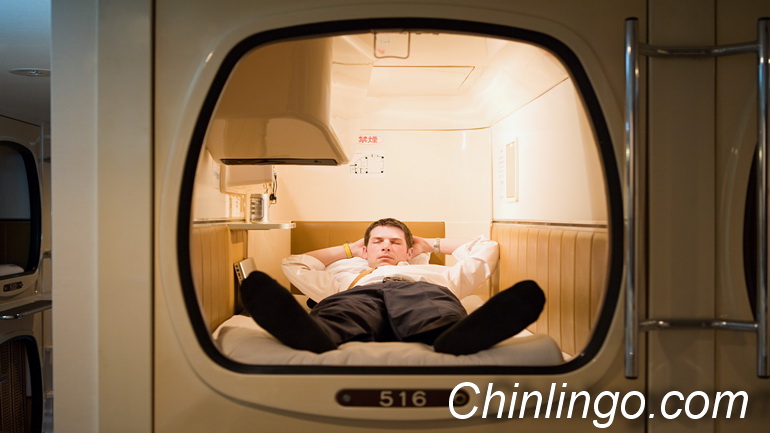 Welcome to China's bleak capsule hotels whereyoung travellers pay £7 a night to sleep in pods only just big enough to liedown.
欢迎来到中国单调的胶囊旅馆,一晚上只要7英镑,但是只能容纳一个人躺下。
China's minute capsule hotels are gleaning popularity with young travellers due to their very affordable price tags.
中国微小的胶囊旅馆由于价格便宜正受到很多年轻游客的欢迎。
The Space Capsule hotel, in Taiyuan, in the Shanxiprovince, is one of many to open up in China,after the trend for sleep pods began in Japan, decades ago.
位于太原的空间胶囊酒店是在中国兴起的众多胶囊旅馆之一,而这种趋势在日本几十年前就出现了。
Each of the pokey rooms measure a mere 4.3feet by 6.6 feet, but costs just under £7 ($10.59) per night to stay in, makingthem a tempting prospect for budget travellers and young people.
每一个房间4.3×6.6英尺,但是每晚上只需要不到10.59美元,所以对于预算紧缺和年轻人来说是非常有吸引力的。
The 5,200 square-foot building consists of86 fibreglass capsules in nine rooms, each named after star signs to reflectthe space theme.
这个5200平方英尺的建筑包含了86个玻璃纤维的胶囊,分布在9个大房间里,每一个房间由星座来命名以反映各个房间的主题。

Along with a simple bed, the rooms containa mirror, television, smoke detector, coat hook and fold-down computer desk.
除了一张简单的床,里面还有镜子,电视,烟雾报警器,衣钩,以及可折叠的电脑桌。
Each is also equipped with is a plugsocket, smoke detector and a fan.There's a wireless network for those who wishto stay connected, and even a selection of soundproofed capsules reserved forpeople who snore.
每个小房间里还有一个插座和风扇。还有无线网络,甚至还有隔音的小房间供那些会打鼾的人。
According to Chinese newspaper, Xinhua, thehotel manager Xu Meijang was inspired to open the unusual business by thepopularity of sleep pod hotels in Japan and by the number of generally young travellers requiring an affordable night's stay in the area.
据新华社报道,酒店经理许美静是受到日本那边豆荚旅馆以及一些年轻人要求能住到比较便宜的旅馆的启发后才开办了这些胶囊旅馆。