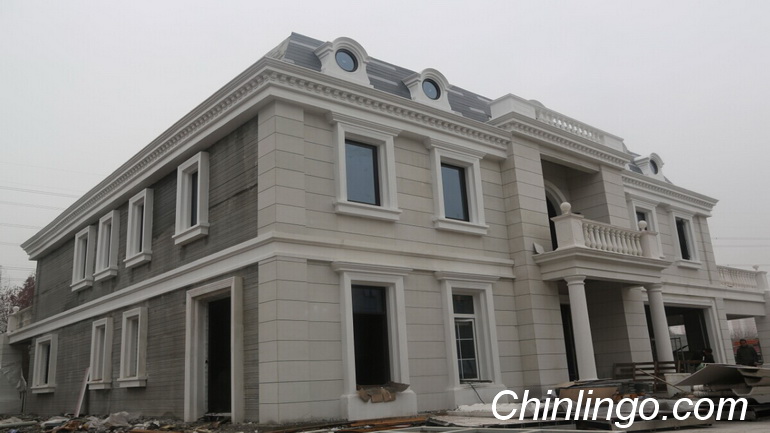 They may look like your average building sites, but these houses were created with nothing more than a 3D printer.
这些建筑看起来可能很一般,但是这些楼房都是由3D打印机建造的。
The houses, one of which is five-storey high, were created in an industrial park in China's Jiangsu province using new 3D printing technology.
这些房屋(其中一栋为5层楼)位于中国江苏省的一处工业园区内,使用的是新的3D打印技术。
The incredible engineering, by Shanghai WinSun Decoration Design Engineering Co., was pioneered ten months ago when the company printed ten buildings – costing just £3,100 – entirely out of concrete using a giant printer.
这个伟大的建筑工程在10个月前由一家上海公司创造,总共10栋楼房,成本只要3100英镑,利用一款巨型打印机通过混凝土打印出来。

Now they have taken the technology further to build the first 3D printed villas and the tallest ever 3D printed building.
现在他们利用这种技术来建造首座3D打印的别墅以及最高的3D打印建筑。
The homes are created using a printer which is 21ft tall, 32ft wide, and 500ft long, according to 3ders.
这个3D打印机高21英尺,宽32英尺,长500英尺。
The 'ink' used is a mixture of recycled construction waste, glass, steel and cement which is sprayed on layer by layer until a thick wall is created.
而打印机所使用的"墨水"则是回收的建筑材料、玻璃、钢筋以及水泥的混合体,将"墨水"一层层的喷射在一起,直到形成厚厚的墙壁。
Ma Yi He, CEO of WinSun, explained that the construction industry produces a large amount of carbon emissions, but with 3D printing, waste material can be recycled.
该公司的CEO马一和说,建筑行业产生了大量的二氧化碳排放,但是使用3D打印技术,这些建筑废料都可以得到回收再利用。
This process also means that construction workers are at less risk of coming into contact with hazardous materials.
这还意味着建筑工人接触有害材料的风险变小了。
The new technology could also lead to the building sites of the future could be far less noisy, more clean and easier on the eye.
这种建筑技术还意味着未来的建筑工地将不会有那么多噪音,也更加的干净,也更加的美观。
The process is expensive, but at £100,000 a house the properties are cheaper than theaverage home.
这种技术是昂贵的,使用这种技术所建造的一个房子的价格是10万英镑,所以还是比一般的房子来得便宜。
The display site also featured a single-story house pre-ordered by the Egyptian government, which will soon be shipped to its owner.
在这处房屋展示地点上还有一个单层的房子,提前被埃及政府订购,很快将被运送给埃及政府。
Mr. Ma said: 'This house was printed within a single day, and is part of a total order of 20,000 units.'
马先生说:"这栋房子只用了一天就打印完成了,总共有两万个这个的订单。"