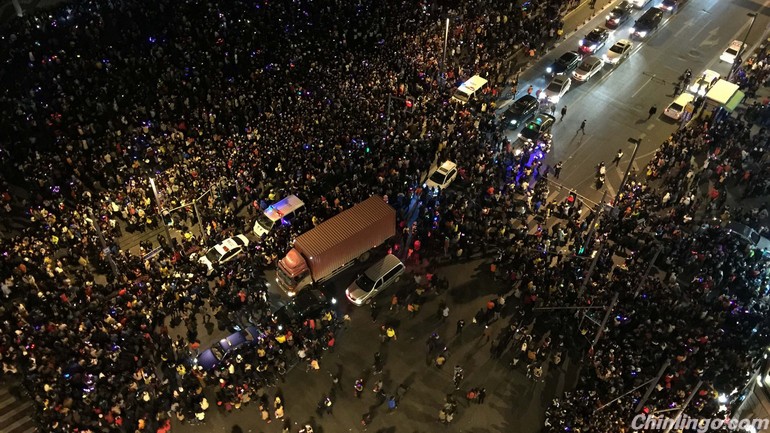 Dozens crushed to death in a tragic stampede at a place where people
congregated to enjoy themselves, not to die. Police blamed for failures
in crowd control. Emergency services pilloried for a slow and chaotic response which led to needless deaths.
悲剧性踩踏事故发生了,有数十人被挤压至死。人们聚集在这个地方,原本是为了享受快乐,而不是为了走向死亡。事故发生后,人们指责警方未能对人群实施有效管控。应急部门也因应对迟缓且混乱、导致毫无必要的伤亡,而受到公开谴责。
Sound like the New Year's Eve disaster at the Shanghai Bund, in which 36
people died and dozens more were injured? It's not: it's a description
of the 1989 Hillsborough stadium tragedy in Sheffield, England, in which
96 people died and hundreds were injured in a similar human pile-up. My
point? China has no corner on the market for unruly crowds, incompetent police and unnecessary disasters. But you'd never know that, from the way many mainlanders reacted to the carnage.
这听起来是不是像是在说新年夜(New Year's
Eve)上海外滩发生的那场导致36人丧生、数十人受伤的灾难?事实并非如此。这里说的是1989年英格兰谢菲尔德市希尔斯堡体育场
(Hillsborough
stadium)惨案,当时同样发生了人员踩踏,最终有96人丧生,数百人受伤。我为何提到这起事故?在不听管控的人群、不称职的警察和不必要的灾难方
面,中国的表现并不突出。不过,从许多中国人对外滩惨案的反应中,你肯定认识不到这一点。
When news of the Bund bloodbath surfaced on a frigid bright
New Year's morning in Shanghai, the first reaction of many locals was
to blame the Chinese. Only hours after dozens of young people had suffocated to death at the very same spot, Chinese bystanders
at the scene of the stampede repeatedly told me versions of the same
thing: "Chinese are like that", or sometimes "young Chinese are like
that, they like to push and shove", or occasionally "Chinese from
outside Shanghai are like that, they don't know how to behave in a
civilised fashion".
当外滩惨案的消息在上海寒冷而晴朗的元旦清晨传来时,当地许多人的第一反应是谴责中国人。在数十名年轻人窒息而死仅仅数小时后,踩踏事故现场的中国
围观者反复向我诉说着内容不同但主旨相同的话:"中国人就是这样",有时候还有"中国年轻人就是这样,他们就喜欢挤来挤去",偶尔还有"上海以外的中国人
就是这样,他们不懂文明礼貌"。
China is a proud nation that can boast the world's oldest continuous
civilisation, but beneath that strain of arrogance runs something that
often feels like a national inferiority complex. Ordinary Chinese are always the first to point out shared character flaws (although usually they impute them to compatriots
other than themselves). And what better chance to do that, than when 36
people have needlessly lost their lives in the country's most modern,
best run and arguably most civilised city.
中国是一个充满自豪感的国家,以拥有世界上历史最悠久的、不曾中断的文明为傲。然而,在这种自负的气质背后,却存在某种往往让人感觉像是民族自卑情
结的东西。中国民众经常是首先跳出来,指出国人共同的性格缺陷的(尽管他们通常会把这些缺陷归罪在同胞、而不是自己身上)。如今,在中国最现代化、管理最
好、可以说是最文明的城市,有36人无谓地失去了生命。对中国民众来说,再也没有比这更好的机会来发出这样的指责了。
Shanghai has pretensions to be the 21st century's new New York, a green,
rationally planned, ultra-modern city. For such a place to lose 36
young people in such an old, old way, is a massive loss of face. It
feels like — though it is not — the kind of thing that only third world
countries do.
上海自命要成为21世纪的新纽约——一座合理规划、超现代的绿色城市。但却以一种非常落后的方式失去了36条生命,是一件无比丢脸的事。感觉只有第三世界国家才会发生这种事——尽管事实并非如此。
Maybe that's why so many people were willing to believe one of the first
stories that surfaced to explain the crush (later denied by police):
that revellers in a building above tossed coupons into the crowd that looked like US dollars.
也许,这就是为什么会有如此之多的人愿意相信,是一座大楼上狂欢的人向人群中抛撒看起来像美元一样的优惠券导致了踩踏事故。人们一开始为这起事故找了不少起因,这件事就是其中之一(警方后来否认此事造成了踩踏)。
Many Chinese were quick to accept this as the cause — a sign of how worried they are about excessive greed in mainland society. Somehow the whole story tapped into a narrative of national angst.
许多中国人不假思索地认为这件事就是起因,说明他们对中国社会的过度贪婪之风有多么担忧。不知怎么地,整件事与一种关于民族忧虑的叙事建立起了联系。
In the days that followed, blame was distributed much more widely: the city government was criticised for failing to give adequate publicity to the cancellation of the evening's main event; police failed to shutter the closest metro
stop to control numbers, and did not send enough officers until it was
too late; ambulances were slow to arrive; hospitals were slow to kick into gear; relatives were prevented from getting to their loved ones.
随后几天,越来越多的人沦为受指责的对象:人们批评上海市政府未充分宣传这个新年夜重大活动取消的消息;批评警方未封闭离现场最近的地铁站来控制人流,未及时调派足够警力;批评救护车迟迟未来;批评医院进入状态太慢;批评当局阻止死伤者亲属接触他们死伤的亲人。
Failure all around, fault all around — much of it deserved. But still, four days after the tragedy, at a spot overlooking the impromptu Bund memorial to the dead, bystanders
were still blaming the victims, and in some strange way, their
Chineseness. Young tourist Wei Ting, recently arrived from Guangdong in
southern China, explained in careful English that pushing and shoving on
New Year's Eve is what Chinese people "usually do".
到处是不足,到处是缺陷——其中很大一部分指责是应该的。但在悲剧发生4天之后,在一处可眺望外滩上人们自发悼念遇难者的场所,仍有旁观者在指责事
故受害者,并以某种奇特的方式指责受害者的中国人特色。年轻的游客魏廷(Wei
Ting,音译)最近刚从广东来到上海,他以斟酌过的英语解释称,在新年夜挤来挤去是中国人"常做"的事情。
But the fact is, the Bund bloodbath is not a verdict on the flaws
of modern China. People get crushed to death in developed countries too
(including a hideously unlucky Walmart employee trampled by a crowd of
US Black Friday bargain hunters in 2008).
但事实上,外滩惨案并非一份对现代中国缺陷的判决书。发达国家也会发生人们挤压致死的悲剧(包括2008年一名极其不幸的沃尔玛(Walmart)员工被美国一群在"黑色星期五"(Black Friday)抢便宜货的购物者踩死)。