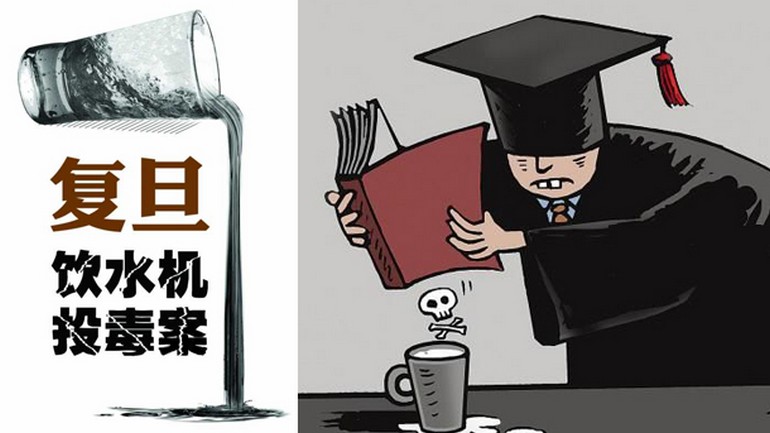 Li
Xiongfeng and his roommates had all fallen asleep in the quiet night.
But then his phone suddenly started ringing loudly and woke everybody
up. One of his roommates was annoyed and Li was not happy about the
disturbance either.
夜深人静,李雄峰(音译)和室友们都进入了梦乡。但突然间他的手机铃声响起,吵醒了所有人。一位室友因此恼火不已,就连李雄峰自己也很不高兴。
"I didn't expect such a trivial matter could sour my relationship
with my roommates," said Li, 20, a sophomore law major at South China
Normal University.
"我没想到这么点小事儿就会影响我和室友的关系。"就读于华南师范大学法律专业大二年级,20岁的李雄峰说道。
Last week, Fudan University issued a statement regarding the
preliminary police report on the poisoning of a student by his roommate
that shocked the nation.
复旦投毒案震惊全国上下。上周,复旦大学就警方的初步报告发表了声明。
"Trivial matters in daily life" were blamed for the tragedy, in which 27-year-old Huang Yang was killed.
在这桩悲剧中,27岁的黄洋被室友杀害,而这一切的元凶,正是"日常生活中的琐碎小事"。
According to experts, it's the small things that can cause serious
problems for dormitory relations. As their first lesson at college,
students should learn to compromise when living with their peers and be
tolerant toward them.
专家表示,正是这些小事会对室友关系构成重大危机。作为大学的第一课,学生们应该学会与同伴相处时,如何做出妥协与包容。
Dormitory relations are among the top concerns for students who
enjoyed being the focal point of their family in high school. Only 43
percent of college students in Wuhan, which has more than 1 million
college students, are happy with their dormitory relations, according to
a report by Wuhan Yangtze Business University released in January.
对于高中时被全家人捧在手心的学生们而言,寝室关系成为他们最担心的问题之一。武汉长江工商学院于今年一月发布的一份报告显示,在武汉当地超过一百万的大学生中,只有43%对自己的寝室关系感到满意。
"This communal way of living is new to students, the majority of whom
are single children. Many of them expect people to change for them, not
the other way around," said Tan Mali, deputy Party secretary at South
China Normal University.
"对于学生们来说,这种公共生活方式是种全新体验,而他们其中大多数人都是独生子女。很多人都希望别人为自己而改变,而不是改变自身来适应他人。"华南师范大学党委副书记谭马利表示。
For many students, respecting other's property and personal space is the foundation to maintain peace in the dormitory.
对于许多学生来说,尊重他人财产与个人空间是保持寝室关系和睦的基础。
It can be fixed
覆水可收
Liao Fei, 22, a senior majoring in biology at Peking University,
believes that in a shared space, all roommates should help in keeping
the room tidy instead of placing the burden on just one while the others
do whatever they want.
就读于北京大学生物学专业大四年级,22岁的廖飞(音译)认为,在一个共享空间里,每个寝室成员都应当保持房间的整洁,不应该把打扫房间的重担都压在一个人肩上,而其他人却随心所欲。
"Everyone hates dirty places. If you make a mess, don't leave it for
someone else to clean up. Make sure you do your fair share of dormitory
chores, such as taking out the trash and recycling, and cleaning the
washroom," said Liao.
"大家都不喜欢脏乱差。如果你把寝室搞得乱七八糟,别等着别人来替你收拾。要保证做好宿舍杂务中你份内的事情,比如倒垃圾、回收废品以及打扫洗手间。"廖飞说。
No matter what, conflicts are inevitable when living with others for
four years. But a conflict isn't the end of the world. A serious talk or
even just a joke can fix the problem.
无论如何,与他人共处四年时间,矛盾总是难免的。但是矛盾并非世界末日。认真地谈一次心或者开个玩笑就可以让麻烦烟消云散。
Luo Lisha, 22, a senior majoring in journalism at the Communication
University of China, had an argument with her roommate a while ago.
来自中国传媒大学新闻系大四年级、22岁的罗丽莎(音译)前不久便和室友有过一次争执。
Instead of burying her feelings, Luo talked with her roommate and they've been getting along well ever since.
罗丽莎并没有把情绪埋在心里,而是选择与室友好好谈谈,自那以后她们相处得很好。
"Being frank and letting everyone speak their mind is a great way to let off steam," said Luo.
"坦诚相待,直抒己见是宣泄不满的最好方式。"罗丽莎说。
According to Sun Jianmin, dean of the Psychology Department at Renmin
University, learning to compromise around others is one of the most
important lessons in life.
中国人民大学心理学系系主任孙健敏表示,学会向他人妥协是生活中最重要的一课。
"Does it really matter if someone's cup was not rinsed out or if
their computer was left on all night? If it bothers you a lot then bring
it up, but if it's a small thing – just let it go," said Sun.
"有人没洗杯子,或者电脑整夜开着,这些真的重要?如果这确实困扰到你,那就提出来,如果只是小事一桩,就不要太在意了。"孙健敏说。
"It's tempting to vent your frustration on others when things start
to annoy you. But it's better to talk about it with others in a way they
can accept. Being obsessed with insignificant things only creates more
problems."
"当为一些事苦恼时,你往往会选择发泄对他人的不满。但最好还是以一种别人能接受的方式与他们好好谈一谈。过分为小事计较只会徒增烦恼。"