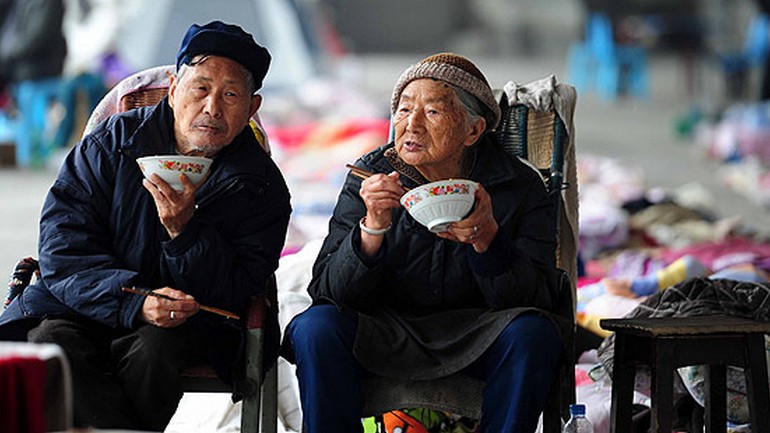 The findings of China's first major study on the lives of the
nation's 185 million elderly make for gloomy reading. The results of the
China Health and Retirement Longitudinal Study show 22.9% of Chinese
over 60 live in poverty, 38.1% have difficulty completing daily
activities on their own, and 40% show high symptoms of depression.
对中国1.85亿老年人的生活状况进行的首次大规模调查发现,这些老年人的生存状况令人沮丧。这项名为中国健康与养老追踪调查的研究显示,60岁以上的中国人中22.9%的人生活贫困,38.1%的人在日常行动方面存在困难,40%的人表现出高度的抑郁症症状。
But speaking at the launch in Beijing on Friday, the leaders of the
study ─ based on a nation-wide survey of 17,708 individuals, and
completed with the help of top academics from around the world ─ said
it's not all bad news.
但牵头进行这项研究的人士上周五在北京宣布调查结果时也表示,调查得到的并非都是坏消息。这项研究是基于对全国范围内17,708名个人的调查进行的,并在世界各地一系列一流学者的帮助下得以完成。
One important factor in the disabilities and depression suffered by
many of China's elderly is trauma experienced in early life: Chinese
people over 60 grew up with famine in the 1950s and the tumult of the
Cultural Revolution, and that leaves a mark.
导致中国许多老年人出现身心障碍和精神抑郁的一个重要因素是他们早年经历的生活创伤。中国60岁以上人口都经历过上世纪50年代的饥荒以及文化大革命的动乱,这些都在他们的生活中留下了印记。
Today's working-age population enjoyed far less traumatic childhoods.
They also have higher incomes than their parents did, thanks to greater
participation in China's 30-year economic boom. Both factors mean their
old age should be better than that of their parents, says John Strauss,
a professor at the University of Southern California and one of the
heads of the study.
当今中国的工作年龄人口在童年经历的伤痛要比前人少得多。由于对中国这30年来的经济快速增长有更高的参与度,这些人的收入也比自己的父辈要高。这项研究
的负责人之一、美国南加州大学(University of Southern California)教授施特劳斯(John
Strauss)说,这两个因素意味着,目前工作年龄人口的晚年生活应该比父辈那一代人要好。
China's poverty levels for the elderly look high relative to the
U.S., where the Census Bureau reports that 8.7% of those over 65 live
below the poverty line. But higher incomes for the elderly in the U.S.
are still financed by large-scale public transfers from the working-age
population. Mr. Strauss says that has costs too. It's possible to argue
"that from a social welfare point of view, the aged in the U.S. get far
too much in the way of transfers from the young and middle-aged," he
said.
中国老年人口的贫困率看来比美国要高。美国人口普查局(Census
Bureau)的数据显示,美国65岁以上老年人口的贫困率为8.7%。但美国老年人口收入较高的一个原因是政府将得自工作年龄人口的资金向老年人进行了
大规模的公共财政转移。施特劳斯说,这种做法也是有代价的。从社会福利的角度出发或许可以认为,美国老年人接纳转移自年轻人和中年人的公共财政太多了。
A shrinking workforce and higher costs of care as China's population
ages have raised fears about slowing growth. But there's still time to
head off those problems, says Yaohui Zhao, a professor at Peking
University who led the survey. Policies that support healthy aging would
mitigate the impact on growth, for example by allowing people to work
for longer, said Ms. Zhao.
随着中国人口的老龄化,中国劳动年龄人口的规模在缩减,而全社会的医疗费用支出在增加,这让人担心中国经济会不断放慢增长速度。但上述调查的牵头人、北京
大学教授赵耀辉说,中国仍然有时间阻止这些问题出现。她说,政府支持健康的社会老龄化的政策将会减缓这些问题对经济增长的影响,比如说,政府可以延长退休
年龄。