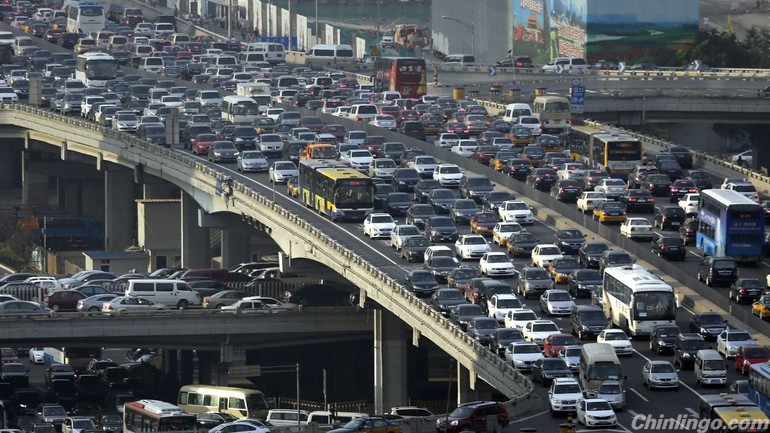 On a bad day, driving the 30 kilometers from Beijing's airport to the city's center can take up to an hour. If urban planners have their way, residents of the megalopolis of Beijing and Tianjin and the surrounding province of Hebei in six years will be able to cross that entire urban sprawl in roughly the same amount of time.
赶上不顺的时候,从北京机场到市中心的30公里路程,开车可能要花上一个小时。如果市政规划部门进展顺利,北京、天津两大都市以及附近河北省的居民六年后将能够以同样这么多的时间横穿京津冀。
On Tuesday, official Chinese media, citing a recent media interview with a Beijing Municipal Commission of Transport official, said that 9,500 kilometers of railway lines will crisscross the regional hub of 100 million people – awkwardly called Jing-Jin-Ji–by 2020. Under the plan, dwellers of the two-city, one-province urban jungle will be able to travel between major centers by rail in just 60 minutes.
周二,中国官方媒体援引北京市交通委员会一位官员最近接受采访时的讲话称,到2020年,拥有1亿人口的京津冀将形成9,500公里的铁路网。根据这一计划,这两市一省的居民坐火车只需60分钟就能完成京津冀两座主要城市之间的穿行。
That should be good news to Beijing's beleaguered commuters, many of whom use private cars to get to work giving rise to some of the worst traffic congestion in the world.
对于在北京饱受通勤之苦的上班族来说,这应该是个好消息。他们中的许多人开私家车上班,使北京出现了全球最严重的交通拥堵。
During vacation periods, traffic jams can sometimes be even worse as hordes take to the roads to escape the capital. In the recent May Day holiday, a traffic jam of 55 kilometers in length formed on one of the highways leaving Beijing, according to the website of state-controlled China Radio International.
在节假日,交通拥堵情况有时会更加严重,因为会有很多人开车离开北京。官方媒体中国国际广播电台网站的消息称,在最近这个五一劳动节,出京方向的一条高速路上曾出现长达55公里的拥堵。
For now there appears to be no sign of a let-up in Chinese desire to own a car. Last year almost 18 million passenger cars were sold in the country, making it the world's largest market. Consultancy IHS Automotive forecasts that figure to grow by just over 10% this year.
目前看来,中国民众买车的愿望似乎还没有减弱的迹象。去年,中国的乘用车销量将近1,800万辆,从而使中国成为全球最大的汽车市场。咨询公司IHS Automotive预计,今年中国乘用车销量的增幅将略高于10%。
Experts say poor urban planning is also at fault and say cities like Beijing put too much emphasis on building infrastructure and not enough on integrating different transport modes such as rail and road or building up robust public transportation systems.
专家称,糟糕的市政规划也有责任。他们说,北京等城市过于重视修建基础设施,但却没有对整合铁路、公路等不同的交通方式以及建立强大的公共交通体系予以足够重视。
Still, Beijing city planners' increased attention to suburban rail offers some hope that life in what combined would be the world's largest city might be about to get a little easier.
不过,随着北京市政规划部门对城市铁路更加关注,人们会产生这样的希望:在一体化之后的京津冀这个全球最大城市,人们的生活可能会变得轻松一点。