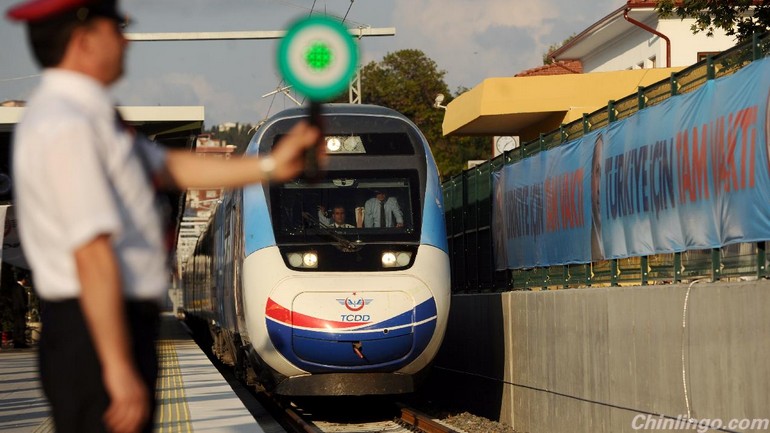 After having built the world's most extensive high-speed rail network, China is now beginning to export its rail technology, starting with last week's inauguration of a high-speed railway in Turkey that links the capital of Ankara to Istanbul, the country's largest city.
上周,连接土耳其首都安卡拉和该国最大城市伊斯坦布尔的高速铁路通车。建成了世界上里程最长的高铁网络后,中国现在开始出口自己的铁路技术,而土耳其的这条线路成为了起点。
The completion of the railway project marks the first time that China has helped build a high-speed railway outside its borders, according to the state-run People's Daily. Trains on the 330-mile railway line will run at speeds as high as 155 miles per hour, covering the distance between the two cities in three and a half hours, significantly less than the six or more hours by bus or car.
据官方媒体《人民日报》报道,该铁路工程的完工标志着中国首次在海外参与建成了一条高速铁路。在这条长达330英里的铁路线上,列车的行驶速度可达每小时155英里,全程所用时间为三个半小时,大大少于乘坐大巴或汽车所需的至少六个小时。
The China Railway Construction Corporation and the China National Machinery Import and Export Corporation won the bid in 2005 to build the railway line in partnership with two Turkish companies, Cengiz Construction and Ibrahim Cecen Ictas Construction, People's Daily said.
《人民日报》称,2005年,中国铁道建筑总公司和中国机械进出口有限公司成功中标,得以与两家土耳其企业Cengiz Construction和Ibrahim Cecen Ictas Construction合建该条铁路的二期工程。
The project was financed in part by a $750 million loan granted to Turkey by China, said Gong Xiaosheng, China's former ambassador to Turkey, according to People's Daily. Of that sum, $500 million was in the form of loans on favorable terms, which Mr. Gong said showed China's dedication to exporting its high-speed rail technology.
根据《人民日报》的报道,中国前驻土耳其大使宫小生表示,为了资助该项目,中国向土耳其提供了7.5亿美元的贷款,其中5亿美元属于优惠贷款。宫小生还表示,这体现了中国对出口高铁技术的支持。
While China is hailing the completion of the rail line as a milestone in Chinese-Turkish relations, both countries have admitted to difficulties during the process. The project has reportedly been beset with problems such as delays and accidents.
尽管中国赞扬该铁路线的完工是中国与土耳其两国关系史上的一座里程碑,但双方均承认,修建过程中困难重重。据报道,该项目一直受到延期和事故等问题的困扰。
"Turkey lacks railway construction know-how, so many changes had to be made to the route design during the construction process, which was a serious challenge for us," Liu Zhiyi, China Railway Construction Corporation's project manager in Turkey, told People's Daily, adding that China had been tasked with building the most complex sections of the route.
中国铁建土耳其分公司项目经理刘知义告诉《人民日报》,"土耳其铁路建设人才匮乏,所以线路设计在建设中反复修改,这对我们开展工作是个严峻的考验。"他还表示,中国承建的是这条铁路中最复杂的一段。
Speaking at the inauguration of the railway line last Friday, Prime Minister Recep Tayyip Erdogan of Turkey said: "We made a promise. We worked hard. We crossed the mountains, and passed over rivers."
上周五,土耳其总理雷杰普·塔伊普·埃尔多安出席了铁路的通车典礼,并发表演讲称:"我们许下承诺。我们勤奋工作。我们翻山越岭,穿过河流。"