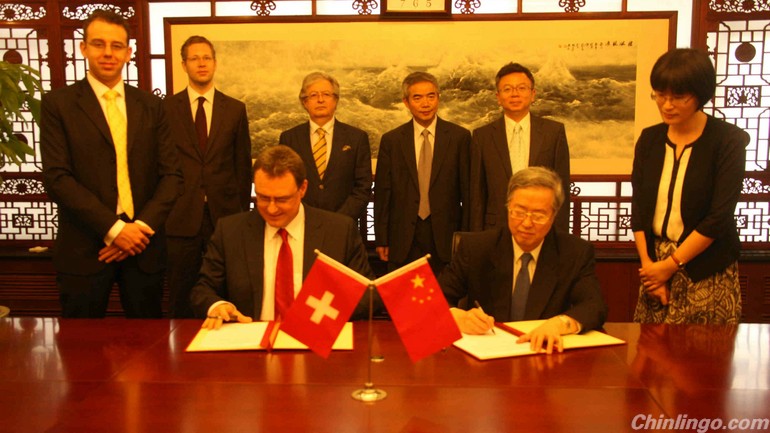 Switzerland's central bank said on Wednesday it had agreed with the People's Bank of China (PBOC) to establish clearing arrangements in Switzerland for renminbi trading and extend a pilot scheme for clients of Swiss banks.
瑞士央行周三表示,已与中国人民银行就在瑞士建立人民币交易清算安排达成一致,并将人民币合格境外机构投资者试点扩大到瑞士银行业客户。
"It the arrangement will promote the use of the renminbi by enterprises and financial institutions in cross-border transactions, and promote facilitation of bilateral trade and investment," the Swiss National Bank said in a statement.
"(这一安排)将促进企业和金融机构在跨境交易中使用人民币,并促进双边贸易和投资的简化,"瑞士央行在声明中称。
Alongside the pact, the PBOC will extend a pilot scheme for foreign investors to clients of Swiss banks, with a quota of up to 50 billion yuan.
与此同时,中国人民银行将RQFII试点范围扩大至瑞士银行业者的客户,投资额度为500亿元人民币。
"We are willing to make Switzerland one of the centres of offshore RMB business," Chinese Premier Li Keqiang told the World Economic Forum.
"我们愿意让瑞士成为离岸人民币业务中心之一,"中国总理李克强在世界经济论坛上表示。
The Swiss central bank said a bilateral currency swap agreement worth 150 billion yuan signed with China last year was a key precursor to developing a renminbi market in Switzerland.
瑞士央行表示,去年与中国签署的1,500亿元人民币双边货币互换协议,是在瑞士发展离岸人民币市场的重要前奏。
Switzerland's banking lobby welcomed the move, saying it bolstered Swiss efforts to participate in Chinese growth.
瑞士银行业游说团体对上述协议表示欢迎,指称这将有利于瑞士参与中国的经济成长。