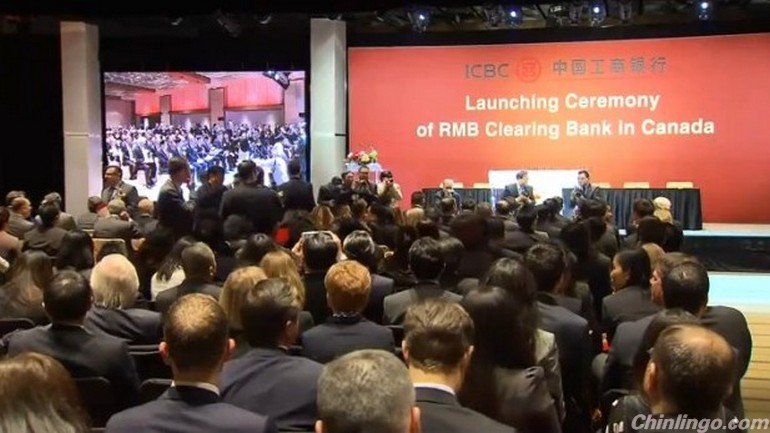 Canada's export agency signed a deal with China's biggest bank on Monday to promote the use of the yuan as a settlement currency in trade-related transactions, as officials in Toronto launched the first yuan trading hub in the Americas.
Export Development Canada signed the memorandum of understanding with the Canadian subsidiary of Industrial and Commercial Bank of China Ltd, the hub's clearing bank.
The two institutions will be "looking at ways to make the transactional aspect of Canadian and Chinese trade a little less cumbersome," EDC Senior Vice President Mairead Lavery said in a statement.
The trading hub and clearing center launched on Monday in Toronto.
Canadian banks currently have to convert from Canadian dollars into U.S. dollars before settling trade payments in yuan. The trading hub will eliminate costs to clients by enabling settlements to be made directly in yuan.
Still, offshore clearing may become less important down the line. Sources told Reuters earlier in the month that China's international payment system to process cross-border yuan transactions is ready and may be launched as early as September or October.
The launch of the China International Payment System would enable companies outside China to clear yuan transactions with their Chinese counterparts directly, reducing the number of stages a payment has to go through.
Nonetheless, Canada's Finance Minister Joe Oliver said the Toronto hub is good for the country's bilateral commercial relationship with China, as well as Canada's financial sector.
"It means that trading will be enhanced, it means that costs for Canadian importers will be made more efficient," Oliver told reporters at the hub's launch event.
The Canadian Chamber of Commerce estimated in November that the trading hub could boost Canadian exports to China by C$32 billion over the next decade, and cut Canadian importers' costs by as much as C$2.75 billion.
EDC said it was already conducting more business in yuan as demand for exposure to the currency increases. On March 16, it issued a 1 billion yuan bond, which it said was purchased by central banks within hours.