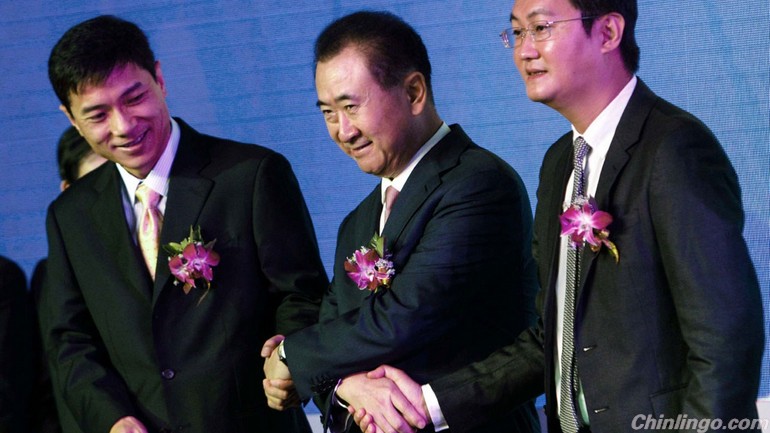 The Dalian Wanda Group, the Chinese real estate, cinema and retail conglomerate controlled by the billionaire Wang Jianlin, announced on Friday that it would enter the e-commerce industry in an $800 million partnership with Baidu and Tencent, two of China's biggest Internet companies.
亿万富翁王健林囊括房地产、电影院线和零售业的大连万达集团于周五宣布,该集团将进军电子商务产业,与中国两大互联网公司百度和腾讯共同投资8亿美元展开合作。
The move by Dalian Wanda, which is known simply as Wanda and is one of China's biggest developers of shopping malls, appears to be aimed at the Alibaba Group, China's dominant e-commerce company, which is expected to make its initial public offering in New York in a matter of weeks in a deal that could be one of the biggest I.P.O.s on record.
大连万达是中国最大的购物中心开发商之一,该集团似乎是要挑战在电子商务领域占主导地位的阿里巴巴集团。阿里巴巴将于几周之内在纽约进行首次公开募股,该交易可能会成为史上规模最大的IPO之一。
Wanda, which in 2012 paid $2.6 billion for AMC Entertainment, a cinema operator in the United States, said it would control 70 percent of a planned Hong Kong company called Wanda E-Commerce, in which Baidu and Tencent would each hold a stake of 15 percent. The three partners plan to invest 5 billion renminbi, or about $811 million, in the first phase of their cooperation on so-called online-to-offline business ventures.
万达于2012年出资26亿美元,收购了美国影院经营商AMC娱乐。万达表示计划在香港成立万达电子商务公司,万达持有70%的股份,百度和腾讯各持股15%。三家公司计划一期投入50亿元人民币,合作经营所谓的线上线下融合式的平台。
Mr. Wang said online-to-offline is the biggest opportunity in e-commerce, according to a transcript of his speech at a briefing in Shenzhen posted on Sina.com. "There's no true online-to-offline platform in China, and in this situation, everyone's chances are equal."
王健林表示,线上线下融合是电子商务最大的蛋糕,新浪网刊载的王健林在深圳发布会上的发言记录显示。他说,"目前还没有看到真正的线上到线下的平台出来,都没有。在这样的情况下,机会对大家是均等的。"
The three companies plan to leverage shoppers at Wanda's nationwide chain of 107 malls and department stores by cross-marketing promotions and memberships to the hundreds of millions of people who use online search, social networking and payment processing services provided by Baidu and Tencent.
三家公司计划利用万达在全国的107座购物中心和百货商店的顾客进行交叉营销推广,并吸引百度和腾讯搜索、社交网络及支付服务的数亿名用户成为会员。
In tying up with Wanda, Tencent brings to the table its Tenpay online payment business, as well as access to the 438 million monthly active users of WeChat, its popular mobile messaging service. Baidu, often described as China's answer to Google, adds its dominance of Internet searches in China.
在与万达的合作中,腾讯的优势在于旗下的财付通在线支付业务,以及微信的4.38亿名月活跃用户。微信是腾讯旗下一款广受欢迎的移动消息服务。百度经常被称作中国的谷歌,它在合作中的筹码,是在中国互联网搜索领域的主导地位。