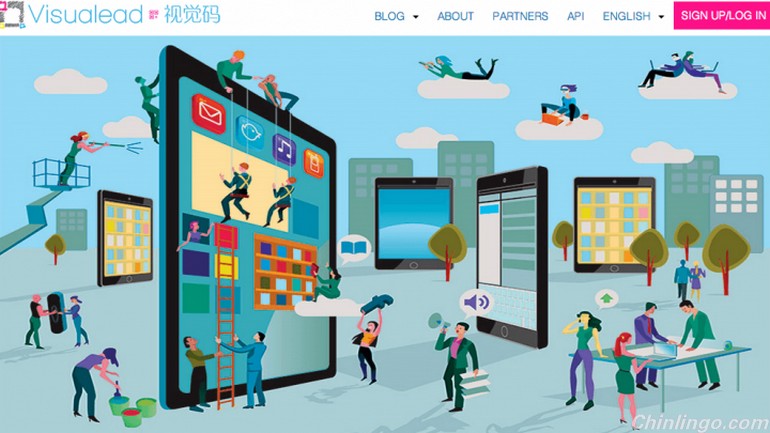 Chinese e-commerce giant Alibaba Group Holding Ltd. said Tuesday it will invest in technology startup Visualead of Israel.
Visualead, based north of Tel Aviv, creates codes that consumers can scan with their smartphones. Alibaba didn't disclose the investment size, but a person familiar with the matter said the Chinese e-commerce company is investing $6 million.
In China, consumers have picked up the practice of scanning QR codes with their phones to download apps, redeem coupons or sign up for promotions. Many Chinese users have unique QR codes assigned to their social-networking accounts that they can allow other users to scan to link or follow their accounts.
Visualead produces a patented form of QR code that uses colors and animation in an effort to be more visually engaging to consumers. Typical QR codes are black and white and are seen as aesthetically boring or unattractive when used in advertising. Visualead allows companies to insert their logos or graphics into the codes for branding purposes.
The partnership allows Visualead to work with Alibaba's Mashangtao service, which provides sellers on Alibaba's Taobao and Tmall online shopping platforms with codes that can be scanned by consumers for promotions or other marketing purposes. Merchants can use the service to generate codes for users to track packages or read product information.
Alibaba also plans to use Visualead's QR technology in its efforts to battle the sale of fake goods on its e-commerce websites. The company is expected to offer brands the ability to integrate into their products visual QR codes that cannot be easily duplicated, hoping to make fakes easier to identify.
Mr. Alva said Visualead saw the potential for expansion in China after it won a startup competition there. Shortly after that, Mr. Alva and another of the company's founders relocated to Shanghai and opened an office there, he said. "We started to take China seriously and we actually understood that if you want to succeed in China you have to be in China."
In the months leading up to its $25 billion initial public offering in September, Alibaba has been vocal in stressing the measures it has taken to prevent the sale of fake goods on its platforms. The company said it spends an annual sum of more than 100 million yuan on these efforts.
The investment is the latest in a string of investments by Chinese firms in Israeli technology companies and venture funds that invest in them, which has accelerated in pace over the past two years. When it comes to tech, Israeli companies are still much smaller than counterparts in Silicon Valley, and Chinese companies have kept their investments to a few million dollars apiece, sometimes alongside non-Chinese venture-fund partners.