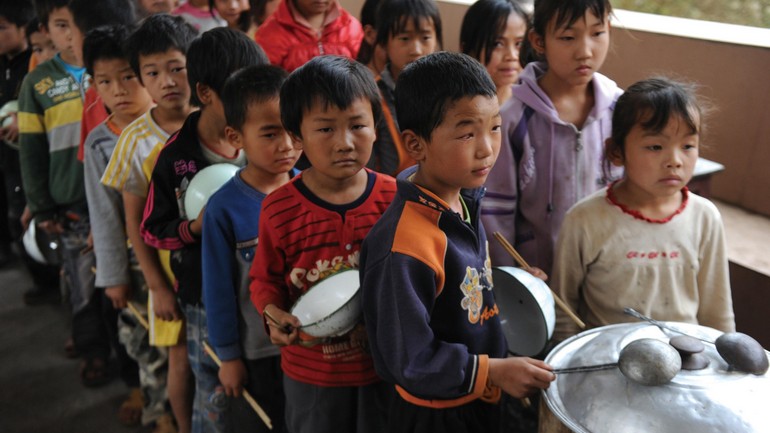 Like many rural teenagers,Yan Jingtao, the lanky son of a
watermelon farmer, did not havequite the stuff for a standard
upper-secondary school. Last September,encouraged by his teacher, he and
three classmates enrolled instead at avocational school on the edge of
the central city of Kaifeng to study computer animation. ByNovember, he
had quit; one of 23 dropouts in less than two months from a classthat
had started with 57. The students had often got into brawls and
skippedschool in order to play games at an internet café.
闫景涛(YanJingtao)是一名瓜农的儿子,同很多农村少年一样,身材瘦长的他并没有机会上公认的好中学。去年9月份,他在老师的鼓励下
和3名同班同学进入开封市边缘地区一所职业学校学习计算机动画。11月份,他就辍学了,他是没到两个月就辍学的23名学生之一,这个班开班时有57名学
生。这些学生经常打架并翘课到网吧里玩游戏

Now 18, Mr Yan has landed a decentshort-term job as a guard at a
local military airport. "My job is better thanwhat my friends have," he
says. But he yearns to learn a skill and get a propercareer.
现在已经18岁的闫先生已经在当地军用机场找到了一份体面的短期工作。他说,"我的工作比朋友们的要好"。但他渴望能学一门技术并获得一份像样的职业。
In the past three decades China has madeimpressive gains in sending
rural children to school. This has helped fuel itsrise as a low-end
manufacturing power. But the easy gains have been achieved.If the
country is to create the "knowledge economy" it says it wants,
thegovernment will have to change the way rural teenagers are educated
and schoolsin the countryside are funded.
过去30年来,中国在让农村孩子接受教育方面取得了骄人的成绩,这充实了低端制造业的劳动力。但取得这样的成绩并不费力,如果中国要创造自己所说的"知识型经济",政府就必须改变农村青年接受教育的方式,农村的学校需要得到资助。
Completion of junior middle-school has beencompulsory since 1986.
In big cities it is already the norm to finish theremaining three years,
known as senior middle-school. In the countrysidegrowing numbers are
entering senior middle-school too, but it is far lesscommon. In 1990
just 7% of rural students did so. Today the figure may be justover
one-third. Even at the junior level (despite government figures
suggestingfull attendance), dropout rates are high.
自1986年,中国已规定初中教育为义务教育。在大城市,完成余下3年的高中教育已经是件常事。农村地区接受高中教育的人数也在增加,但远不及
城市普遍。1990年,只有7%的农村学生接受高中教育,现在这个数字可能只过三分之一。即使是初中教育(尽管政府发布的数据显示就学率是百分百),辍学
率仍很高。
Some quit school because of the cost; incontrast to many other
countries, the upper years charge for tuition. Seniormiddle-schools are
often far away from villages, so students have to board.Including the
cost of books, the bill for three years can easily amount tothousands of
dollars—more than a year's income for poorer rural families. Abouthalf
fail the test to get into senior middle-school. Others leave because
theycan get what they consider a decent job. Wages for low-skilled work
haveincreased greatly in recent years. Mr Yan earns 3,000 yuan ($490)
for tenshifts a month, considerably more than the government-set minimum
wage.
有些学生因学费辍学;与很多其他国家不同的是,高中教育是收取学费的。高中学校往往离村子较远,学生就得住校,包括教材费,三年的花费很可能达
到数千美元——这比较贫困农村家庭一年的收入还多。但是有近半数的学生考不上高中,还有些学生因为可以获得自己看来体面的工作而放弃就学。近年来,低技能
工作的工资已经大幅提高,闫先生每月轮班10此可赚得3000元工资,这远高于政府设定的最低工资水平。
Tens of millions of rural workers havemoved to urban areas since
the 1990s. But China's system of householdregistration, or hukou, makes
it difficult for them to send their childrento better-resourced and
better-run middle-schools in the cities. Migrants oftenhave no choice
but to leave their children behind to be educated. A lack ofparental
supervision compounds many students' difficulties.

自20世纪90年代,数千万名民工涌入城市,但中国的户籍制度让他们很难将孩子送到城市设施优良、质量较好的中学就读。流动人口往往没有选择,只能将孩子留在家中接受教育,缺少父母监护加重了很多学生们的困境。
In middle-school attendance, China lagsbehind the attainments of
some newly developed economies when they were atsimilar levels of
development. In South Korea virtually everyone wasgetting a full
secondary education by the late 1980s.
就中学就学率来说,中国落后于一些新兴经济体在发展处于相近水平时取得的成绩。在韩国,20世纪80年代时差不多所有人都接受了完整的初中阶段教育。

The government encourages teachers to steeracademic underachievers
to vocational schools. But vocational schools in ruralareas are blighted
by scant funding and poor-quality staff. Many experts arguethat
providing more opportunity for students to stay in standard
secondaryschools would prepare them better for the workplace. But that
would land thegovernment with a huge new bill.
政府鼓励教师引导学业成绩稍逊的学生接受职业教育,但农村地区职业学校的教育质量因资金不足以及所配职工的资质而受到影响。很多专家认为,为学生提供更多留在公认中学的机会将让他们更好地走上工作岗位。但这将使政府背上沉重的新增负担。