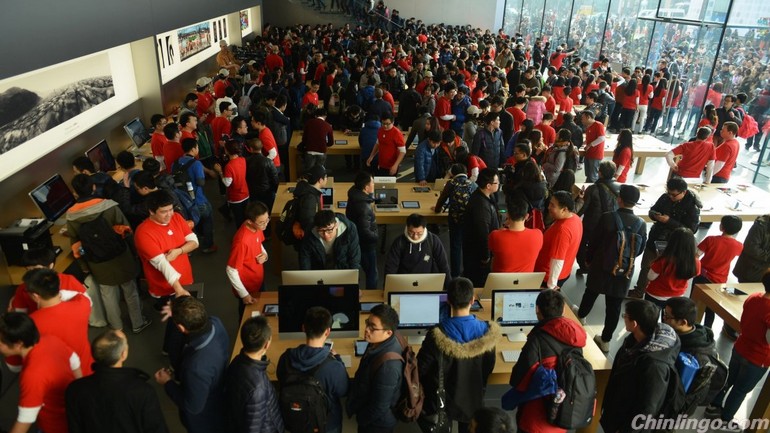 As China's economy slows down, Apple could face problems of its own in the world's second largest economy. Depending on which measures you believe, Chinese technology giant Xiaomi recently became the largest seller in the smartphone market, taking a market share of 13.7% during the last three months of 2014 compared to 12.3% for Apple during the same period, according to market intelligence firm IDC. While an alternate report by Canalys shows Apple as the top seller, another research firm, Kantar WorldPanel, also ranked Xiaomi as the market leader.
随着中国经济增长步伐放缓,苹果公司可能会在这个全球第二大经济体面临一些自己的问题。市场研究机构IDC的近期数据显示,小米已成为中国智能手机市场最大的出货商,该公司2014年第四季度的国内市场份额为13.7%,同期苹果在中国的市场份额则为12.3%。不过,另一家调研公司Canalys的报告表明苹果的智能手机销量仍居行业之首。而另一家市场研究机构Kantar WorldPanel则将小米列为市场龙头。实际情况如何,就要看大家相信哪种衡量标准了。
Beyond these reports, Apple's phones continue to be popular in China. The company saw explosive growth during the last quarter, but Xiaomi's ascendance could become a headache for the iconic American brand, as it has for the biggest Android phone maker in the world, Samsung SRX . In 2014, Xiaomi's market share in China jumped by 186% from the previous year, while Samsung's declined by 22% during the same period.
尽管这些报告结论不同,但苹果手机在中国仍很受欢迎。上季度,该公司实现了爆炸式增长。然而,小米的崛起已经给全球最大的安卓手机制造商三星带来了麻烦。作为美国的标志性品牌,苹果可能也会对此感到头疼。2014年,小米在中国的市场份额同比增长了186%,三星的份额却下降了22%。
Xiaomi's competitive advantage? Price.
小米的竞争优势是什么呢?价格。
While the average price of an iPhone 6 rose to $687 at the end of last year, the average price of Android phones fell to $254 – a significant gap. Xiaomi's phones, which have a similar design aesthetic to Apple's but runs on a modified version of the Android system, are even cheaper at an average price of $220 per phone.
到去年底,iPhone 6的平均售价已升至687美元,安卓手机的平均售价则降至254美元,二者差异巨大。小米手机采用了和苹果类似的设计美学,使用变种安卓系统,平均售价更低至220美元。
The fact that Chinese consumers have a significantly cheaper option could impact Apple sales if China's economy remains sluggish and consumers become increasingly cost-conscious. In 2014, China's economy slowed to 7.4%, the lowest level in decades, and is expected to slow down further in the next few years, according to the International Monetary Fund.
如果中国经济增长依然乏力,消费者对支出成本将日益敏感,他们可以选择更便宜的替代品,这可能影响苹果的销售业绩。2014年,中国经济增速降至7.4%,是几十年来的最低点,国际货币基金组织预计今后几年中国经济将进一步放缓。
This is especially significant because China is one of Apple's key markets. Even though the company did notsell more phones in China than in the U.S. in 2014, as analysts initially speculated, its sales are reportedly on track to get there, partly due to its partnership with leading telecom provider China Mobile. In addition, the approximately 700 million smartphone users in China represent a vast market opportunity for Apple's future growth.
这一点特别值得关注,因为中国是苹果的主要市场之一。尽管如分析师当初猜测的那样,2014年iPhone在中国销量并未超过美国,但据报道,苹果与中国最大的电信运营商中国移动达成合作后,销量增势迅猛。此外,中国约有7亿智能手机用户,对苹果未来增长意味着巨大的市场机遇。
It's a safe bet that Apple will continue to see hefty profits from the region, but fast growing competition from Xiaomi and other Chinese smartphone makers like Huawei could slow that progress and represents a threat to be taken seriously; and not just because of the impact in China either.
应该说苹果仍将在中国获利丰厚,但小米及华为等其他中国智能手机厂商带来的竞争威胁正在加剧,苹果需要严阵以待;与此同时,冲击也不仅限于中国市场。
As Xiaomi expands its presence internationally, the popularity of its low-priced smartphones could impact Apple in other large markets, too, especially those where per capita income is low and a cheaper alternative to the iPhone is attractive.
随着小米的国际化扩张,其低价智能手机的火爆人气也可能在其他几大市场对苹果造成冲击,特别是在那些人均收入低、iPhone的低价替代品颇具吸引力的市场。
In India, for example, which is the fastest growing smartphone market, Apple only has a 2% market share because of a high price point, which makes it extremely vulnerable to competition. Xiaomi also has a modest market share of 4% so far. However, the important metric is that 64% of smartphones shipments during the fourth quarter were priced at less than $200, according to research firm Canalys. That's a price range Xiaomi would find much easier to match than Apple.
以印度为例,这是全球增长最快的智能手机市场,但苹果的份额只有2%,原因是iPhone价格较高,在竞争中不堪一击。到目前为止,小米在印度的份额也只有4%。但Canalys公司指出,2014年第四季度,售价低于200美元的智能手机占印度智能手机出货量的64%。和苹果相比,小米更容易填补这一价格空间。
On the flip side, Apple could potentially benefit from regulatory hurdles that Xiaomi faces, such as in India where a court ruled that the Chinese company can't sell phones that violate Swedish phone maker Ericsson's patents until further hearings (although Xiaomi is temporarily back on Indian e-commerce site Flipkart). Another factor in Apple's favor is that its status as a luxury brand in emerging markets, combined with its marketing expertise, could enable it to keep market share despite higher prices.
但另一方面,小米面临的监管障碍有可能让苹果受益。例如,印度一家法院裁定,进一步聆讯前,小米不得在印度销售侵犯瑞典爱立信手机专利的产品(尽管小米的产品已暂时重返印度电子商务网站Flipkart)。另一个有利于苹果的因素是,它在新兴市场属于奢侈品牌,再加上该公司的营销能力,有可能让苹果在产品售价较高的情况下仍有能力维持市场份额。
What all this means is that while Apple will certainly remain one of the dominant players in the global smartphone arena, emerging competition from aggressive low-cost technology companies like Xiaomi could still make a serious dent in Apple's growth trajectory in some of its biggest markets.
总的来说,虽然苹果必将继续在全球智能手机领域处于主导地位,但在某些最主要的市场,小米等新生力量积极采用低成本技术,将明显削弱苹果的增长势头。