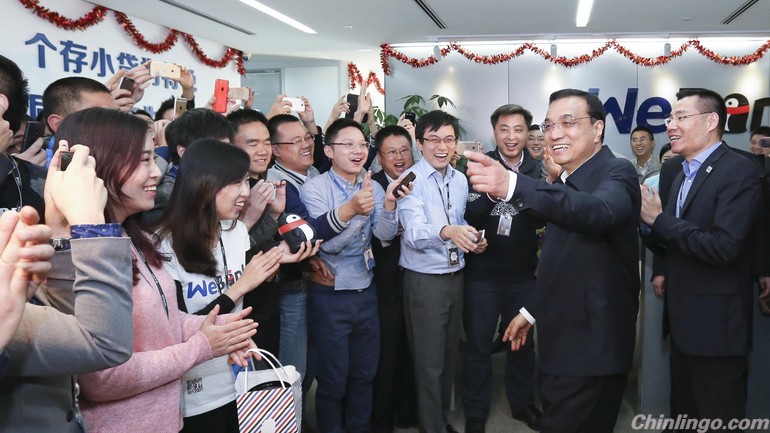 A keystroke by Chinese premier Li Keqiang marked the launch of China's first online-only bank, reflecting the government's hope that a new crop of privately owned lenders will expand access to finance for credit-starved smaller borrowers.

中国国务院总理李克强的一个按键,标志着中国首家互联网银行的正式营业,这也反映出中国政府希望新型的民营银行能够扩大亟需贷款的小规模借款者的融资渠道。

WeBank, a joint venture led by Chinese gaming and social network group Tencent Holdings, became the first private bank to start operations under a new pilot, after the banking regulator granted licenses to six such institutions last year. Its name comes from WeChat, Tencent's wildly popular instant messaging and social networking app.

由中国游戏和社交网络集团腾讯控股发起创建的合资企业微众银行,成为首家根据试点计划开展业务的民营银行,去年,银监会向5家类似的机构发放了牌照。微众银行的名字来源于腾讯大受欢迎的即时通讯和社交网络应用微信。

An affiliate of ecommerce heavyweight Alibaba has also been cleared to launch an internet-based bank in partnership with Fosun International.

电子商务巨擘阿里巴巴旗下一家子公司也获得批准,与复星国际合作创建一家互联网银行。

"We will lower costs for and deliver practical benefits to small clients, while forcing traditional financial institutions to accelerate reforms," Mr Li said at an opening ceremony in Shenzhen, according to the official Xinhua news agency. "It's one small step for WeBank, one giant step for financial reform."

据官方新闻通讯社新华社的报道,李克强在深圳微众银行的开业仪式上表示,我们要"要降低成本让小微客户切实受益","这是微众银行的一小步,却是金融改革的一大步。"

Small, privately owned companies have long struggled to obtain loans from state-owned banks, which prefer lending to larger, state-owned groups. Economists say small and medium-sized companies provide about 60 per cent of China's gross domestic product and about 75 per cent of new jobs.

长期以来,小型民营企业一直很难从国有银行取得贷款,这些银行更愿意贷款给规模较大的国有企业。经济学家表示,中小企业占中国国内生产总值的60%左右,占新增就业的75%左右。

Tencent and Alibaba plan to exploit a Big Data advantage, using troves of user data to evaluate credit risk of small borrowers. With the press of a button on Sunday, Mr Li sent dispatched a Rmb35,000 ($5,600) loan to a truck driver. Analysts expect most loans will be under Rmb1m.

腾讯和阿里巴巴计划利用大数据优势,利用用户数据库评估小型借款者的信贷风险。上周日,在按下回车键后,李克强向一名卡车司机发放了3.5万元人民币(合5600美元)贷款。分析师预测,多数贷款将为100万元人民币以下。

A key challenge for WeBank and other internet lenders will be attracting deposits. WeBank will be China's first online-only bank and will not have any physical branches, the main channel by which traditional banks draw in funds.

微众银行和其他互联网银行面临的一个重要挑战在于吸引存款。微众银行将成为中国首家互联网银行,不会设立任何实体分支机构,而传统银行通过分支机构吸收资金。

But Alibaba and Tencent have already proven their ability to attract funds into deposit-like money-market funds sold online and through their websites and mobile applications. Both have mobile payment services that enable users to store funds in their accounts.

但阿里巴巴和腾讯已证明它们有能力吸引资金投入它们在网上以及通过网站和移动应用销售的存款类货币市场基金。两家公司都拥有移动支付服务,用户可以将资金存入自己的账户。

China's banking regulator recently loosened enforcement of the maximum 75 per cent loan-to-deposit ratio, allowing placements by non-bank financial institutions to count as deposits under the calculation. That will ease the burden of compliance for institutions with small retail deposit bases.

中国银监会最近放松了最高75%的贷存比规定,在计算存贷比时,允许非银行金融机构将同业存款视为存款。这将减轻散户存款基数较小机构的合规负担。

China also revealed a new deposit insurance scheme last year intended to insure all deposits under Rmb500,000. That should make it easier for upstart lenders to compete for funds with state-owned banks widely viewed as carrying a government guarantee.

去年,中国还推出了新的存款保险制度,旨在为低于50万元人民币的所有存款提供保险。这应会让初创银行更容易与国有银行争夺资金,国有银行被普遍认为拥有政府担保。

The online-only format could streamline customer service in an industry where even simple transactions such as exchanging currency often involve lengthy bureaucracy.

互联网模式可以简化客户服务,在传统银行业,即便是简单的换汇交易也通常需要很长的手续办理时间。

Prior to the pilot programme approval of six privately owned bank, Minsheng Bank was China's only privately owned commercial bank.

在批准5家民营银行的试点计划之前,民生银行是中国唯一一家民营商业银行。