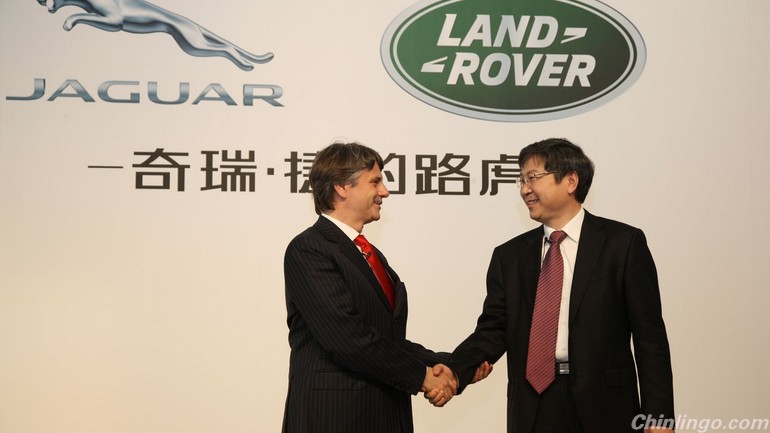 Jaguar Land Rover last year sold more vehicles than ever before, helped by strong growth in the crucial Chinese market and a string of new launches.
捷豹路虎汽车去年的销量刷新纪录,得益于中国这一关键市场的强势增长和一系列新车型的发布。
The carmaker, which was bought by India's Tata Motors in 2008, sold a record 425,006 vehicles in the 2013 calendar year, up 19 per cent on 2012.
2008年被印度塔塔汽车公司收购的捷豹路虎2013年销量达到42.5006万辆,比2012年增长19%。
Sales growth at the group outstripped German rivals in China, where a newly affluent population has driven demand for luxury cars in recent years.
捷豹路虎在中国的销售增长跑赢德国竞争对手。近年来,中国新崛起的富裕群体推动着豪华汽车的需求。
"JLR is just starting its journey in China while the Germans are very well established," said Deepesh Rathore, an independent autos analyst in New Delhi. "They should be able to sustain that for the next couple of years."
"JLR才刚刚开始在中国的征程,而德国品牌早已站稳脚跟,"驻新德里的独立汽车分析师迪佩希•拉托尔说。"它们应当能在未来两年维持这种局面。"

The group's two British brands recorded sales growth of 30 per cent in the region, while Mercedes-Benz and BMW posted growth of 20 per cent and 10.6 per cent, respectively.
捷豹路虎旗下的两大英国品牌在华销售增长率为30%,而梅赛德斯-奔驰和宝马的增长率分别为20%和10.6%。
JLR's positive results in China also contrast with those of Bentley, which last week said sales had fallen 3 per cent in the region amid a recent crackdown on ostentatious purchases.
JLR在华良好的业绩与宾利汽车形成对比,后者上周表示,受中国政府严厉打击炫耀性购买的影响,在华销量下滑3%。

There are concerns that the rapid expansion in the region may soon peter out and global carmakers like JLR are looking to other emerging markets for the next phase of growth.
但也有人担心,中国市场的快速扩张可能很快就会趋缓,JLR等全球汽车厂商正转向其他新兴市场寻求下一阶段的增长。