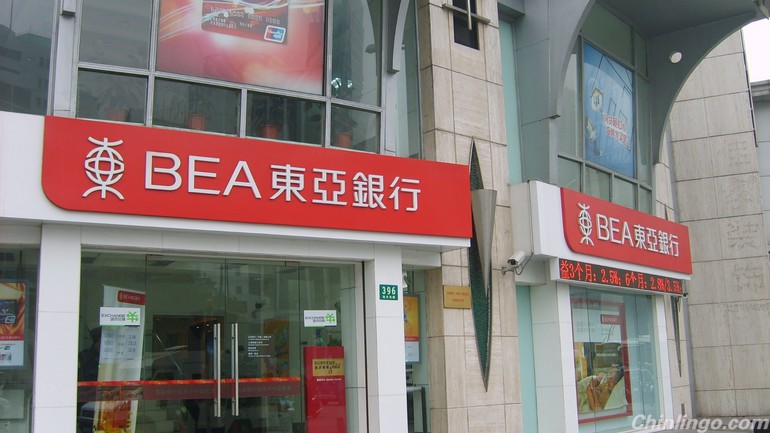 Hong Kong-based Bank of East Asia Ltd., with a larger Chinese operation than its peers, benefited from China's cash crunch last year: Largely thanks to its China business, the city's largest family-run lender by assets Tuesday posted a record profit of 6.61 billion Hong Kong dollars (US$853 million), up 9% from the year before.
总部位于香港的东亚银行有限公司在华业务规模高于同行,中国去年的"钱荒"令该行受益。东亚银行周二公布,2013年利润达到创纪录的66.1亿港元(合8.53亿美元),较前一年增加9%,主要得益于中国业务的贡献。按资产规模衡量,东亚银行是香港最大的家族银行。
While the profit margin for BEA's core Hong Kong lending business was flat, its China operation's net interest margin–a gauge of lending profitability–raised analysts eyebrows by jumping to 2.29% from 2.15% in 2012.
尽管东亚银行核心的香港借贷业务利润率持平,但中国业务的净利息收益率(衡量贷款业务盈利能力的指标)从2012年的2.15%升至2.29%,令分析师感到意外。
The short-term interest rates that banks charge each other abruptly surged to multiyear highs in June and again in December, as Chinese authorities' efforts to tame the mounting risks of 'shadow banking' dried up liquidity in China's money market. Shadow lenders are a mélange of informal funding sources, from traditional banks' off-balance-sheet lending arms to trust companies, insurance firms and pawnbrokers.
去年6月和12月,银行间市场短期利率一度飙升至数年高点,因中国政府抑制影子银行风险不断加剧的努力导致货币市场流动性枯竭。影子银行指的是一系列非正式融资渠道,包括传统银行的表外借贷机构、信托公司、保险公司和典当行。
The squeeze hurt smaller banks that rely heavily on interbank borrowing. China Everbright Bank Co., for example, in June defaulted on 6.5 billion yuan ($1.07 billion) in of interbank loans.
流动性枯竭对严重依赖银行间借贷的中小型银行构成冲击。例如,6月份中国光大银行有人民币65亿元(合10.7亿美元)银行间贷款出现违约。
By contrast, their larger cash-rich counterparts, like Industrial & Commercial Bank of China Ltd.–the country's top bank by assets–were in a position to provide liquidity to smaller peers and so benefit from the soaring interest rates. Foreign banks, which have conservative balance sheets to meet regulatory requirements, are also net lenders.
相比之下,现金充裕的大型银行――如中国资产规模最大的中国工商银行股份有限公司――就处于向小型银行提供流动性的位置,因而可以从利率飙升中受益。为满足监管要求而维持保持资产状况的外资银行也是净贷款方。
BEA Tuesday became the first to pop its Champagne: Its China business last year posted a profit of HK$1.9 billion (US$245 million), up 16%.
东亚银行周二成为率先公布良好业绩的外资银行:去年其中国业务实现利润19亿港元(合2.45亿美元),增加16%。
Bank of East Asia has been more aggressive than its Hong Kong peers in mainland China, opening 128 outlets in 42 cities. Its results are often closely watched by analysts and peer banks to gauge China's banking environment.
东亚银行在中国大陆的业务拓展要比其香港同行更为积极,在42个城市设立了128个网点。分析师和银行同业密切关注该行业绩,以评估中国银行业环境。

Bad loans in its China business surged 85% to HK$840 million, and its nonperforming loan ratio jumped to still-low 0.49% from 0.27%.
该行中国业务的不良贷款增加85%,至8.4亿港元;不良贷款比率从0.27%升至0.49%,仍处于低位。
Bank of East Asia is one of the city's three remaining family-owned lenders, which are under takeover spotlight again following the recent acquisition of Chong Hing Bank Ltd. by Chinese property conglomerate Yuexiu Group.
东亚银行是香港现存的三家家族银行之一;近期创兴银行有限公司被中国房地产综合企业越秀集团收购之后,东亚银行再度成为收购焦点。
Asked whether the Li family, whose stake in the bank is estimated by analysts at 7.6%, is interested in selling, the senior Li said: 'It's all about shareholders' value. If someone offers three to four times of book value, I would consider.'
当被问到李氏家族是否有意出售东亚银行时,李国宝称,完全要看股东的价值。如果出价达到帐面价值的三到四倍,他会予以考虑。分析师们估计,李氏家族持有东亚银行7.6%的股份。
At the peak of financial boom in 2008, Chinese lender China Merchants Bank Co. paid US$2.47 billion, almost three times book value, for Wing Lung Bank. But Chong Hing went last October for HK$1.5 billion, a more modest 2.4 times book value, and Oversea-Chinese Banking Corp.'s last offer for Wing Hang Bank, at US$5 billion, was just 1.9 times book value.
在2008年金融业热潮达到顶峰时,招商银行股份有限公司以24.7亿美元收购永隆银行,交易价格大约是该行帐面价值的三倍。但去年10月份创兴银行的售价是15亿美元,相当于帐面价值的2.4倍。而华侨银行对永亨银行的最终报价是50亿美元,仅相当于后者帐面价值的1.9倍。
BEA is now trading at 1.1 times its forecast 2014 book value.
东亚银行当前股价是2014年预期每股帐面价值的1.1倍。